Russians Kill Ukrainian Civilians—'Squashed by Tanks': Witnesses Accounts
Russia is facing growing accusations that its military committed war crimes in Ukraine after more details and witness accounts emerged over the weekend about civilian executions in the town of Bucha and other communities near Kyiv.
Along with satellite images of a mass grave presented by Maxar Technologies, journalists from Agence France-Press, Associated Press and Reuters confirmed seeing dead bodies along the roads of Bucha. The journalists reported the bodies had their hands tied behind their backs and bullet wounds to the head.
Bucha's deputy mayor, Taras Shapravskyi, claimed 50 of 300 bodies in his town seemed to have been the victims of extrajudicial killing by Russian troops. During a Sunday appearance on CBS' Face the Nation, Ukrainian President Volodymyr Zelensky said the images and reports were evidence of "genocide."
The Kremlin has denied any accusations related to the killing of civilians in Bucha. On Monday, Russian Foreign Minister Sergey Lavrov claimed Ukrainian forces staged the scenes of death in Bucha as a "provocation." Anatoly Antonov, Russia's ambassador to the United States, also called the accusations regarding Bucha "false" in an email to Newsweek.
Many witness accounts assert that the allegations are real, though Newsweek has not independently verified these statements.
Taras Shevchenko is one such purported witness. He told The Guardian that Russian soldiers shot men attempting to escape across a field instead of permitting them to use a humanitarian corridor. Shevchenko told the newspaper that bodies were strewn on the streets, some "squashed by tanks...like animal skin rugs."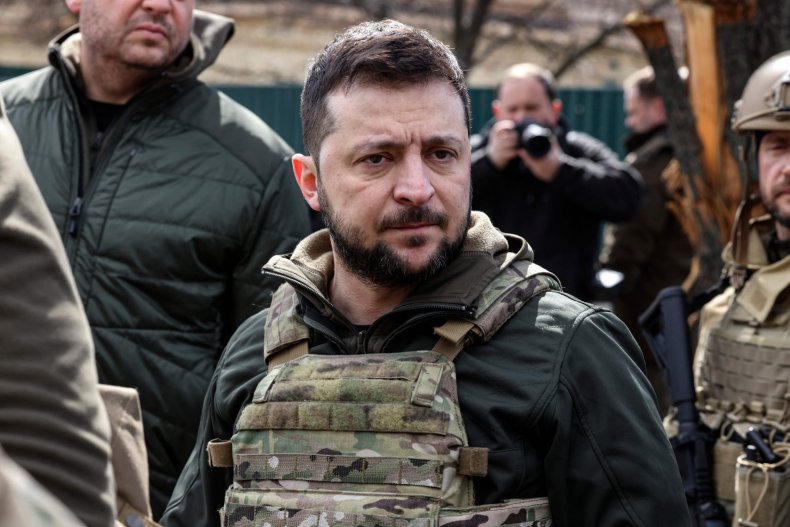 On Saturday, The Observer wrote that Ukraine's attorney general was collecting material about accusations that Russian troops in Bucha had used children as "human shields"when trying to avoid fire from Ukraine's forces.
"Russian soldiers have used Ukrainian children as hostages, putting them on their trucks. They're doing it to protect their vehicles when moving," Colonel Oleksandr Motuzyanyk, spokesman for Ukraine's ministry of defense, was quoted in The Observer as saying.
Another Bucha citizen, Hanna Herega, told Al Jazeera that she saw Russian troops kill a man in Bucha when he was out getting wood.
"The shooter shouted: 'Don't scream or I will shoot!' and they turned away. Then they shot off his left leg completely, with the boot," Herega told the news agency. "Then they shot him all over this side [on the chest.] And another shot went slightly below the temple. It was a controlled shot to the head."
Human Rights Watch wrote on Sunday that it had "documented several cases of Russian military forces committing laws-of-war violations against civilians in occupied areas" of Ukraine.
The group said a witness reported seeing Russian soldiers gather up five men in Bucha on March 4. After making the men kneel, the soldiers pulled their T-shirts over their heads and shot one of the men in the back of the head, according to the witness.
"He fell [over]," the witness said, per Human Rights Watch, "and the women [present at the scene] screamed."
"The cases we documented amount to unspeakable, deliberate cruelty and violence against Ukrainian civilians," Hugh Williamson, Europe and Central Asia director at Human Rights Watch, said in the statement. "Rape, murder and other violent acts against people in the Russian forces' custody should be investigated as war crimes."
Western allies have discussed punishments for Russia over the alleged atrocities committed, and the U.N. Security Council is expected to meet Tuesday for a session in which war crimes are expected to be discussed.
Newsweek has contacted Russia's Ministry of Foreign Affairs and the Ministry of Defense of Ukraine for comment.
Follow our live blog for updates on the Russia-Ukraine conflict.