Russians May Have Laundered Money Through Trump Organization and President Could Be 'Compromised,' Congressman Schiff Suggests
Democratic Congressman Adam Schiff raised concerns on Wednesday that Russians may have laundered money through the Trump Organization, saying that the House Intelligence Committee has begun investigating the possibility.
Speaking to MSNBC, Schiff, who chairs the committee and represents California, answered questions about the next steps for those investigating President Donald Trump's alleged ties to Russia. The representative argued that even if special counsel Robert Mueller's final report does not reveal crimes that could lead to Trump's impeachment, Congress could find other potentially damning details about the president and his businesses.
"If there's insufficient evidence in the Mueller report and we're not able to produce sufficient evidence in our own investigation, that ends the inquiry," Schiff explained, Mediaite reported. "There may be grounds for removal from office or there may be grounds for indictment after he leaves office that the Congress discovers."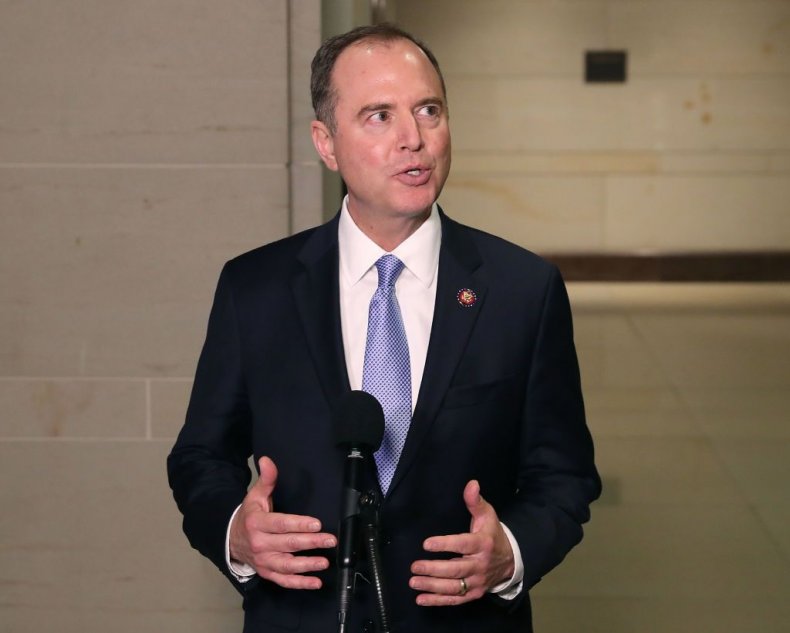 "One of the issues that we are looking at, which the Mueller report may not cover, is whether the Russians were laundering money through the Trump Organization," he continued. "Our predominant concern to my committee is, Was this president—is this president—compromised by a foreign power?"
Schiff's comments came after Democratic Speaker of the House Nancy Pelosi, who also hails from California, told The Washington Post in an interview published Monday that she is "not for impeachment," arguing Trump is "just not worth it."
"Impeachment is so divisive to the country that unless there's something so compelling and overwhelming and bipartisan, I don't think we should go down that path, because it divides the country," Pelosi said. However, she also said she believed that Trump was "ethically" and "intellectually" unfit for the office.
Despite Pelosi's stated opinion, several Democratic representative have voiced plans to push forward with the impeachment process.
"I think the country is worth it. I think the Constitution is worth it, and I don't place my word in a person who happens to be causing harm to society," Representative Al Green, a Texas Democrat, said, using the speaker's characterization to counter her position. Green has previously forced two impeachment votes against Trump that have failed.
Congresswoman Rashida Tlaib, a Democrat from Michigan, said this week that she planned to move forward with introducing a House resolution to "begin investigating the impeachable offenses" of the president, despite Pelosi's position.
"That doesn't mean we're voting on it," she clarified. "It means we're beginning the process to look at some of these alleged claims of impeachable offenses."
For his part, Trump took to Twitter on Wednesday to thank Pelosi for her remarks, despite the strong criticism she had also included.
"I greatly appreciate Nancy Pelosi's statement against impeachment, but everyone must remember the minor fact that I never did anything wrong," he wrote.