Russians Offered Cash to Attend Pro-Kremlin Events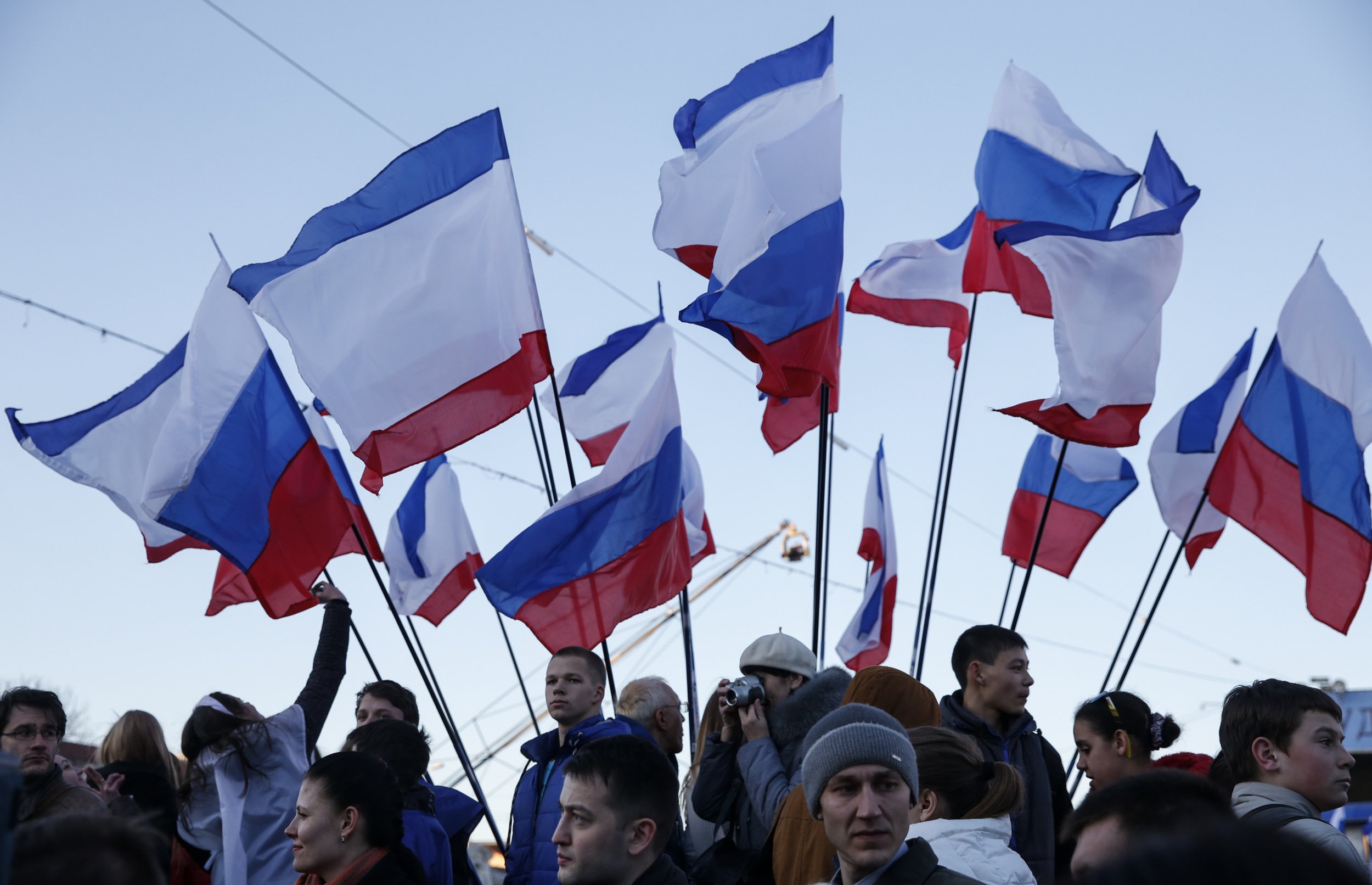 Russians are being offered cash to attend an upcoming mass celebration of the anniversary of Russia's annexation of the Crimean peninsula from Ukraine.
Listings to attend this, and several other pro-government, events have appeared on a popular Russian website for recruiting TV extras, models and promoters.
The website, Massovki, was allegedly used to hire people for public shows of support for Russian president Vladimir Putin in February and March of 2012, according to Pavel Khodorkovsky's thinktank the Institute for Modern Russia. The group imply that the Kremlin is behind this tactic, however users on the site can post without providing a specific bio, meaning that it's difficult to verify the motives and identities of those posting the adverts.
The institute says that an advert for people with a "Slavic appearance" was posted on the site in 2012, calling for people to join a pro-government protest in Moscow with the promise of compensation of 500-700 roubles. This march came at a time when tens of thousands were protesting against Putin's controversial but immanent return to power.
Now, a new advert has appeared on the website, offering people 350 roubles (€5) for attending a free concert which will take place in central Moscow tomorrow to celebrate the anniversary of Russia's annexation of Crimea. The concert, called We're Together, commemorates the anniversary of the internationally unrecognized referendum held in Crimea last year.
Russian newspaper Vedomosti reports that last year 120,000 people came to celebrate the occasion in front of the Kremlin with many waving banners reading "We're with you Putin", and "Putin is right".
Invites to this year's event, set to be held tomorrow, have now appeared online offering anyone over the age of 14 between 300-350 roubles to attend the "celebratory concert," which is likely to be televised.
One listing for the same concert does not even advertise who will be performing but simply offers people 350 roubles to attend the "anniversary concert for Crimea's reunification with Russia".
Past adverts also found on the website include ones calling for people with Slavic appearance to meet with members of parliament on Moscow's central Tverskaya street on March 1. This is the same day that Kremlin-critic Alexei Navalny had planned his march on Moscow's outskirts, after being denied permission for a march on Tverskaya as local authorities said over 10 other groups had filed for permission to protest that day.
The advert emphasises that participants will "be paid immediately" a sum of 250 roubles and rather unsubtly states, in red capital letters, that "This has no connection to Navalny's march!"
Earlier this month one user advertised an event where attendees were to be paid 270 roubles to protest "in support of the people of Donbas," the war-stricken region of Ukraine with a sizeable Russian speaking minority.
The site also has upcoming listings, offering up to 1,000 roubles for attending a pre-recorded concert for the May 9 - the old Soviet commemoration of victory over the Nazis which is usually marked in Russia with manifestations and a military march.
In late February there were similar reports that Russian citizens were either paid or forced to attend 'anti-Maidan' rallies, organised in protest to anti-government demonstrations held in Ukraine last year.