Russians Protest Alleged Election Rigging by Putin's Ruling Party, Chant 'Resign! Resign!'
Hundreds of Russian protesters took to the streets in the Pacific port city of Vladivostok on Monday, accusing officials of election rigging after the gubernatorial candidate from President Vladimir Putin's political party suspiciously won in a runoff vote.
The second round of voting in the Primorye region took place on Sunday, with Communist Party candidate Andrei Ishchenko leading by 3 to 5 points late in the day. However, when preliminary results were published on Monday morning, Andrei Tarasenko of Putin's United Russia Party won by about 1.49 percent (7,650 votes), The Moscow Times reported.
About 500 demonstrators converged on the local administration building calling on Tarasenko to step aside. They chanted "resign! resign! resign!" according to the English-language daily. Ischenko also instructed his supporters to continue to rally each evening until the vote is officially declared invalid.
Highlighting the bizarre discrepancies in the vote, British newspaper The Independent reported that the winning candidate took some 13,000 votes, or nearly 100 percent, of the votes coming from the region's last counted precincts, according to the published results. The rapid change came after Ishchenko had a clear lead from the already counted areas.
Just a few days before the runoff, Tarasenko received a personal endorsement and encouragement from Putin. The Russian leader reportedly said: "I know you have a runoff coming up. I think everything is going to be fine."
Posting to Facebook, Ishchenko accused election officials of "stealing votes."
"I won this election," the politician wrote. "Let's defend our victory right now! We will not leave until we see a just result."
Election officials claimed that the results appeared skewed only because the most loyalist regions to Putin's party were counted last. However, Goclos, an election monitor, said the results were swung by "massive falsifications."
Communist Party leader Gennady Zyuganov blasted the results and called on Putin to launch a thorough investigation. "What we got in the Primorye elections was criminal lawlessness," he said, local media reported.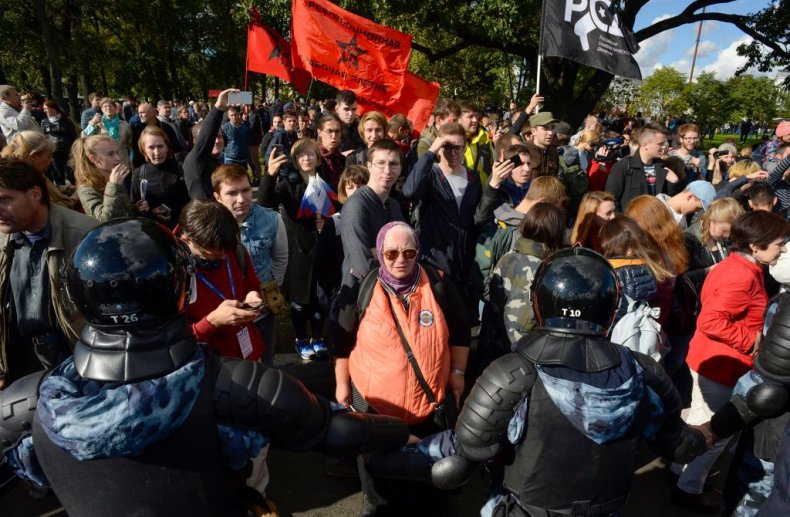 The controversy came after Putin's party failed to secure outright victories in several regions across Russia, forcing runoffs. Approval of Putin and his government has dropped significantly in recent months, largely due to the government's decision to increase the retirement age from 60 to 65 for men, and from 55 to 63 for women.
Thousands have protested against Putin and the government as a result, with some using slogans such as "away with the czar" and "Putin is a thief." Last weekend, authorities reportedly detained more than 1,000 anti-government demonstrators as large-scale protests took place in major cities across Russia.
Accusations of election rigging aren't new for Russia, with analysts routinely arguing that corruption is widespread in the country's elections. While Putin has retained control of traditional media, videos of election officials allegedly stuffing ballot boxes at polling stations went viral earlier this year.