Russians Secretly Selling Crimea Homes as Counteroffensive Looms: Ukraine
Russians are allegedly scrambling to move out of the Crimean Peninsula amid reports that Ukrainian forces will soon target the annexed territory.
The region of Crimea, a peninsula that juts off of southern Ukraine into the Black Sea, was annexed by Russia in 2014 as part of its long-standing conflict with Ukraine. Ukraine has strongly condemned the annexation in the years since, with most countries continuing to acknowledge the territory as Ukrainian.
Following a successful counteroffensive on Thursday in which Ukrainian forces drove Russians out of key strategic points in the northeast Kharkiv region, leaders have begun to suggest a similar move against Crimea in hopes of retaking the peninsula.
On Tuesday, a report from the Ukrainian Ministry of Defense claimed that, despite assurances from Moscow, leaders in the Crimean government have begun trying to move their families out of the region.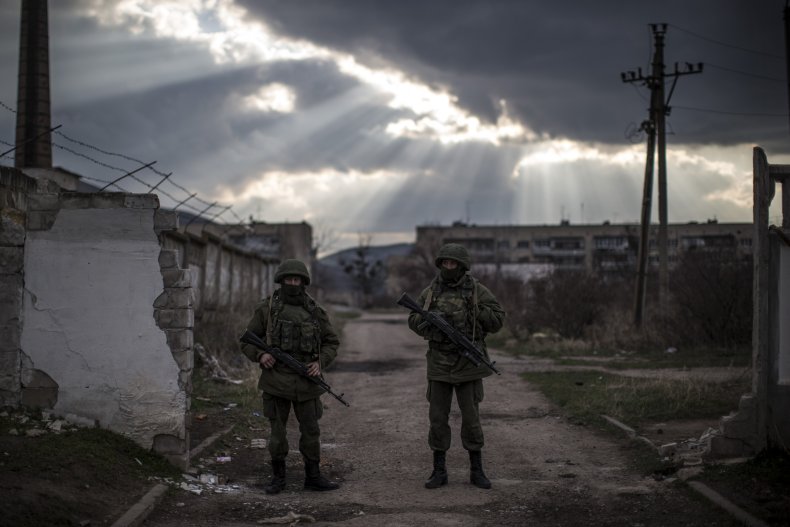 "The successful actions of the defenders of Ukraine force the so-called authorities of the temporarily occupied Crimea and the south of our country to urgently relocate their families to the territory of the Russian Federation," said the report, which was translated from Ukrainian.
"Despite the assurances of the population that it is safe to stay on the peninsula, representatives of the occupation administration of Crimea, FSB employees, and commanders of some military units are secretly trying to sell their homes and urgently evacuate their relatives from the peninsula."
The report also said that the Crimean government has made efforts to bar its civilian residents from selling their homes or traveling outside of the region. Information about the counteroffensive has also been heavily restricted.
"At the same time, the occupiers have banned the conclusion of agreements on the purchase and sale of housing, set restrictions on movement across the Crimean bridge, and are trying in every possible way to close access to information about the counteroffensive actions of the defenders of Ukraine," the report concluded. "Military intelligence of Ukraine reminds that all war criminals will be exposed and prosecuted for crimes against the civilian population of Ukraine."
Newsweek reached out to Russian officials for comment. Newsweek could not verify the claims of the Ukrainian government outside of its own report.
In an article published on Wednesday, Valeriy Zaluzhnyi, Ukraine's top military leader, and Mykhailo Zabrodskyi, a lawmaker, said that Crimea will be a major target of Ukraine's counteroffensive against Russian forces in 2023.
"If we consider the 2023 campaign as a turning point, then for consideration we need to return to the definition of the center of gravity for the Russian Federation in this war," Zaluzhnyi and Zabrodskyi wrote. "Provided that such a center of gravity is defined as control over the Crimean peninsula, it is logical to assume planning for 2023 an operation or a series of operations to seize the peninsula."