Russians Should Pursue Foreigners, Fall In Love, Says Lawmaker
Russians and foreign visitors should shed their inhibitions, fall in love and have babies during the soccer World Cup, a local lawmaker has announced, after his colleague warned that "nothing good will come out of it."
The strange schism in Russia's lower house emerged as soccer fans from across the globe arrived in Russia this week for the World Cup, which opens on Thursday. The first to raise the issue was families committee chair Tamara Pletnyova, who warned Russian women to avoid "intimate relations" with foreigners and then raising a child alone. Her comments provoked much offense on social media and her colleague, who heads the sports committee took a different line on the matter.
"I would like to address all fans and soccer players," lawmaker Mikhail Degtyarev told the Moskva (Moscow) news agency on Thursday. "The more love stories connected with the soccer World Cup we have, the more people from different countries fall in love, the more that children are born, so much the better."
Related: Russians are getting smiling lessons for World Cup to lose reputation as cold and unfriendly
"Many years from now, these children will remember that their parents' love story began in Russia in 2018 at the World Cup. Let us hope to God that there are more of these love stories and children from mixed unions so we can all look back on this," he continued.
After some backlash online about "propagating that our women have sex with foreigners", Degtyarev posted on Twitter to defend his remarks, accusing critics of "only looking at it from one side." He insisted men should also be allowed to go after female foreigners, accusing his male critics on social media of just being "lazy."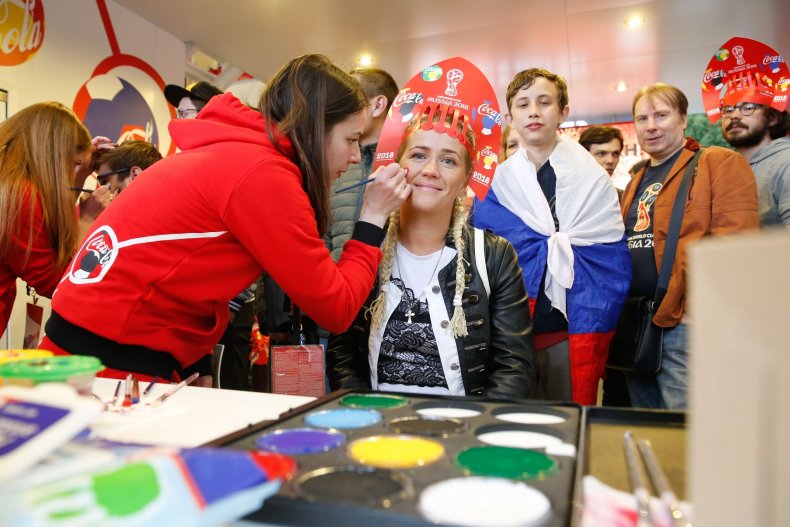 Degtyarev asked all locals to treat foreign visitors "with understanding, with care and with love," after Pletnyova's remarks appeared to not only stigmatized single mothers but also interracial relationships. "We should be birthing our own children," she said on Wednesday. "I am no nationalist but nevertheless."
The comments, which come after Russia's soccer union received fines for fans' monkey chants at black French players during their last match, reignited concern about the prevalent racism in Russian soccer.
Asked to weigh in on the debate about sex at the World Cup, Russian President Vladimir Putin's spokesman Dmitry Peskov said the Kremlin had no new directives on the matter.
"As far as our Russian women are concerned, then I think they can deal with all of their personal issues," he told state news agency Itar-Tass, calling them the "best women in the world" and pointing to the inscription on the World Cup Fan Pass.
"Say no to racism," he read out. "This probably sums up in the best way the atmosphere of the celebration and the approach with which we in Russia are embracing this atmosphere."
Russia's national team will kick off the tournament with a match against Saudi Arabia in Moscow—an opening draw that pits the two worst-ranked teams in the World Cup. Recent performances on the pitch have tanked Russia's world ranking to its record worst, however, the tournament's score-predicting mascot has tacitly endorsed the home team to win.