Russians Show Off Artillery's Firepower Over Ukraine in Video
The Russian military documented the tremendous firepower of Soviet 2S7M Malka self-propelled artillery as it discharged projectiles into the sky over Ukraine.
The official video shows how Russian troops are dwarfed by the huge guns, which pack a blast so powerful it can physically incapacitate an unprepared soldier or crew member near it from concussive force.
Zenger News obtained the clip Friday from the Ministry of Defense (MoD) of the Russian Federation, which said (in Russian): "Combat work of crews of self-propelled artillery mounts of high power 2S7M 'Malka.'"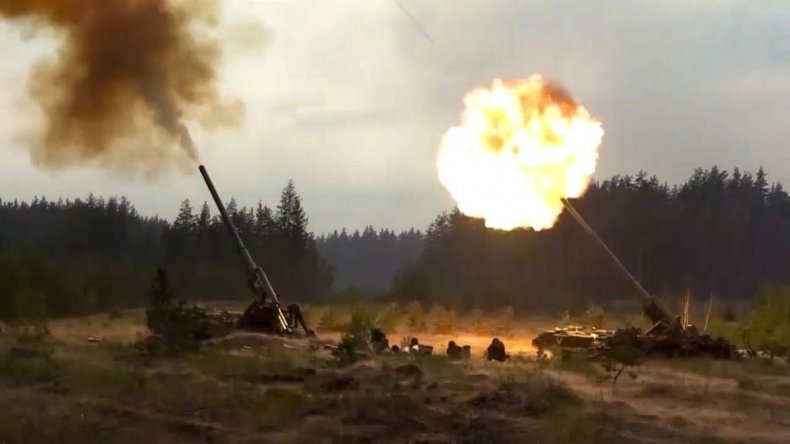 "'Malka' has a 203 mm caliber gun and is designed to solve special tasks - suppression and elimination of especially protected command posts, artillery, mortars, armored vehicles, rear areas, enemy manpower.
"The rate of fire of the gun is up to 2.5 rounds per minute, the range is about 50 kilometers.
"Modern Orlan-10 unmanned aerial vehicles are used for timely target detection, data transmission and fire adjustment."
The Russian MoD did not specify what targets the projectiles struck or where in Ukraine the footage was filmed.
The 2S7M Malka entered service in 1983 and - along with its earlier variant, the 2S7 Pion - is operated by a handful of countries, including both Russia and Ukraine.
In related news, Ukrainian President Volodymyr Zelensky said Donbas could be left uninhabited by the ongoing invasion and accused Russia of carrying out a "genocide" in the region.
The city of Sievierodonetsk is currently suffering an onslaught of Russian shelling and there were reports of three explosions overnight in the city of Dnipro.
The death toll from shelling in Ukraine's second-largest city Kharkiv on May 26 has now reached nine people, including a baby.
Zelensky said Thursday night that lives are lost in Ukraine every moment the West delays putting more pressure on Russia.
His foreign minister Dmytro Kuleba said Ukraine would not be able to counter the Russian offensive without more heavy weapons.
U.S. officials said the Biden administration is considering supplying Ukraine with the M142 High Mobility Artillery Rocket System.
The maximum firing range of the light multiple rocket launcher developed in the late 1990s for the U.S. Army is 186 miles.
The General Staff of the Armed Forces of Ukraine reported earlier Friday that from February 24 to May 27, Russia had lost about 29,750 troops in addition to 1,322 tanks, 3,246 armored fighting vehicles, 623 artillery systems, 201 multiple launch rocket systems, 93 air defense systems, 206 warplanes, 170 helicopters, 503 unmanned aerial vehicles, 115 cruise missiles, 13 warships, 2,226 military vehicles and fuel tankers, and 48 units of special equipment.
While the Russian MoD reported earlier Friday that over the same period, Ukraine had lost 179 warplanes, 127 helicopters, 1,019 unmanned aerial vehicles, 323 air defense systems, 3,266 tanks and armored fighting vehicles, 433 multiple launch rocket systems, 1,682 artillery systems, and 3,190 military vehicles.
Russia invaded Ukraine on February 24 in what Russian President Vladimir Putin initially called a "special military operation" to "demilitarize and denazify" Ukraine.
The Kremlin is still calling it a "special military operation" but now says the goal is to "protect Donbass." May 27 marks the 93rd day of the invasion.
This story was provided to Newsweek by Zenger News.