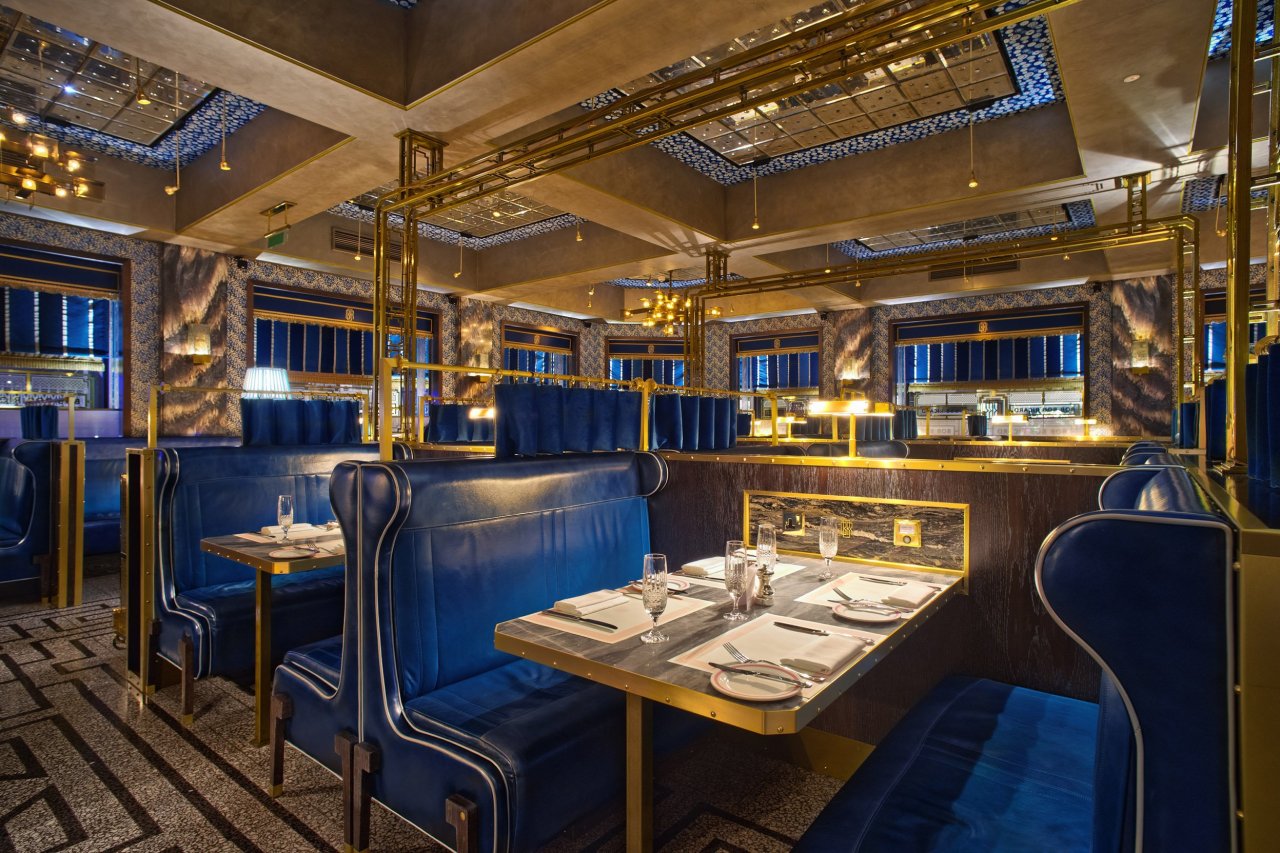 Russians are taking over London. No, we're not talking about high-end real estate or even Premiership football teams. We're talking food and drink. Unlikely as it may seem, London's newest generation of restaurateurs comes from Moscow—and their restaurants are among the most innovative and popular arrivals on London's crowded food scene.
Most of these new restaurants don't serve Russian food, but let's start with the exception that proves the rule: Zima on Frith Street in Soho, which opened in April and is the brainchild of Moscow chef and food critic Alexei Zimin. Zima's shtick is Russian street food. Truth be told, Russian street food isn't actually a thing. For pressing climatic reasons, Russians are strongly inclined to eat indoors for most of the year. "I wanted to create a place that would fit in among the new hipster-ethnic food places," says Zimin, whose rotund figure and luxuriant ginger beard give him the look of a Tolstoyan landowner. "But at the same time, I wanted it to be absolutely Russian in spirit."
A Moscow take on a club sandwich, for instance, is made with Georgian-inspired spicy chicken tabaka and salted cucumbers. Zima's pelmeni are made with venison, while the poached salmon comes with sweet beets and sour cream and the herring with pear. You can also load up on real black Oscietra caviar in any quantity you can afford. It's priced at 1 pound a gram—a bargain, relatively speaking—and it's the real malossol kind, lightly salted (malossol means "little salt") and fresh, not like the pasteurized stuff that comes in tins. Blinis, with sour cream and potatoes on the side, arrive on a cheap enameled tin plate.
Zima is reported to be inspired by Soviet ryumochnaya—literally, a shot glass joint—a kind of Soviet stand-up bar serving vodka and open-faced sandwiches. Late on weekend nights, the place has a kitschy, raucous, speakeasy feel to it. This may have something to do with the staggering collection of infused vodkas, ranging from the familiar pepper and cranberry to horseradish, sea buckthorn and curry leaves. Concerning the last: We tried it so that you don't have to. Curry vodka is one cultural mash-up too far.
Zima is cheap and cheerful. Novikov, just off Berkeley Square, does not attract the bargain hunter. The decor is minimalist Mayfair international: Turn left for the Asian section, right for Italian and straight on for the achingly tasteful lounge bar. Moscow restaurant king Arkady Novikov opened his 19,000-square-foot emporium four years ago—and now reports that it's turning over £25 million ($36.6 million) a year.
It's not just bling that attracts the billionaire crowd. On the Asian side, the food is stunningly well-executed: It includes langoustine tartare that tastes of open blue ocean, umami-rich crispy moray eel, and hamachi carpaccio so fresh it almost swims into your mouth. And Novikov has embraced the farm-to-table philosophy by growing much of his produce at Brent Eleigh Hall, near Lavenham in Suffolk. Not that bling is absent, mind—Novikov London's website features a "private jet and takeaway menu" offering marbled Australian Waygu beef at £72 ($105) a pop and Sicilian red prawns at £67 ($98).
Novikov owns 50 high-end restaurants in Moscow—all one of a kind—as well as 50 more restaurants belonging to various chains. He says he expanded to the U.K., where he now has three restaurants, because London is one of the most competitive restaurant markets in the world. "You need to show yourself you can do better," he says.
The financial crisis in Russia has also accelerated Russian restaurateurs' westward move. Ginza Project, another Moscow restaurant behemoth, began the expansion of major Russian restaurants overseas six years ago with branches of its unashamedly nostalgic Mari Vanna—decorated like a Soviet communal apartment and serving traditional Russian food that a babushka would make—in New York, Washington, Los Angeles and, since 2012, in London, where Prince William and his wife, the Duchess of Cambridge, have been spotted sipping borscht.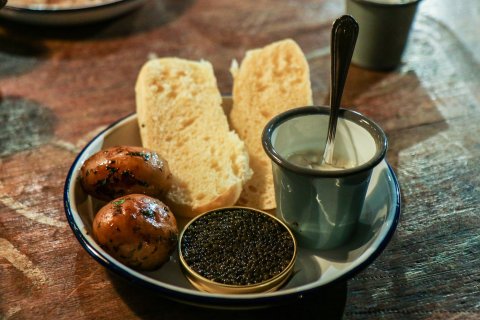 But since 2014, the ruble—and with it, Russians' purchasing power—has fallen by half, devastating Moscow's upmarket restaurant scene and accelerating their owners' quest for profit abroad. Novikov has diversified into London, New York and Dubai. And Andrei Delos, whose $55 million Turandot in Moscow broke records when it opened in 2005 as the world's most expensive new restaurant, is expanding to London later this year with a Café Pushkin, a Russian nobleman's palace transported to Berkeley Street in Mayfair.
Russia's uncertain business climate has something to do with it too. "A lot of Russian restaurateurs want to have a base outside Russia for safety reasons," says Leonid Shutov, who sold his advertising business in Moscow and moved to London to open a restaurant. "Part of it is ambition—they are at the top in Russia and want to prove themselves internationally."
Shutov's London restaurant, Bob Bob Ricard near Soho's Golden Square, is a deliriously strange mix of high-end American diner and 1930s Pullman dining car. The booths are fitted with conical lamps and brass rails and each features a button labeled "Ring for champagne." The staff wear specially tailored livery of bright pink and green, making the place look like a party scene from a Terry Gilliam film. The food is Russo-British, with a phenomenal wine list featuring remarkably low markups: Reserve de Leoville Barton retails at £52 ($76), but it's on the list at BBR for a very modest £82 ($120).
"BBR has personality and weirdness that is very hard to come by," says Shutov. "At the top end of the restaurant market, the risks of deviating from a tried-and-tested formula are greater, so most restaurateurs aren't willing to do eccentricity." His next project, opening in 2017, will be Bob Bob Exchange—a 15,000-square-foot space suspended in a glass box underneath the eighth floor of Richard Rogers's Leadenhall Building—better known as the Cheesegrater—which stands on giant stilts above a public park in London.
Part of the secret of the success of Russian restaurateurs and chefs in London, it seems, is delivering something brilliant and strange that no British entrepreneur, with bankers monitoring the books, would ever be crazy enough to attempt. Hedonism Wines in Mayfair, for instance, is the diametric opposite of old-school West End wine shops like Berry Brothers or Justerini and Brooks. Hedonism, an enormous glass-floored space, is a bar with stools carved out of giant tree stumps, banks of chandeliers made of wine glasses and a children's play area with soft toys. It was opened by Evgeny Chichvarkin, a Russian cellphone tycoon who moved to London in 2009 and opened Hedonism three years later—despite, as he cheerfully admits, knowing next to nothing about the wine trade when he started the project.
"Lots of Russians who did business in the 1990s are no longer needed in their homeland," says Chichvarkin, whose dress sense is closer to Californian surfer than top Mayfair retailer. "I understand why business owners want to leave the thieving regime—it's a kleptocracy run by parasites."
Like all Russian entrepreneurs who have set up in the U.K., Chichvarkin was surprised by the tortuous regulation involved in setting up a business in central London. "But that's OK," he says. "This is a country ruled by law and respect for private property." In its first year of operation, Hedonism was named London Wine Merchant of the Year in Decanter magazine's World Wine Awards, on the strength of its eclectic selection. Among the treasures on offer in Hedonism's vault: a bottle of Château d'Yquem 1811 for £98,000 ($141,000).
Less odd, but in its own way just as revolutionary is Moscow entrepreneur Mikhail Zelman's Burger & Lobster chain, conceived and born in London. Burger & Lobster's unique selling point is offering just the eponymous menu items—burger, lobster, lobster roll—each for a flat price of £20 ($29). Zelman has even penned a "mono-product manifesto," arguing that specialization is the way forward for new restaurants; Londoners line up down the street for the privilege of enjoying a Soviet-style lack of menu choices. Zelman's Global Craftsman Group now sells over 5,000 lobsters a day in 13 Burger & Lobster restaurants and even owns a Canadian lobster fishery to keep up with demand. His business has expanded to include Goodman steak houses, Smack Lobster Roll, Rex & Mariano, Zellman Meats and Beast—a super-high-end joint specializing in steak and giant king crab.
"When I opened Goodman, no one believed that Londoners would eat American meat cooked in Spanish ovens and brought to the table by Russians. It's the positive effect of globalization," says Zelman. "The strength of modern London is that people can come in with ideas that seem crazy for England—and succeed."