The throngs of tourists flooding Russian cities for the World Cup are expected to provide a temporary boost to the country's economy. However, the influx has proved difficult for some host cities to fully accommodate visitors.
In the city of Samara, where England will play Sweden on Saturday in a quarterfinal match, water pressure is dwindling due to an increase in customers. In response, the city utility company has offered an unusual solution to mitigate the low pressure. The proposal by the city's water system authorities was delivered in a pithy statement. "Save water, take showers in pairs," the company said, accompanying its recommendation with a smiley face.
The Moscow Times reported the water authorities have increased output in recent days to compensate for the visitors, but the utility company is still trying to alert residents about the strains placed on the water service. Rather than trying to change the habits of visitors, the water service has asked locals to alter their daily practices.
"Thousands of the city's visitors, who also consume water, are contributing to the increase," the utility company, Samarskiye Kommunalniye Systemy, wrote in a press release on Wednesday.
The city has also experienced a heat wave that has increased the demand for water during the tournament. The Associated Press reported said that medical staff distributed water to fans traveling to last month's game between Russia and Uruguay via public transit.
The Moscow Times reports that "the release did not mention whether a water shortage is expected to hit Samara on Saturday, when the city will host England's match against Sweden." Samara Arena holds 45,000 fans.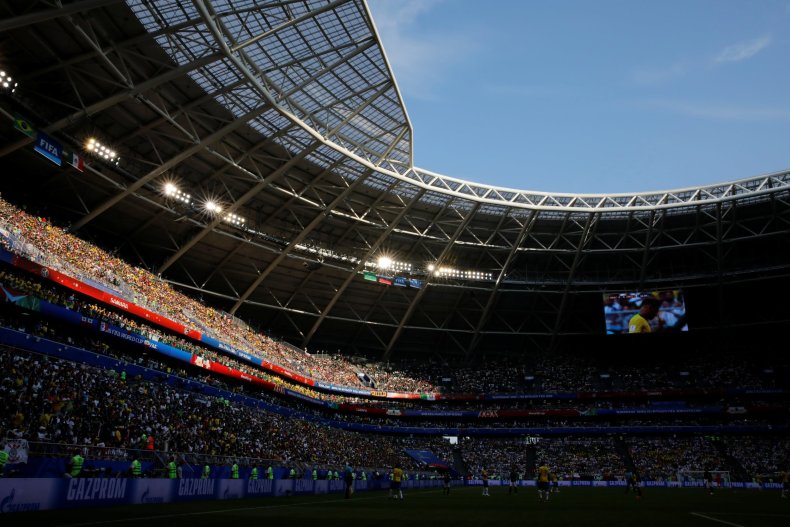 Other countries have also planned for increased water demand during its World Cup games. In Japan, The Tokyo waterworks bureau anticipated fans rushing to toilets during halftime and after the game. During Japan's first match against Colombia, water usage increased 24 percent at halftime and 50 percent after full-time in Tokyo.
Utility issues also arose when Russia hosted the 2014 Winter Olympics in Sochi. The host nation seemed unable to provide the infrastructure needed to host athletes, fans, reporters and others who attended the tournament. Journalists who visited the city to report on the games documented discolored and brown water coming out of faucets.