Russia is reportedly looking to involve minors in referendums in occupied parts of Ukraine so that it can hide a "catastrophic" lack of votes, according to the Ukrainian government's security agency.
The Security Service of Ukraine (SSU) wrote in a new report Thursday that it had intercepted documents detailing plans to have minors participate in the "fake" Russian referendums in the partially Russian-occupied eastern Donetsk region.
"Thus, the aggressors hope to expand the 'electoral base' of support for the Kremlin's project to join part of eastern Ukraine to the aggressor country," the report said, citing the alleged intercepted documents.
The documents show that leaders of the Russian-occupation administration in Donetsk plan to have local residents aged 13 to 17 vote in the referendum, the SSU said. It added that parents or guardians will have to escort their children to go vote.
Newsweek was not able to independently verify the report and reached out to the Kremlin for confirmation and comment.
Russian authorities have spoken about potential referendums in captured areas of Ukraine for months, and four Russian-controlled regions in eastern and southern Ukraine announced plans on Tuesday to begin holding votes this week.
In an address on Wednesday that saw him announce a partial mobilization to bolster his troops in the ongoing war against Ukraine, Russian President Vladimir Putin also pledged to back the referendums.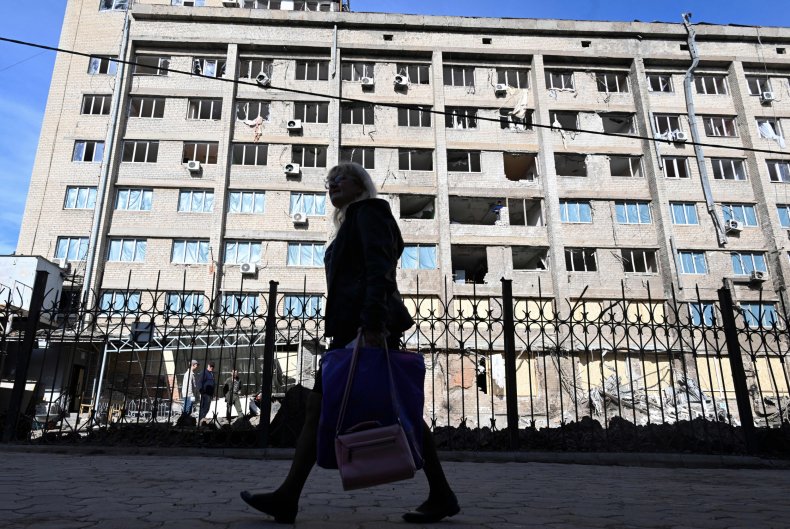 Ukrainian President Volodymyr Zelensky and Western officials have vehemently criticized the planned votes and stressed that they will not accept the results of such referendums as legitimate.
At a press briefing on Tuesday, U.S. National Security Adviser Jake Sullivan said the votes will be "manipulated" and Russia will use them "as a basis to purportedly annex these territories either now or in the future."
"Let me be clear: If this does transpire — and, obviously, it's not a done deal yet — but if this does transpire, the United States will never recognize Russia's clains [sic] — claims to any purportedly annexed parts of Ukraine," he said. "And we will never recognize this territory as anything other than a part of Ukraine. We reject Russia's actions unequivocally."
NATO Secretary-General Jens Stoltenberg also denounced the referendum plans as a "further escalation' of the war.
"Sham referendums have no legitimacy & do not change the nature of #Russia's war of aggression against #Ukraine," he tweeted Tuesday.
For the Donetsk referendum, the Ukrainian SSU report said that in addition to allegedly including children, authorities are also looking to "inflate" the vote results by involving families who are from the Donetsk region but temporarily left the area for Russia.
Donetsk houses a Russian-backed separatist state that calls itself the Donetsk People's Republic (DNR). While locals may be Ukrainian-born, some may instead identify as part of this breakaway region, even though Ukraine does not recognize it as legitimate.