Russians Withdraw $1.3 Billion From Their Bank Accounts During Ukraine Invasion
Russian individuals and businesses withdrew 111.3 billion rubles — equivalent to $1.3 billion — from their bank accounts on Wednesday and Thursday, according to data from the Bank of Russia, after the country initiated a war in Ukraine.
RBC.ru reported the surge in withdrawals on Friday, saying it represented the highest demand for cash by Russians since the end of March 2020 at the onset of the pandemic, when President Vladimir Putin also introduced a tax on interest income from large deposits. Then, Russian people and businesses withdrew 174.9 billion rubles in one day.
The central bank figures also included the volume of cash withdrawals on the Russian holiday on February 23.
The Russian website noted that only 1.9 billion rubles were withdrawn on February 22, hours after Putin recognized Donetsk and Luhansk – Russian rebel-held parts of the Ukraine – as so-called people's republics.
The high withdrawals were spurred by Putin's announcement on Thursday of war against the Ukraine, a move that has drawn scathing criticism from most military powers except for China. Russian stocks have plummeted 33 percent and the ruble plunged to a record low on Thursday.
At least 137 Ukrainians have died, including civilians and children, and hundreds more have been injured as Russia continues its invasion. At least 1,000 Russian soldiers have also reportedly lost their lives, Ukraine's defense ministry said.
Troops have clashed in multiple cities across Ukraine, including the capital Kyiv, which has been pounded by missiles. Ukraine's interior ministry said on Friday that Kyiv is expected to face a Russian tank onslaught later today.
The city of over 3 million people is being hit with Russian "cruise or ballistic missiles," a government adviser told reporters via text message on Friday.
Ukrainian officials said a Russian aircraft had been shot down and crashed into a building in Kyiv on Thursday night, setting it alight and injuring eight people, Reuters reported.
Residents of Kyiv's Obolon district were advised by the city council to stay indoors because of the approach of the Russian army. Ukrainian troops took up their positions around the city after Russian troops were seen in the northern suburbs and gunfire was heard close to government buildings.
Heavy Sanctions
The Financial Times reported on Friday afternoon that the European Union is preparing to freeze the assets of Putin and Foreign Minister Sergei Lavrov as part of a third round of sanctions. Citing three sources familiar with the discussions, the paper reported that the sanctions will be approved this afternoon, along with several measures against Russian banks and businesses.
There are fears that the war could trigger a fresh refugee crisis in Europe.
The UN refugee agency estimated on Thursday that 100,000 Ukrainians had fled their homes and that several thousand have crossed into neighboring countries, mainly Moldova and Romania. The agency warned that this number could increase to 5 million if the war continues.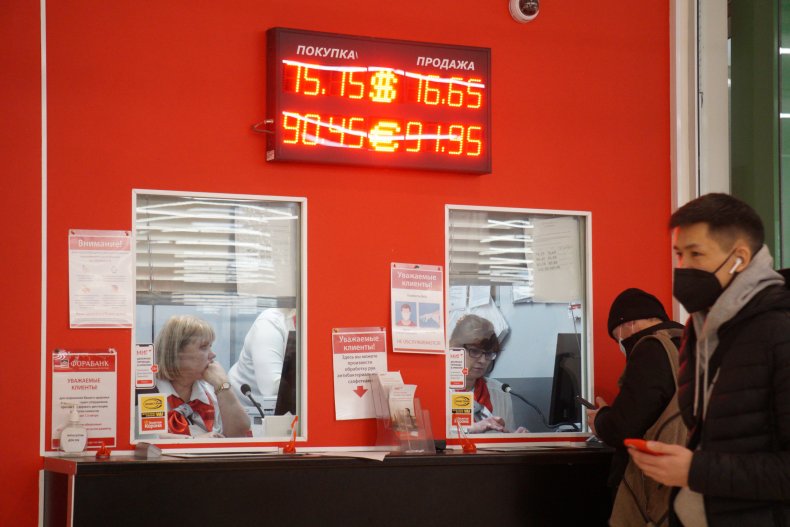 Ukraine-Russia Updates Live: Putin Ready to Negotiate as Battle for Kyiv Begins.