Russia's Antifa Is Being Tortured and Detained by Putin's Shadowy Security Service, Sources Say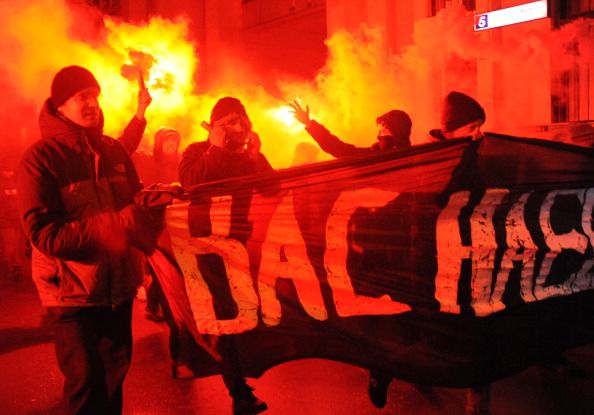 Ilya Kapustin, a 27-year-old industrial climber in St. Petersburg, Russia, says he's not sure if he was arrested or kidnapped one cold night in January when he was thrown into a minibus while on his way home.
It was around 9:30 p.m. and Kapustin was walking from driving school when he claims he was snatched off the street a block from his house and thrown into the bus. In the vehicle, he said he was confronted by five men who joked that they were the "special service officers of the minivan." Kapustin suspects they were members of the Russian Federal Security Service, also known as the FSB.
During the following three-and-a-half hours, Kapustin claims the men tortured him with an electrical cattle prod while questioning him about an acquaintance from work.
"I was thrown into the minibus, put on the floor and handcuffed with my arms behind my back," Kapustin described to Newsweek from the safety of neighboring Finland, where he is now living. "Then the car started, and the entire time the car was moving I was tortured with an electric shocker. They demanded answers to their questions while one of them stood on my feet, pressing them to the floor, and a second man used the electrical shocker on my abdomen, hips and groin."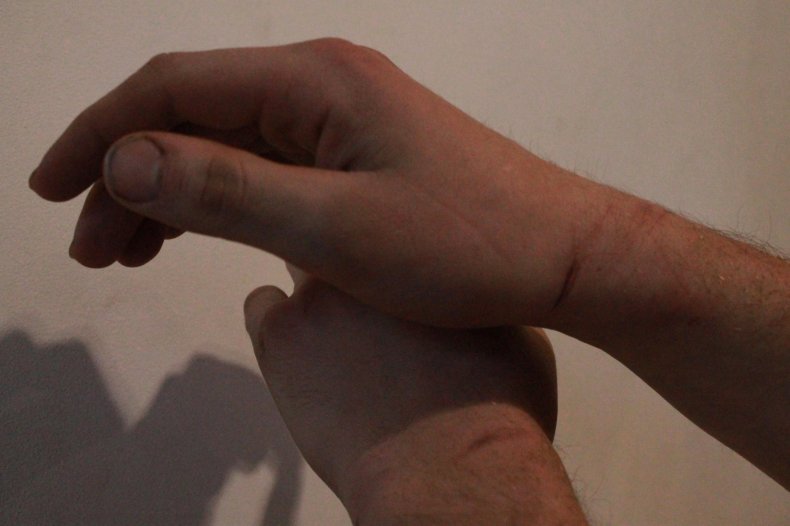 After torturing him, Kapustin claims his captors brought him to the FSB's office for questioning and then later to his house, which the police searched. He didn't see the faces of the men who tortured him, but he said the men who beat him and electrocuted him in the van were the same people who questioned him at the police station. In the FSB's office, the officers threatened to break his legs and kill him. But he was released soon after without being charged.
Kapustin says he was tortured because of his friendship with young, anti-fascist anarchists in Russia, and because of his own history of activism. Throughout the years, he participated in environmental protection projects, distributed food to the needy and joined anti-war protests, he says. He had plans to move south to start an agricultural cooperative. But those plans were cut short after his experience with the FSB. Today, he says he is too afraid to return to Russia, where a handful of young, left-wing activists are still being held in prison and are accusing the FSB of torture.
"They are charged with participation in a terrorist group. I would have to see the evidence against them to know if the charges are true, but given the quite credible torture allegations it's likely the government doesn't have sufficient evidence against them," Tanya Lokshina, a Russia-based researcher with Human Rights Watch who has been following the cases, told Newsweek. "Torture is quite common in Russia, and it generally happens in those cases when they don't have sufficient evidence. So torture is used to force an individual to incriminate himself and provide evidence about others."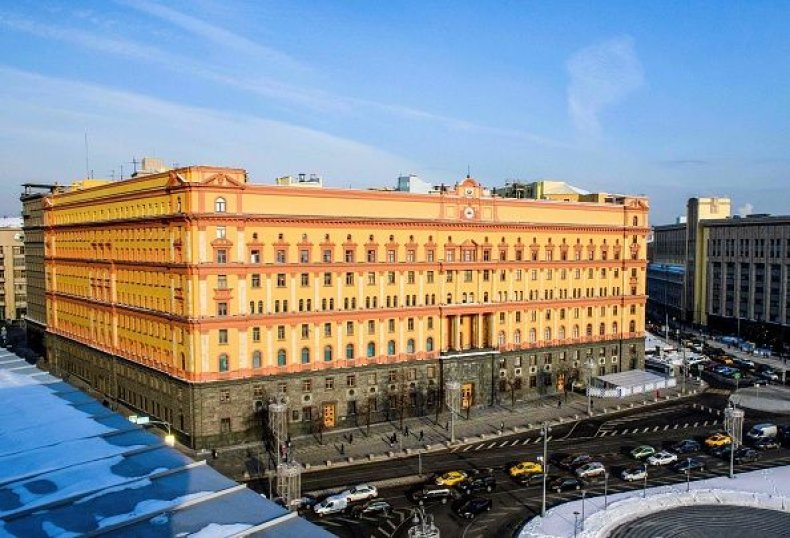 Russia's FSB formed in the 1990s as the successor of the Soviet-era KGB. Its main headquarters are located in the secretive building on Moscow's Lubyanka square that once housed the Soviet security services, but its officers operate in virtually every part of the country. The FSB also has close ties to Russian President Vladimir Putin, who ran the agency before entering politics.
Responsible for all types of counterintelligence, antiterrorism and surveillance activities, the FSB has numerous tasks that can include apprehending spies or harassing domestic activists. Many have accused the security agency of torture and coercion, particularly in far-flung regions of the North Caucasus like Chechnya and Dagestan, where the majority of the population is Muslim. The most high-profile example is that of Alexei Mikheyev, who in 2006 won a case against the Russian government in the European Court of Human Rights. Mikheyev said the FSB used electric shocks and beatings to force him to confess to the rape of a 17-year-old girl.
Since then, experts say the FSB's longstanding practice of using torture hasn't abated, and that groups are increasingly being targeted in larger western cities like Moscow and St. Petersburg.
"The government has been targeting all sorts of independent groups. I cannot say whether these individuals are involved in any illegal activity. But in this case of St. Petersburg and Penza, all of these young people are connected somehow," Lokshina described.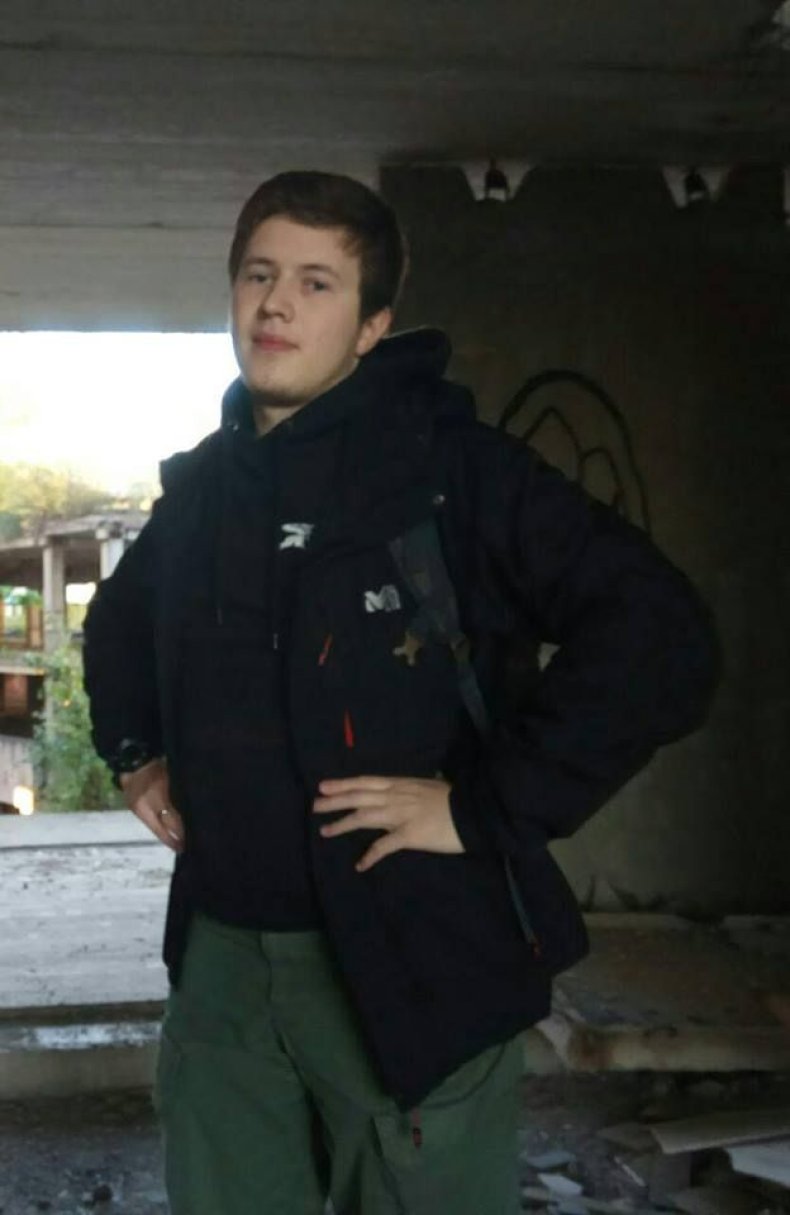 In October and November last year, five individuals were arrested in the small city of Penza in southwest Russia. One of the men is under house arrest and the remainder are still in jail. Four more were arrested in St. Petersburg a few months later. Of that group, only Kapustin has been set free. All of the youth maintain their innocence and claim they were tortured while in detention.
Meanwhile, the St. Petersburg Public Oversight Commission, an independent body with permission to enter the city's prisons, issued a public report after visiting two of the men arrested in St. Petersburg, Viktor Filinkov and Igor Shishkin, and said there was credible evidence of torture. After visiting him in prison, Filinkov's lawyer, Vitaly Cherkov, posted on his Facebook page that he had never seen injuries like the ones sustained by Filinkov during his time in detention. Through their lawyers and family members, the activists describe being shocked with electric cattle prods, beaten and hung upside-down. Filinkov's wife, Alexandra, who asked that her surname be omitted for her safety, says her husband is innocent and that his rights are being violated.
"My husband held anti-fascist positions, he opposed any kind of oppression, went to meetings, supported trade unions and anti-fascist initiatives, advocated for free internet," Alexandra told Newsweek.
"He was arrested on January 27, 2018. He was in the special facility of the FSB until March, when he was suddenly transferred to the Gorelovo detention center. That prison is famous for its overcrowding, lawlessness and torture. At the same time, neither his lawyer nor I were informed about the transfer," Alexandra continued. The oversight commission's report also claimed that Filinkov had burns from electric shocks on his body and abrasions on his chin.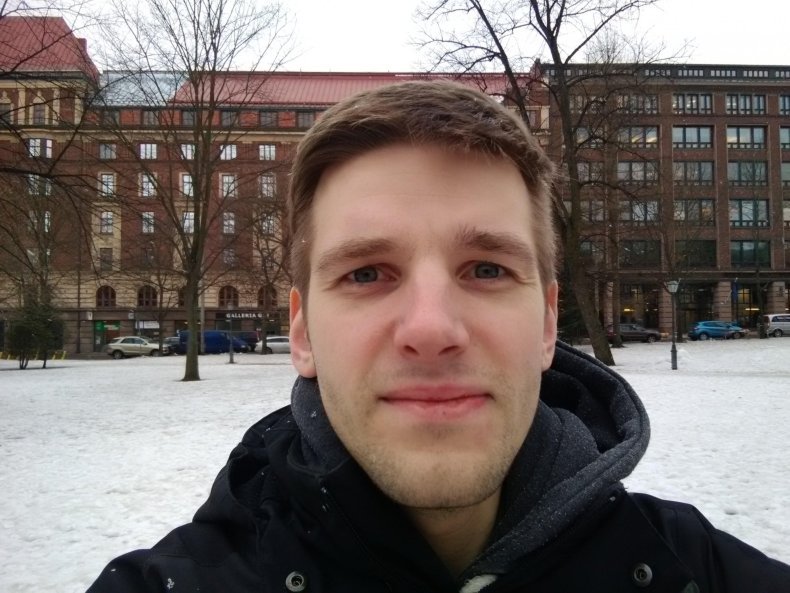 The FSB claims the detainees are part of a terrorist network of anarchists with cells in St. Petersburg, Penza, Moscow and in neighboring Belarus, but no arrests have been reported in the latter two locations. They also say the group was planning to stage an uprising during the upcoming World Cup, which will be held in Russia in June and July. The FSB did not respond to Newsweek's questions about whether the allegations of torture would be investigated.
Meanwhile, the St. Petersburg oversight committee and human rights groups are calling for an investigation. The oversight committee's report recommends that a full, transparent and comprehensive investigation be conducted into the alleged torture of Filinkov and Shishkin, and that their safety be guaranteed.
"In this particular case, our main message is that the allegations sound very weighty and should be investigated," said Human Rights Watch's Lokshina. "Torture allegations are very serious, and they should be looked into. And so far there is no investigation."