Majority of People Fear War in Russia's Eastern European Neighbors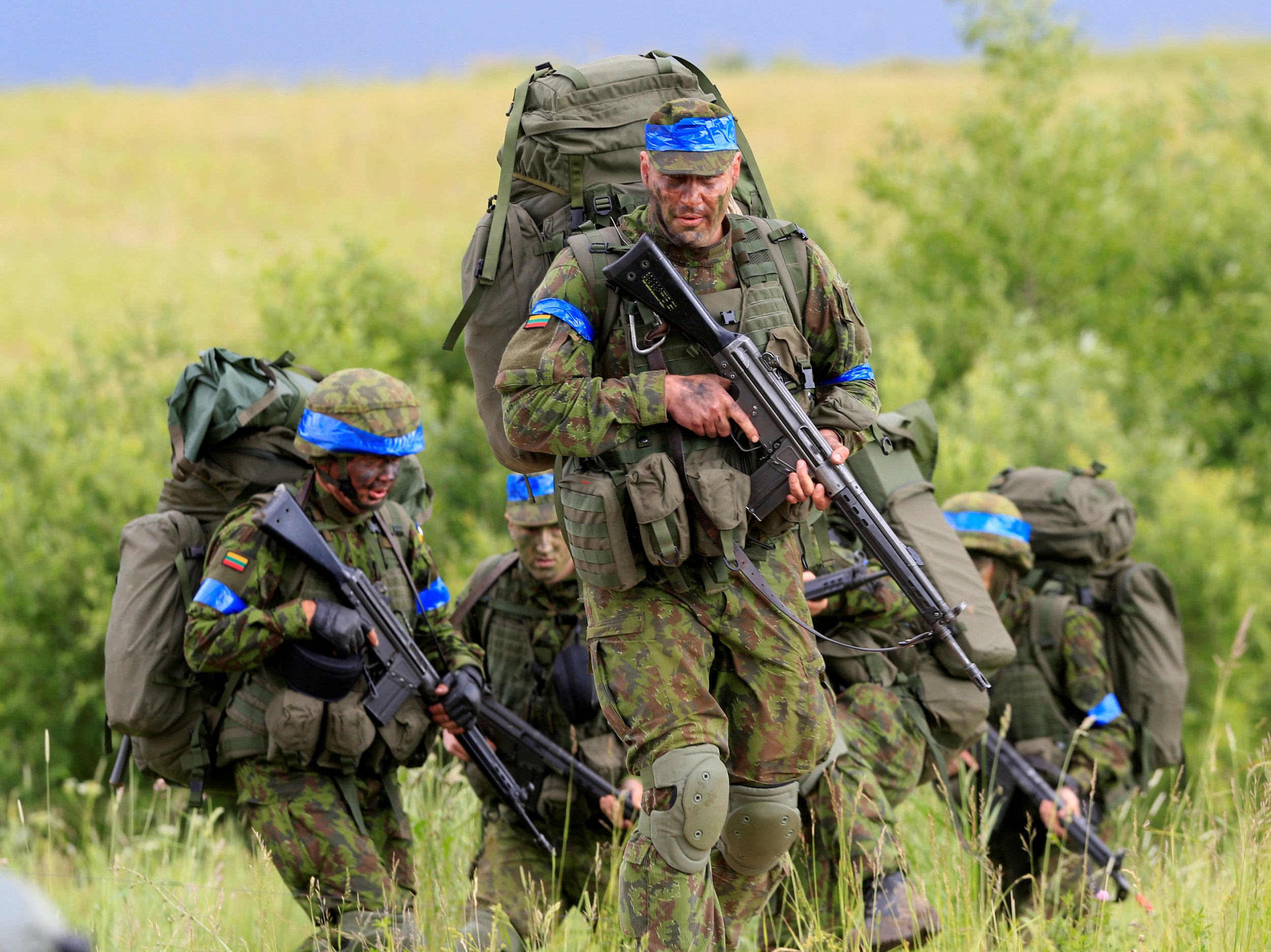 The majority of Latvians and Lithuanians fear war could erupt in their country, according to a survey in the Baltic states, after three years of persistently high tension with neighboring Russia.
The survey by European insurance firm ERGO questioned 3,000 people across Latvia, Lithuania and Estonia and found that war was among the biggest fears of people in all three nations.
According to the poll, reported in Baltic news site Delfi on Tuesday, over two thirds of Lithuanians fear war (68 percent), while 62 percent of Latvians and 45 percent of Estonians do. Political or economic instability is also a major fear among Russia's Baltic neighbors—all three countries have imposed sanctions on Russia as members of the European Union, but they also have sizeable ethnic Russian minorities within their borders, whose identity and representation is often a controversial issue.
"Concerns appear to be about military conflict or about situations of political instability, which are obviously explained by our geographic position and historical events," Decla Uusma, head of health and life risk assessment at ERGO told Delfi.
Read more: Worried by Putin, Latvians and Lithuanians want a European army
As the Baltic states share a border with Russia and are members of NATO, they have often most directly felt the increasing tensions between Russia and the West in recent years. Relations between Moscow and the West deteriorated following Russia's annexation of Crimea from Ukraine in 2014. Lithuania, Latvia and Estonia have been particularly concerned by the annexation as, like Ukraine, they were once Soviet territory and that they have a large Russian-speaking population with Crimea.
The Baltic Sea itself has been a theater for visible actions—Western intercepts of Russian aircraft flying towards the region's airspace have spiked in recent weeks and Russia and NATO allies have both reinforced their presence in the region.
Both NATO and Russia have dismissed that they intend to attack one another, however experts have warned a high military build up in the region elevates the risk of accidental conflict.
Though war was of striking concern to people in the Baltics, fears over extremist attacks were much lower. The Baltics are much less concerned with extremist attacks than western Europe, with 23 percent of Estonians, 38 percent of Lithuanians and 32 percent of Latvians apprehensive about the likelihood of attacks on home soil.
The Baltics have not been the scene of extremist plots such as the ones that have unfolded London, Paris, Brussels and other European cities over the last two years. The deadly metro bombing in nearby St. Petersburg in Russia and the truck attack in Stockholm, Sweden, both in April, are probably the nearest examples of recent extremist attacks.