Russia's Crimea-Based Black Sea Fleet Carries Out Practice Drills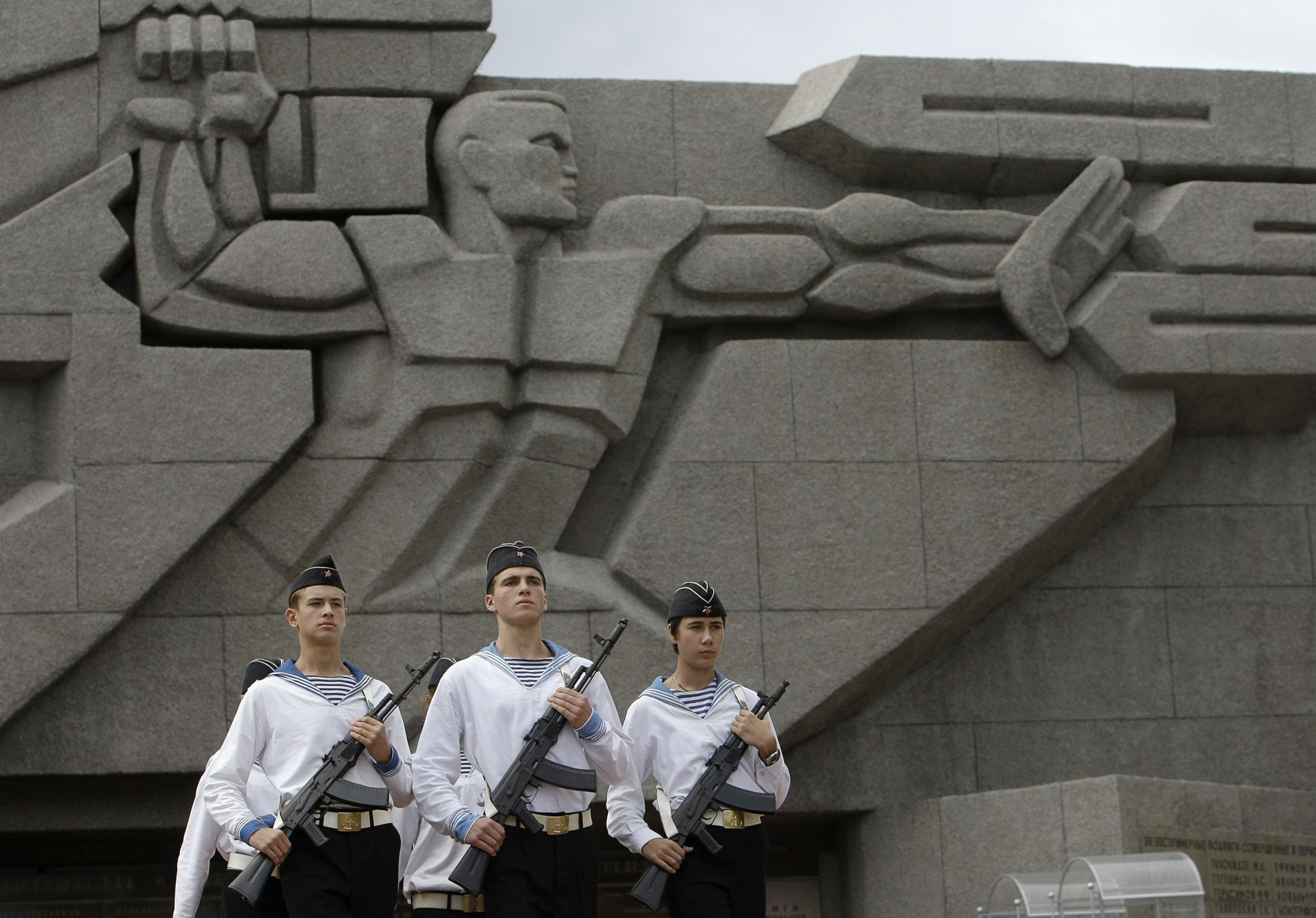 Russia has ordered its Crimea-based military unit, the Black Sea Fleet, to undergo drills testing troops' combat readiness in the same week that a ceasefire was agreed, due to take effect on Sunday in Ukraine's nearby eastern Donbas regions.
"During training we will assess the efficiency of the military command, as well as the naval force at their disposal and the air defence and coastal units of the fleet," colonel general Alexander Galkin told Russia's state owned news agency Itar-Tass.
The Russian commander added that the tests will be carried out by units across the Black Sea Fleet's 11,000-strong force, including the Crimean naval and air facilities around the cities Sevastopol and Simferopol. The unit's coastal artillery troops will also be tested before the end of the drill, tomorrow.
Russia annexed Crimea last March following a controversial referendum. Having reported that Crimea had voted to join Russia, the Kremlin reinforced the Black Sea Fleet on the peninsula with the Russian Naval Command issuing a briefing late last year that said that Crimea and the Arctic will be two areas of priority for Russia.
Shortly after the referendum, pro-Russian separatists in two eastern regions of Ukraine, collectively known as Donbas, also declared their secession following similar referenda in the cities of Donetsk and Luhansk in May. Since then there has been ongoing fighting between Ukrainian forces and Russian-backed separatists in the region, with several agreed ceasefires falling through.
However, in a meeting this week in Belarus between Ukraine's president Poroshenko and Russia's president Putin, mediated by the leaders of France and Germany, it was agree that a new ceasefire will come into force this Sunday.
According to Ivo Daalder, former U.S. ambassador to NATO, who is now president of the Chicago Council on Global Affairs, this latest military test and Russia's decision to publicise it shows that Moscow has a long term agenda to promote unrest in Ukraine.
"There is nothing surprising in these actions. Saber rattling has become the new operating principle of Putin's Russia," Daalder says. "Moscow remains determined to destabilize Ukraine in the east, with or without a ceasefire agreement."
Russia's military district which incorporates Crimea also reported that exercises were occurring today, including one which involved military aircraft firing close to 2,000 missile and artillery rounds in nearby Krasnodarsk.
Former U.S. ambassador to Ukraine John Herbst believes that today's increased military activity around Crimea is linked to the intensifying fighting near the east Ukrainian town of Debaltseve, which was reportedly shelled at least 25 times today, before fighting from both sides has to stop.
"The drills are designed to do two things," Herbst says. "One - distract Ukraine, as Russia's agents push the offensive in Debaltseve before the ceasefire starts on Sunday morning, and two - to generally intimidate."
Igor Sutyagin, Russian military expert at London's Royal United Services Institute (RUSI) agrees, believes a distraction near Crimea would give the Russian-backed separatists the perfect chance to grab a strategic victory before Sunday.
"The first reading for these drills in Crimea is to stop Ukraine from sending reinforcements to Debaltseve," Sutyagin says.
"If Putin raises alert among Ukraine's ground force units around Crimea with sniper exercises, if he raises alert for marines to send ships into the Black Sea, he can make very serious trouble for Ukraine."
According to Sutyagin the move is a strategic attempt to force Ukrainian army units to disperse from Debaltseve and assume stations at other posts such as Odessa and Mariupol, giving the Moscow-backed separatists the upper hand.
"If you really want a ceasefire, you want a ceasefire immediately. You do not take two days. Russia needed two more days to inflict a tactical defeat over the Ukrainians at Debaltseve," Sutyagin adds. "That will be another blow to Ukraine and Putin would love to broadcast that 10,000 Ukrainian soldiers had to surrender at Debaltseve."
However, according to Simon Saradzhyan, research fellow at the Belfer Center for Science and International Affairs at Harvard University, today's exercises were not intended to be a show of Russia's military strength.
"This is billed as a command and staff exercise, in which the military focuses on honing of command-and-control procedures in various scenarios rather than on actual deployments," Saradzhyan says.
"Yes Russia, as other countries, routinely resorts to exercises not only for the sake of training, but also for signaling through demonstration of force. However this is not one of those cases," Saradzhyan points out.
"You don't demonstrate force with what is essentially a tabletop exercise. The drill would have occurred regardless of what's going on in Ukraine," he adds.
According to Saradzhyan a better example of "real sabre-rattling by Russia" was yesterday's announcement by its Strategic Ballistic Missile Command that over 30 of its facilities across 12 of the countries regions would participate in the largest drill in the unit's history.
Earlier this week the Russian military also ordered 2,000 of its Arctic troops to undergo live-fire exercises in polar conditions in Arkhangelsk near Finland. Newsweek asked the Finnish Ministry of Defence for comment about this activity, but they said they were unable to issue one this week.