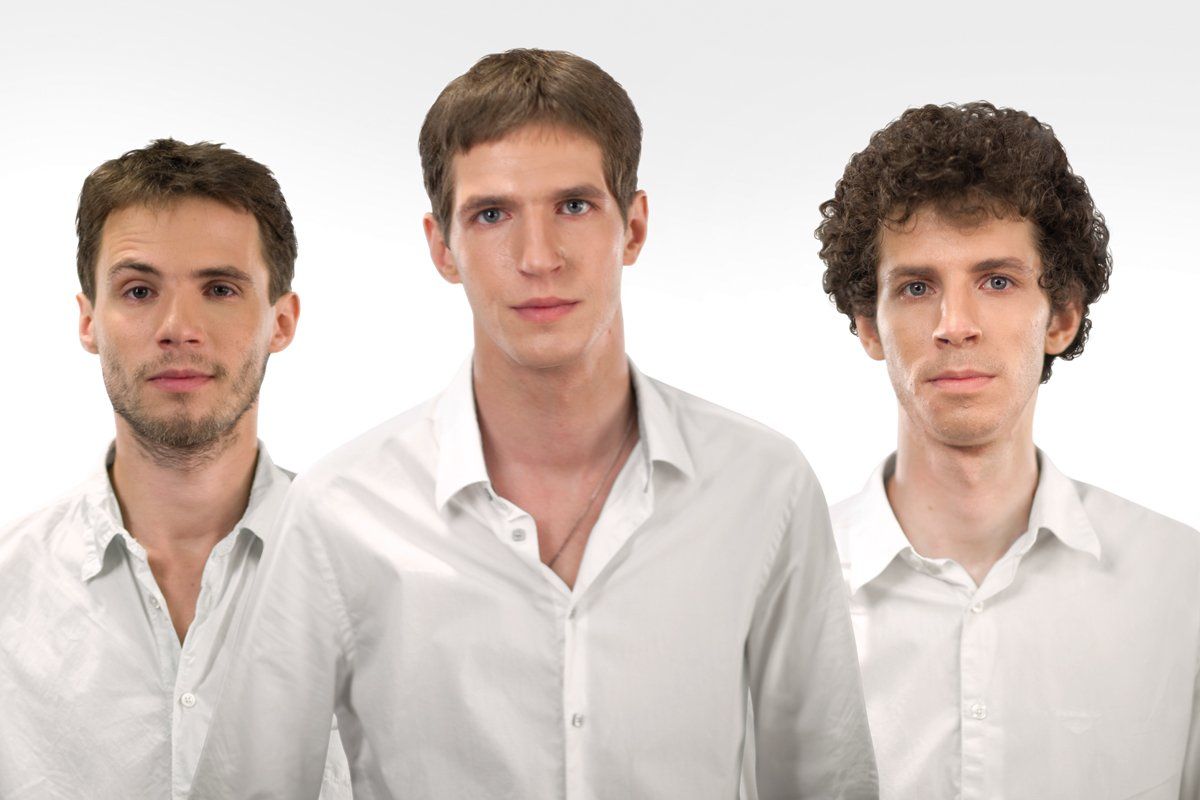 The night after Vladimir Putin was inaugurated for his third term as president, a trio of brothers sat down in a smoky piano bar to discuss the politician's return. Co-hosts of the Web TV show Dzyadko 3, Filipp, Timofei, and Tikhon Dzyadko have become three of the most recognizable faces of Moscow's liberal opposition. Each week, the brothers air their show—which has become a de facto anti-Putin brainstorming session—on Dozhd, an independent channel broadcast mostly on the Internet. During the protests in Moscow last winter, Dzyadko 3 was directly responsible for getting thousands of people out onto the streets (the brothers refer to the unrest as "the movement of unpleased individuals"). Now, as activists rushed to demonstrate against Putin's inauguration, the brothers discussed their upcoming show. Their tone was disillusioned. They would report on Putin's ominous return to the Kremlin, they said, and detail the around-the-clock arrests of their friends by state security forces.
In a nation where Web TV is a nascent phenomenon—and one that is difficult to censor—the Dzyadkos have taken to the medium with gusto. Their show tackles those classic, so-called damned questions for Russian intellectuals, originally raised by Nikolai Chernyshevsky in the 19th century—"What to do?" and "Who is guilty?"—and applies them to the problem of governance in Russia today. Their tone ranges from serious to gently absurd. The brothers are practically made for television—all strikingly handsome, sincere, young, and talented. They are also deeply torn, both in private and occasionally on the air, over the right way forward for Russia's opposition, now seemingly adrift after Putin's election coup.
The middle brother, 27-year-old Timofei, thinks that street marches are a waste of energy. It is pointless for Russians to stand about in a crowd and yell that Putin is a thief, he says—and even more pointless to get dragged away by police trucks. A business writer for one of Russia's few remaining independent newspapers, Timofei believes that exposing the corruption of top officials would be a far more effective form of opposition, and would have a bigger influence on the country's distorted political system, than the rallies. To that end, Timofei has investigated a corruption case, reaching into the billions, by one former minister, and has also investigated the minister's successor, who appears to be corrupt, as well.
Timofei is particularly concerned that the faithful sons of Moscow's bohemian intelligentsia, in their rush to pillory Putin, have found themselves allied in Moscow's squares with balaclava-wearing neo-nationalists, who want to oust Putin for being too permissive on issues such as immigration and Chechnya. That compromise was "ultimately unacceptable," says Timofei, who was accosted by neo-nationalist protesters at a rally last winter. He also thinks the opposition should be more proactive about detailing Putin's alleged fraud. "Go and observe at the elections," Timofei advises—as he did recently in the provincial city of Yaroslavl, where he watched over the vote count in municipal balloting.
The other two brothers are still big supporters of taking the revolution to the streets. Filipp, the eldest, is also wary of the neo-nationalists and thinks the liberals should reject alliances with the radical fringe. Tikhon, the youngest at 25, is the most fiery and passionate of the three. A star radio reporter for Echo of Moscow, Tikhon has been responsible for administering a Facebook account to help organize protests. He's also a firm backer of the opposition leader and anti-corruption blogger Alexei Navalny. When he talks about the protests, Tikhon gets intense and angry. That night at the piano bar, he rolled up his shirtsleeve to show a bruise on his forearm—inflicted, he said, by police forces.
In a way, the Dzyadkos were born to ask these thorny questions about Russia's political future. The boys "grew up in a dissident atmosphere," says their mother Zoya Svetova, a prominent human-rights activist who monitors the courts. In 1982, when Filipp was still an infant, KGB officers stormed the family home to arrest their grandmother, the dissident writer Zoya Krakhmalnikova, for publishing anti-Soviet books with the Possev publishing house in West Germany. The security forces even searched Filipp's baby bed to make sure there were no banned books by Aleksandr Solzhenitsyn hidden there. The court sentenced Krakhmalnikova to a year in prison and five years in Siberian exile.
Then, three years later, on the day Svetova gave birth to Timofei, the KGB arrested her father Felix Svetov, also a dissident writer, on charges of anti-Soviet propaganda. Svetov was slammed with the same harsh sentence as his wife. When they were little, the Dzyadko brothers once traveled to Ust-Kan, in the remote region of Altai, to visit their grandparents in the gulag. A black and white photograph that hangs in the front room of the apartment on Kolobovsky Avenue, where the brothers grew up, shows the elderly couple in a deep embrace, against the background of the Siberian village.
That the mantle of dissidence has now passed to the grandsons is clear as the men sit and debate in the piano bar. Filipp and Tikhon tweet frantically on their iPhones to their friends who are protesting outside. Timofei, the middle brother, watches them with an expression of frustration. A phone call comes in. Police have just arrested the protest leaders Navalny and Sergei Udaltsov. Filipp and Tikhon dash from the café to join their friends. The streets are foreboding that night—in the pouring rain, squads of police line up to block an intersection where straggling groups of protesters are trying to march. A few days earlier, Putin's spokesman had promised to "smear protesters' livers" against the pavement, and Robert Schlegel, a member of parliament from the pro-government party, said in an interview that he would "come out with a weapon in my hands to shoot those angry citizens."
To make sure that nobody would spend a night in jail, Svetova joined her sons at the protest. Filipp and Tikhon did indeed get arrested, and refused to show their press cards—even though they had them in their pockets—out of solidarity with their fellow protesters locked up in the police vans. Later, Timofei said the protests that night were "pointless." He said that he is so exasperated, he is now even thinking of moving away from Moscow. His older brother Filipp, however, still feels that the protests will bear fruit and help strengthen grass-roots democracy in Russia. Last February, he says, after one large protest, the activists turned their coordinated energy to local projects, such as building playgrounds for children. These community projects—reported by Filipp's magazine, Bolshoi Gorod—show on a small scale, he says, what the opposition can one day accomplish for Russia.