Russia's Economy Forecast to Outperform U.S. Within Two Years
Russia's economy is expected to grow faster than that of the U.S. in 2024, according to the International Monetary Fund (IMF).
Following Vladimir Putin's invasion of Ukraine on February 24, 2022, Russia was hit by Western countries with tough economic sanctions designed to isolate it from the global financial system. In its report released Tuesday, the IMF said that Russia's gross domestic product (GDP) growth had gone into negative figures (minus 2.2 percent) in 2022.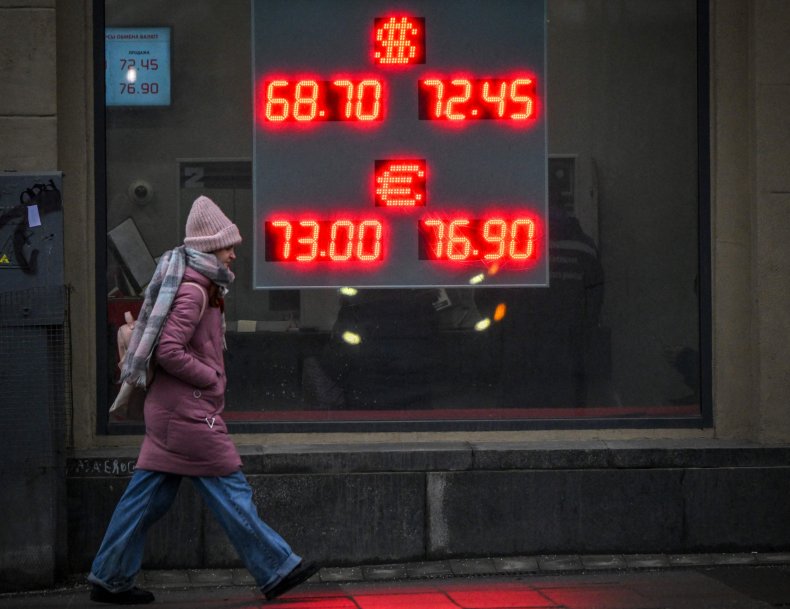 However, the IMF predicted that Russian GDP would rebound slightly in 2023 to 0.3 percent growth, and in 2024, the Russian economy is predicted to grow by 2.1 percent.
That's higher than the IMF's projection for the United States, which it said would see only 1 percent GDP growth that year, and down from a predicted 1.4 percent in 2023, and the 2 percent the U.S. enjoyed in 2022.
The IMF listed the war in Ukraine, as well as higher interest rates by central banks, as factors that "continue to weigh on economic activity" worldwide, and the report outlined how there had been "subpar economic growth" globally.
The fund also noted that European economic growth last year "was more resilient than expected," despite the "terms-of-trade" shock from the war.
The IMF had raised its global growth outlook this year to 2.9 percent for 2023, down from 3.4 percent for 2022. It said GDP would then rise to 3.1 percent in 2024.
Boris Grozovski, a Russian economics expert from the Wilson Center think tank, told Newsweek the most interesting aspect of the IMF forecast was its estimate of 0.3 percent GDP growth for Russia this year, compared with Moscow's prediction of a 0.8 percent decline.
"In 2022, the economic downturn wasn't as severe as expected, however it will be more prolonged," he said. "Actually, the economic dynamics in 2023 will depend on the course of the war, sanctions and oil prices.
"It seems to me that it is impossible to give a clear forecast for 2023 for now, but the decline of the economy by 1 to 2 percent, given the possible continuation of mobilization in Russia, seems more likely than economic growth.
"I think 2024 is too far from now," he added.
Ben May, director of global macro research at Oxford Economics, told Newsweek that the war in Ukraine, commodity prices and sanctions "are going to be especially crucial" in determining Russia's baseline GDP forecast over the next two years.
Meanwhile, May's think tank had predicted GDP growth for the U.S. of 0.8 percent, relatively close to the IMF's prediction of 1 percent. "I'm not sure that a comparison with 2022 calendar year growth is that meaningful though," he said. "In 2022, calendar year growth was high, but the economy was slowing.
"In 2024, the opposite is expected to be true—the economy will be picking up steam and is expected to have faster growth on a quarter-over-quarter basis than in 2022."