Russia's Estimated Losses Entering Day 230 of War, Including 62K Personnel
The Ukrainian Ministry of Defense has estimated that the number of Russian troops killed or wounded in the nearly eight-month-long invasion of Ukraine now stands at over 62,000.
The estimate, released on Monday by the defense ministry and later published by Ukrainska Pravda, places Russian casualties at 62,870 in addition to tens of thousands of destroyed military vehicles and equipment. Published on day 230 of the conflict, the new numbers come as Ukrainian leaders have vowed to maintain their resolve after Russia launched missile strikes on cities across Ukraine.
The number of Russian troop losses has risen by 370 since Sunday, according to the estimate. The ministry also reported that the Russian military has lost 2,495 tanks, 267 airplanes, 235 helicopters, 15 ships and 1,097 military drones, as well as other vehicles and equipment.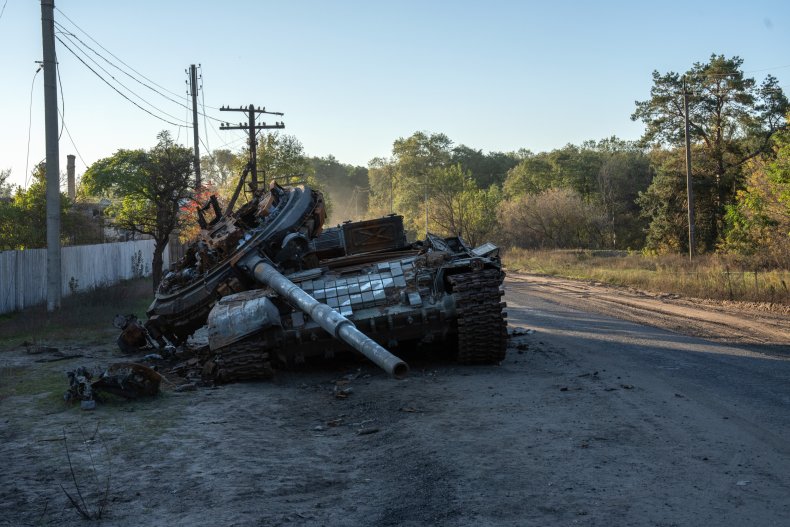 Exact figures on Russian military losses have been difficult to obtain during the conflict, and the Kremlin has rarely released figures.
Russia launched more than 84 rocket and air strikes targeting Kyiv and other Ukrainian cities on Monday, according to an operational update by the General Staff of the Armed Forces of Ukraine. At least 14 Ukrainian cities were struck, leaving some residents without electricity or water. The price of the damage caused Monday has been estimated to be between $400 million and $700 million, according to Forbes.
Ukrainian President Volodymyr Zelensky responded to the strikes, saying in a video posted to Telegram that "Ukraine cannot be intimidated" and that the country remains united.
"Even now, the occupiers cannot oppose us on the battlefield, and that is why they resort to this terror," Zelensky said. "Well, let's make the battlefield even more painful for the enemy. And we will restore everything that was destroyed."
Ukrainian Minister of Defense Oleksii Reznikov tweeted on Monday that Ukraine remains undaunted despite the missile attacks targeting civilian areas.
"Our enemy believes that missile strikes are effective means of intimidation," he said. "They are not. They are war crimes. Civilians are dying and getting injured."
Kerch Strait Bridge, a structure connecting Russia with the Russian-occupied Crimean Peninsula, was badly damaged in an explosion on Saturday. Russian President Vladimir Putin on Sunday blamed Ukrainian officials for the explosion, although no one has publicly claimed responsibility for it.
"There is no doubt," Putin said in a video address. "This is an act of terrorism aimed at destroying critically important civilian infrastructure. This was devised, carried out and ordered by the Ukrainian special services."
The bridge has served as a critical supply line for Russian troops fighting in Ukraine's eastern Donbas region. It's also been a symbol of Russian occupation of the peninsula after it was annexed from Ukraine in 2014.
Newsweek reached out to the Russian Ministry of Defense for comment.