As Russia continues to struggle in its invasion of Ukraine, experts are puzzled over the country's apparent lack of air superiority.
Experts with Janes, a research firm dedicated to "defence and security intelligence," told AFP News on Tuesday that they are stumped as to why Russia's air force has not taken decisive control over Ukrainian air space. The firm's findings indicate that Russia employs 132 bomber planes while Ukraine has none, 832 fighter jets while Ukraine has 86, and 358 transport planes against Ukraine's 63.
The only area where Russia does not have the upper hand is drones, of which Ukraine has 66 against Russia's 25. Ukraine has recently hailed its Turkish drones for helping it beat back Russian forces, Insider reported.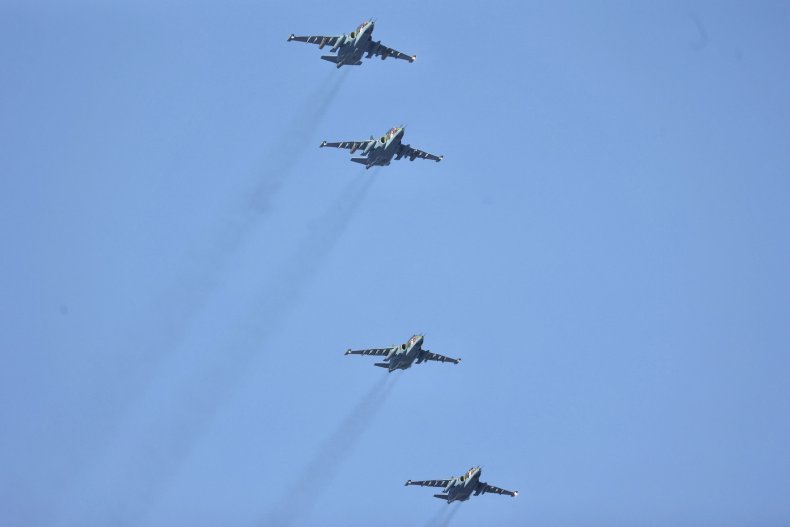 While Janes noted that Russia has not deployed the full breadth of its air force against Ukraine, the situation remains puzzling.
"While Russia has the advantage that comes with greater numbers, it has not yet gained control of the skies over Ukraine to the extent that it has been able to prevent the Ukrainian Air Force from operating and inflicting damage on the Russian war effort," Gareth Jennings, an analyst at Janes, told AFP News. "They are still engaged in trying to neutralize Ukrainian ground- and air-based air defenses."
The Russian air force has seen more efficacy in protecting advancing ground forces, particularly a many-kilometers-long convoy of trucks, armored vehicles and artillery units moving south toward Kyiv. Despite this fact, experts say that Russia could meet its convoy defense needs and still take control of Ukrainian air space.
"The lacking efficacy of the Russian air force is one of the surprising elements of this conflict," former French Colonel Michel Goya told AFP.
One aviation expert, Justin Bronk, explained that Russia's trouble could be down to its lack of precision guided munitions (PGMs).
"This not only indicates a very limited familiarity with PGMs among most Russian fighter crews, but also reinforces the widely accepted theory that the Russian air-delivered PGM stockpile is very limited," Bronk said to AFP.
Speaking to the Military Times, Samuel Bendett, an expert on Russian drone warfare working for the CNA think tank, said that the success of the Turkish drones deployed by Ukraine indicates that Russia has not adequately implemented its air defense strategies.
"[In Ukraine], Russia doesn't seem to display the very tactics, techniques and procedures that it's practiced for years and sought to perfect in Syria…[to provide] adequate cover to its ground forces," Bendett explained.