Value of the ruble has hit record lows as sanctions have crippled the Russian economy and forced the country's stock market to close Monday. Yet, even as Russia suffers financially, its government will likely continue to be funded for operations due to Russia's status as one of the largest suppliers of energy in the world.
On Monday, the United States imposed more sanctions on Russia, including on its central bank, as punishment for President Vladimir Putin's invasion of Ukraine. All the measures taken since the Russian attacks began in the early hours of Thursday should increase Russia's inflation and drive investors away, but it likely not shut down the Kremlin.
"Those transactions will be exempt from the onerous financial sanctions, so that energy supplies can continue to flow into Europe," Jeffrey Schott, a trade and sanctions expert and senior fellow at the Peterson Institute for International Economics, told Newsweek.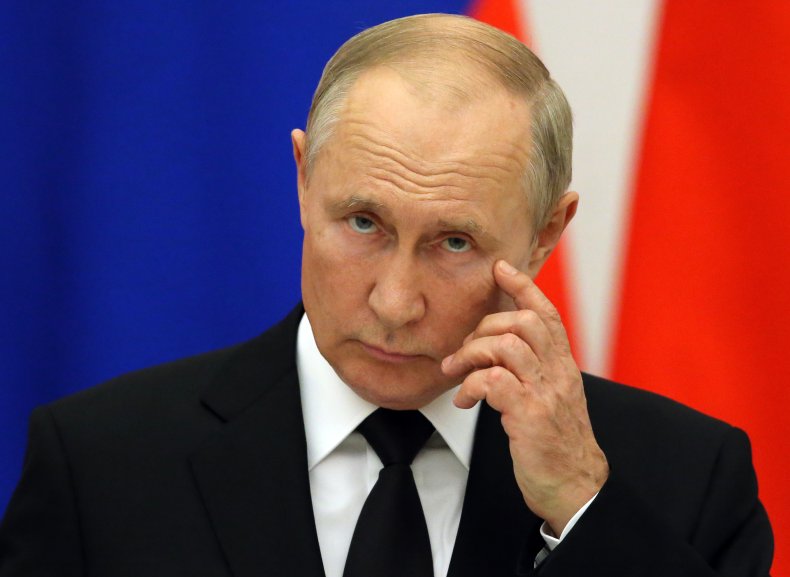 The Monday directive from the United States Department of the Treasury placed more sanctions on Russia, but it also authorized a number of energy-related transactions related to the country until June.
President Joe Biden's administration has warned sanctions against Russia's energy dealings could inflate gas and energy prices even higher, and official have instead decided against actions that would disrupt global energy supplies.
"Overall, the Western sanctions are designed to starve funds from the Russian government and its military operations; the exemptions provide a feeding tube (at least until June 24 per the U.S. Treasury directive No. 4 issued today)," Schott told Newsweek.
Though Russia will undoubtedly be hurt financially by the recent sanctions, the country came into 2022 with an excess of money. Russia ended 2021 with a budget surplus of almost $7 billion, with experts citing tax increases, a faster-than-expected economic recovery from the pandemic and high prices for oil for the financial success.
Sales of oil and natural gas accounted for 36 percent of Russia's total budget for 2021. According to Russia's central bank, Russia's total oil and gas exports reached $489.8 billion for the year.
The United States has also been heavily reliant on Putin's oil. Russia was the second-largest supplier of foreign oil to the U.S. in 2021, behind only Saudi Arabia. The U.S. isn't the only nation funding Russia by leaning on its energy resources; prior to the Ukraine invasion, Europe imported approximately 40 percent of its gas from Russia.
However, the Ukraine invasion could loosen Russia's grip on energy power. On Sunday, BP announced it was exiting its Russian oil and gas investments. The company is currently Russia's biggest foreign investor, and it isn't alone. On Monday, Shell followed suit, announcing it was dropping its joint ventures with state-run energy giant Gazprom.
These Western oil companies exiting business deals with Russia could eventually affect the country's oil production. Recent reports, though, suggest a Wednesday meeting among members of the Organization of the Petroleum Exporting Countries, which includes Russia, will continue as scheduled with a plan to add 400,000 barrels per day of supply in April.