Russia's Guided-Missile Shortage Has Been Deadly for Ukraine's Civilians
Russia has increasingly used less-precision-guided missiles during its attacks on Ukraine in recent weeks, leading officials to believe the country is running low on the weapons. Russian President Vladimir Putin's forces have instead turned to dropping more unguided "dumb" bombs, which has likely resulted in more civilian casualties.
When Russia began its attacks on Ukraine in late February, its military made frequent use of precision-guided missiles. By March, a senior U.S. defense official noted more reliance on the use of "dumb" bombs by the Russians, and last week a Pentagon official told reporters that Russia had "burned through quite a bit of their precision-guided munitions," adding that "sanctions are having a bite on the Russians' ability to replenish those stocks..."
The Moscow Times on Tuesday wrote that some analysts and officials think Russia's arsenal is "seriously depleted" of precision munitions. Dara Massicot, a senior policy researcher at the Rand Corporation, was quoted by the outlet as saying the increased use of unguided munitions "will cause a lot of collateral damage."
Since "dumb" munitions are not precision-guided, the bombs are dropped from aircraft onto targets with less discrimination. The Pentagon has said the less precise nature of "dumb" bombs thus causes more damage to civilian infrastructure and higher rates of civilian deaths.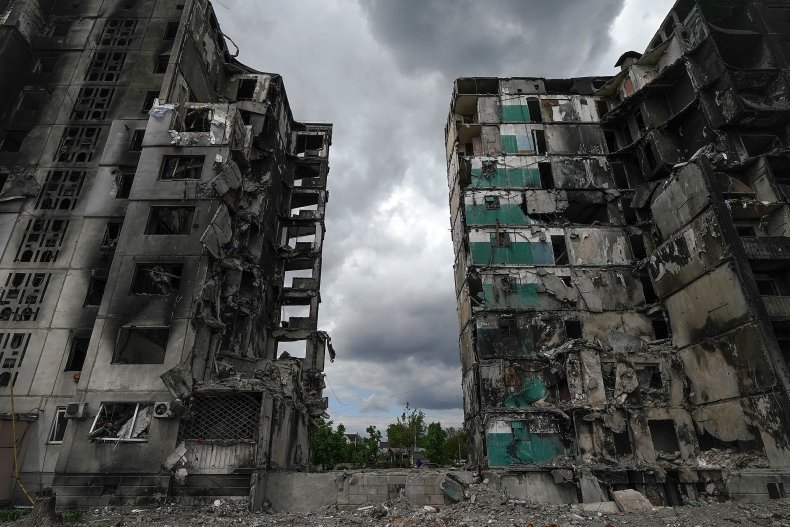 As of May 19, the Office of the United Nations High Commissioner for Human Rights (OHCHR) has recorded 8,089 civilian casualties in Ukraine since Russia began its attacks on February 24.
"Dumb" bombs were believed to have been used in the March 9 bombing of a maternity hospital in Mariupol that reportedly killed three civilians, including one child, and left 17 wounded. The strike caused outcry from world leaders, and some officials called the action a war crime.
"Just think of this terrible figure: 2,154 Russian missiles hit our cities and communities in a little over two months," Ukrainian President Volodomyr Zelensky said during an address last week. "The Russian bombing of Ukraine does not cease any day or night."
Yet, despite Zelensky's appeals for a no-fly zone over his country and the damage inflicted by Russian bombing, Putin's forces have not achieved the success with air strikes they had anticipated, according to Sean Spoonts, editor-in-chief of the military news outlet SOFREP.
Spoonts told Newsweek recently that this is due to Ukrainian forces mounting a surprisingly effective counterattack to Russia's air strikes. He said Ukraine has high- and low-altitude anti-aircraft capability that "has denied the Russian air force the ability to operate freely."
Spoonts also noted the increased use of "dumb" bombs suggests that Russian forces currently "don't have the capability" to use more "smart" weapons and Ukraine likely won't see more precision-guided munitions.
"I think the Russians are at the max of their capacity," he said.
Newsweek reached out to Russia's defense ministry for comment.