Russia's Military Compared to the U.S.: Which Country Has More Military Bases Across the World?
Poland would be willing to spend around $2 billion to ensure permanent U.S. military presence on its turf—something politicians in Warsaw have repeatedly discussed in the wake of Russia's territorial expansion.
The U.S. has so far resisted pledging permanent presence in its eastern European allies, but the possibility has sparked a discussion that Russia responds with an overseas base of its own in its western neighbor, Belarus. There, the roles appear to be reversed as Belarusian officials have voiced reluctance to host a Russian airbase, while Moscow officials have openly voiced enthusiasm for it.
The situation loosely mirrors a recurring theme for the global reach of both the U.S. and Russian military.
U.S. overseas military facilities are estimated to greatly outnumber Russia's as Moscow's Soviet-era posture changed dramatically with the collapse of the Soviet Union. Countries like Poland no longer participate in a Kremlin-led military alliance, hosting U.S. and NATO troops instead. In some cases, the Russian government has closed down bases for cost-saving purposes too.
Today, Russia operates at least 21 significant military facilities overseas, according to the Izvestiya daily newspaper citing Moscow's Ministry of Defense and U.N. data. These assets include motor-rifle divisions in Armenia and Tajikistan; radar bases in Belarus and Kazakhstan—where Russia also has a missile testing range—airfields in Kyrgyzstan, Syria and Armenia; and ports in Vietnam and Syria, to name a few.
Although this number includes controversial facilities in Moldova and Georgia, where Russia is backing separatist, anti-government forces now integrated into its military, it does not include Crimea—Russia annexed the peninsula from Ukraine in 2014 and regards as its own territory.
Prior to the annexation, the Russian military rented the Crimean port of Sevastopol as an overseas base for its Black Sea fleet, which it still occupies. Setting this aside, it has announced a huge reinforcement of the peninsula since its takeover in 2014. Russian military facilities in the region now number at least 18, according to a Reuters report from 2016, which Moscow has not commented on. Like Georgia and Moldova, Ukraine opposes Russian military deployments on territory recognized by most countries as its own and not Russia's.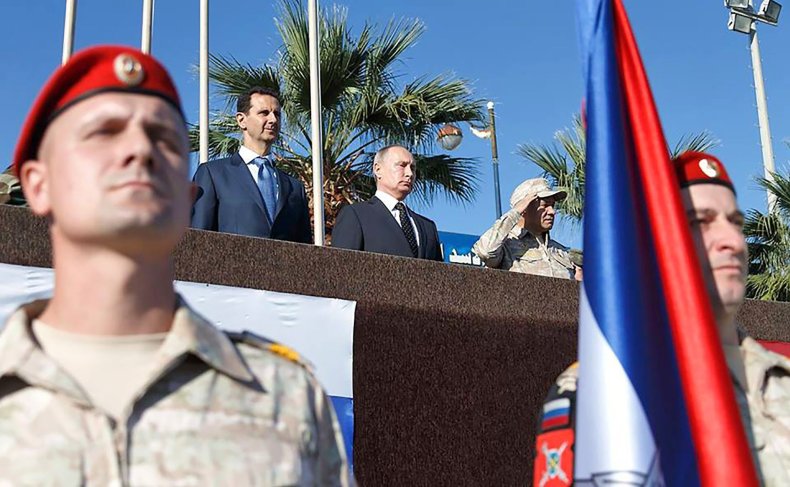 Comparing this to U.S. overseas bases requires another exercise in semantics. The U.S. military has published several annual Base Structure Reports, where it lists between 600 and 900 military "sites" on foreign soil. The report from 2009, available on the Department of Defense website lists 716 military sites abroad, 13 of which are classified as "large," while another 19 are classified as "medium."
The full list includes many spaces down to the minutiae of rented supply depots but even among the 620 facilities classified as "small" sites, there are formidable bases. Examples include the Coleman Barracks in Mannheim, Germany, with more than 1,000 U.S. troops and an equipment arsenal of 20,000 pieces of kit, including tanks. In Japan, the Futenma Marine base is home to more than 3,000 troops.
Still, the list includes examples such as Iceland, where the only U.S. military "site" is a naval transmitter in the fishing town of Grindavik, which has no U.S. military or civilian staff attached to it. According to a Politifact data crunch of all the overseas facilities listed by a recent Defense Department report, 56 of the 148 countries listed as hosts of U.S. military "sites" has less than 10 active-duty personnel present in 2010.
Roughly the numbers paint a picture of the U.S. boasting a more formidable posture of bases abroad with hundreds of facilities, while Russia is on weaker footing numerically, operating more than 10 times fewer. While not an inaccurate picture, Evelyn Farkas, former Deputy Assistant Secretary of Defense for Russia, Ukraine and Eurasia, says the numbers are not telling us the whole story about how the militaries behave.
"The U.S. is still the preeminent military power globally," she says. "However that doesn't mean that the Russians can't exert undue levels of influence in some part of the world."
"The Russians can't afford to have that kind of base infrastructure that we have globally, that is true. They aren't the Soviet Union anymore," she says, noting that financially and logistically, Russia's military does not match the U.S. "It is a bit of a leap for them to compete with regard to volume. That doesn't mean they can't compete with us with regard to their qualitative presence."
Russia famously took Crimea from Ukraine in 2014, without mobilizing a large force but using a time of unrest against the government in the country and pro-Russian sentiments among some Crimean-based forces, to entice desertions. In Syria, the Russian government has become a central force on the negotiating table, after an effective but not vastly numerous official deployment of forces in 2015.
"The Kremlin under Putin has generally been very good at the economy of force and generally using as little recourse to achieve their objectives as possible," Farkas argues. "What they put into Syria, for example, was what they determined they needed to do at the lowest amount of cost. They don't have to have large installations and notional control (of bases) so long as they can exert control."
Ongoing training missions with Latin American nations such as Nicaragua or a so-called peace-keeping mission to Serbia are examples of Russian activity under the threshold of an out-and-out overseas base. In both cases, it allows Russian personnel much closer proximity to the U.S. and its allies.
"If they had their way and they had the resources, I think they would still love to have the conventional reach we have and the opportunity that more conventional bases provides," Farkas says. "But at present they are doing what they can with what they have."