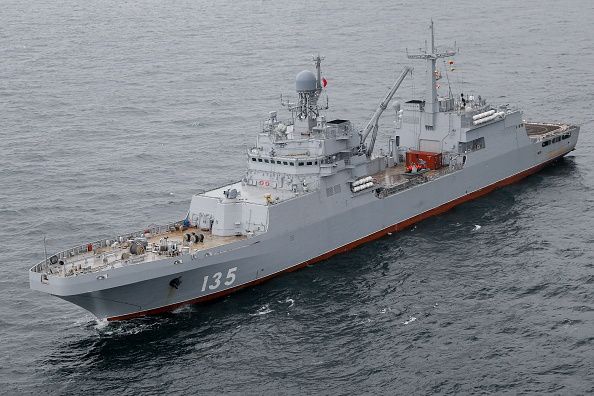 Russia's navy will incorporate a large amphibious assault ship, known as the Ivan Gren, into its fleet as early as next week, according to Russian state media.
The warship can carry 13 main battle tanks—or 36 armored personnel carriers—and up to 300 marines. It also has two Kamov Ka-29 attack helicopters, and it is expected to be ready for service by June 20 after years of trials and testing.
"The large landing ship will have the capacity to transport 300 troops, up to 13 main battle tanks or a maximum of 20 medium vehicles such as armored personnel carriers and fighting vehicles, or up to 30 trucks," a recent report on naval technology said.
"The vessel can support the operation of a single Kamov Ka-29 (NATO reporting name: Helix-B) military transport helicopter from the landing spot at the stern of the hull. The landing pad is integrated with optical facilities for allowing the take-off and landing of a helicopter weighing up to 12t. The ship will also provide hangar facility for embarked rotorcraft," the report continued.
Russia's navy has long been criticized for being an aging throwback to the Soviet era. But as tensions with the West begin to ramp up, Moscow has started investing more into its fleet. Some experts said that the Russian navy, although less technologically advanced than the U.S. Navy, plays an important strategic role in supporting Moscow's formidable ground troops. A doctrine signed in 2017 also lays out plans for Russia to maintain its position as the world's second most important naval power.
In response, the U.S. has also started ramping up its naval forces and extending their reach. In May, the U.S. announced that it would re-establish a fleet in the North Atlantic Ocean that had been abolished seven years earlier. The decision was made expressly to combat Russia's revanchist tendencies in the northern Atlantic Ocean.
In late 2017, the U.S. Navy expressed concern that Russia may be patrolling the North Atlantic Ocean to plan ways to cut or tamper with underwater Internet cables for espionage purposes.
Members of the North Atlantic Treaty Organization (NATO) are also paying attention to Russia's navy. Last month, 30 NATO member countries held simulated naval exercises in which they combated a foe that looked a lot like Russia.
In general, the U.S. Navy continues to be larger than the Russian navy and has better resources. The U.S. Navy has around 20 aircraft carriers, for example, while the Russian navy has just one. The Russian navy has around 62 submarines, whereas the U.S. Navy possesses 66. The U.S. Navy fleet consists of around 430 ships, including the immense Nimitz-class aircraft carrier, which stretches more than 1,000 feet and recently landed in Vietnam for the first time since the Vietnam War.