Russia's New 'Invisible' Cruise Missile Submarines Enter Mediterranean Near Syria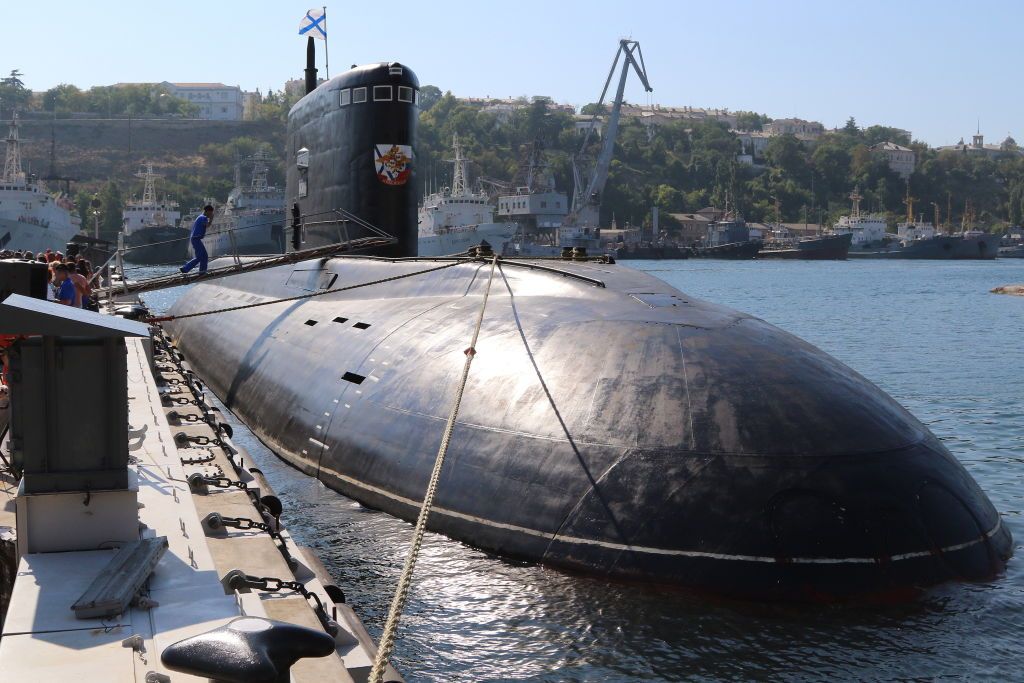 Russia's two new cruise missile-armed submarines have entered the Mediterranean Sea, amid state media reports they could be used in Moscow's operation in Syria.
The two diesel-powered vessels are officially passing Mediterranean waters only on their way from the Baltic Sea, in the north of Europe, to the Black Sea, in Europe's southeast. Before arriving at their new home port in Crimea, which Russia annexed from Ukraine in 2014, the submarines linked up with Russia's deployment of forces in the Mediterranean Sea, Black Sea Fleet spokesman Vyacheslav Trukhachev told the Interfax news agency Monday.
Kolpino and Veliky Novgorod are the newest additions to a family of six submarines of their class, built to reinforce Russia's revamped Black Sea fleet amid tensions in the waters Russia shares with three NATO allies and two ex-Soviet NATO aspirants, Ukraine and Georgia.
Russian state media has boasted that the Varshavyanka class of submarines are some of the quietest in the world, describing them as "invisible" to enemy tracking.
Trukhachev did not say how long Kolpino and Veliky Novgorod would be staying with Russia's naval detachment from the Mediterranean. The two now take the place of their sister vessels Krasnodar and Rostov-on-Don, which joined the outfit over the last year, before moving toward the Black Sea.
A Russian military diplomatic source, speaking on the condition of anonymity to state news agency Itar-Tass, said the two could fire cruise missiles at militants on the ground in Syria from their dock near Syria's Latakia coast.
Other submarines of their class done the same when undertaking the journey, but earlier this week, Russia's Ministry of Defense admitted that the Syrian conflict had provided Russia with an opportunity to test hundreds of new items of military kit.
Russia has given other reasons for officially beginning a military operation in Syria. In 2015, it was namely to support the embattled government and also to combat extremist group Islamic State (ISIS) and prevent Russian nationals in its ranks from returning home.