Russia's New Robot Tank With Canon and Missiles Will Be Unveiled at Moscow Rally
Russia's army will unveil a so-called "robot tank" and a handful of other new weapons at its marquee military parade, a top defense official has said.
Rallies by the armed forces take place across several major Russian cities on May 9 to celebrate the Soviet Union's march into Berlin and Germany's imminent surrender in World War II. The annual event, which is Russia's second most popular holiday, showcases new weapons the military has received. This year several remote-controlled systems will make the cut, Russia's deputy defense minister told news site Gazeta.
"At this year's Victory Parade, we will show robotic technology for the first time," Yuriy Borisov, one of the deputies to Russia's defense minister said Tuesday. Among the machines he listed is the Uran-6, a remote-controlled landmine clearance system and its larger, tank-like cousin Uran-9.
Read more: Why is May 9 such a big deal for Russia?
The Uran-6, a so-called "robot-sapper" has allegedly already seen action in Syria, clearing mines in the cities of Aleppo, Deir ez-Zor and Palmyra, according to Borisov. The Uran-9 has been likened to a robot tank because, besides charging behind enemy lines to provide reconnaissance, the unmanned vehicle also has anti-tank rockets, a cannon and a machine-gun, according to the National Interest.
The vehicle has the ability to automatically lock onto targets but it does not make the decision to pull the trigger autonomously, leaving the call up to a commander deployed up to 1.8 miles away. In that sense, the vehicle is used in a similar way to a drone.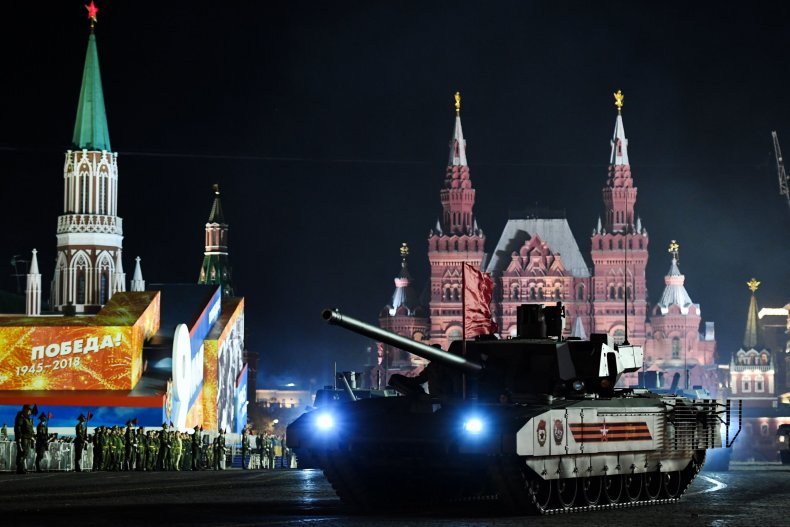 The military has released footage of Uran-9 tests on training ranges but Moscow had made no claims about the system seeing frontline action in Syria until now. In the lead-up to the parade, the Ministry of Defense confirmed the military has tested Uran-9 in Syria, state news agency Itar-Tass reported—something experts already suspected last year, though it is not clear in what capacity. Borisov estimated last year that Russia used the conflict to test over 600 new vehicles, weapons and service items.
The Uran-9 is not designed explicitly to replace Russia's large tank army, as developers are still working on mounted updates, but it is an early example of technology that the Kremlin has said will one day account for a significant part of the Russian armed forces.
Among the other kit showcased will be the MIG-31 interceptor jet, updated with hypersonic Kinzhal missiles, the new Su-57 stealth fighter and two new aerial drones.
Besides honoring World War II veterans, Russia's Victory Day is also used to market new Russian military kit, though it does not always show the best side of prospective weapons as some have suffered technical problems during proceedings. The supposedly ultra-modern T-14 Armata tank broke down and had to be towed on the Red Square in 2015, while last year the military had to cancel all aerial displays after failing to clear rain clouds over Moscow.