Weeks of intense fighting has finally led to a full Russian occupation of the Eastern Ukrainian city of Severodonetsk, according to the local mayor on Saturday. Russian forces have gained control and forced Ukrainian defenders to retreat the city that's pretty much completely destroyed.
"The Russians have fully occupied Severodonetsk, our military has retreated to more prepared positions," Severodonetsk Mayor Oleksandr Stryuk said Saturday in a TV interview.
Ukrainian forces have moved south to the city of Lysychansk, which is a few miles away and south of the Siverskyi Donets River. Russian forces are expected to continue fighting in Lysychansk to gain further ground in the Luhansk region. Russian forces and pro-Russian rebels have already begun trekking into Lysychansk, according to the BBC.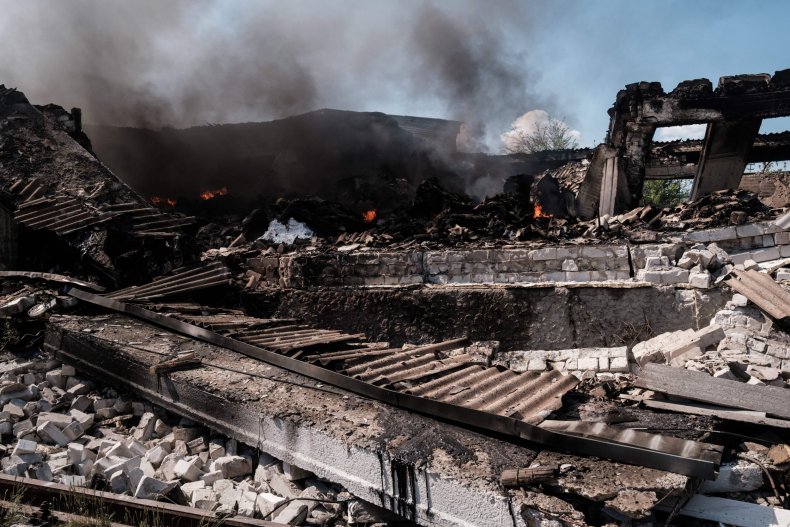 This comes as Ukraine reportedly got shelled from bombers in Belarus in the western part of Ukraine.
Severodonetsk had a population of 100,000 before the war began in February, but many have fled the city since Russia began attacks on the city. There were hundreds of residents who have sheltered at the Azot chemical plant. Stryuk said many have started to evacuate the plant, and that they'll likely need medical attention and psychological support.
"These people have spent almost three months of their lives in basements, shelters. That's tough emotionally and physically," Stryuk said.
Russia and Ukraine have both acknowledged that Russia has also occupied the Severodonetsk suburb of Syrotyne and the nearby smaller cities of Voronove and Borivske.
Ukrainian President Volodymyr Zelensky said during his Saturday night address that Ukraine aims to regain all cities captured and occupied by Russia, according to an Al Jazeera report.
Zelensky said Russia is trying to break his country's spirit, as evidenced by shelling Ukraine with 45 rockets over the last day.
Russia's occupation means Putin has now occupied nearly all of the Luhansk region, in addition to nearly all of nearby Donetsk. Taking Lysychansk would be another major step in occupying the entire region, but it's literally more of an uphill battle as Lysychansk sits on higher ground than Severodonetsk.
On Saturday, bombers flying from Belarus fired missiles into northe rn and western Ukraine. Russian President Vladimir Putin met in St. Petersburg also on Saturday with Belarusian President Alexander Lukashenko, with Putin promising to send nuclear-capable missiles to his ally, the Russian RBC news outlet reported.
"In the next few months we'll give Belarus tactical Iskander-M missile complexes, which can fire ballistic and cruise missiles, both conventional and nuclear types," Putin said in the interview.
Prior to the February 24 invasion of Ukraine, Russia amassed troops along Ukraine's borders to the north and east while continuing military drills with Belarus close to Ukraine's western border.