Russia's 'Nuclear Titanic' Heads West, Raising Fears of 'Chernobyl on Ice'
Updated| Russia's so-called "nuclear Titanic" is moving toward western Europe for a controversial maiden voyage that has alarmed U.S. allies and environmentalists alike.
The vessel, called the Akademik Lomonosov, is Moscow's first floating nuclear power plant, designed to provide energy to hard-to-reach coastlines such as Russia's subarctic regions. On its way to its first northern destination, the power plant has already worried a handful of countries along its planned route, as well as the Greenpeace organization.
"Nuclear reactors bobbing around the Arctic Ocean will pose a shockingly obvious threat to a fragile environment which is already under enormous pressure from climate change," Jan Haverkamp, nuclear expert for Greenpeace Central and Eastern Europe, said in a statement shortly after Akademik Lomonosov's launch over the weekend.
When fully fueled, the power plant, currently scheduled to enter service in 2019, will reportedly operate two nuclear reactors. Its mobility is advantageous for Russia in its efforts to power northern port towns, especially near large energy deposits in the Arctic. If it completes testing, Russia's nuclear agency Rosatom will deploy Akademik Lomonosov to its Siberian coastline.
Read more: Russian chemical weapons expert hit by car but says it was an accident
Russia initially intended to fill the floating plant with nuclear fuel and test it near its St. Petersburg shipyard, in waters shared with Estonia, Finland, Latvia, Lithuania and Sweden, according to Greenpeace. After an outcry from locals and foreign governments, the plant is traveling without nuclear fuel onboard. It is moving through and around busy Baltic Sea waters before being tested in a more secluded area.
That still has not allayed concerns about the Akademik Lomonosov's potential for causing a nuclear catastrophe. "To test a nuclear reactor in a densely populated area like the center of St. Petersburg is irresponsible, to say the least," Haverkamp said. "However, moving the testing of this nuclear Titanic away from the public eye will not make it less so."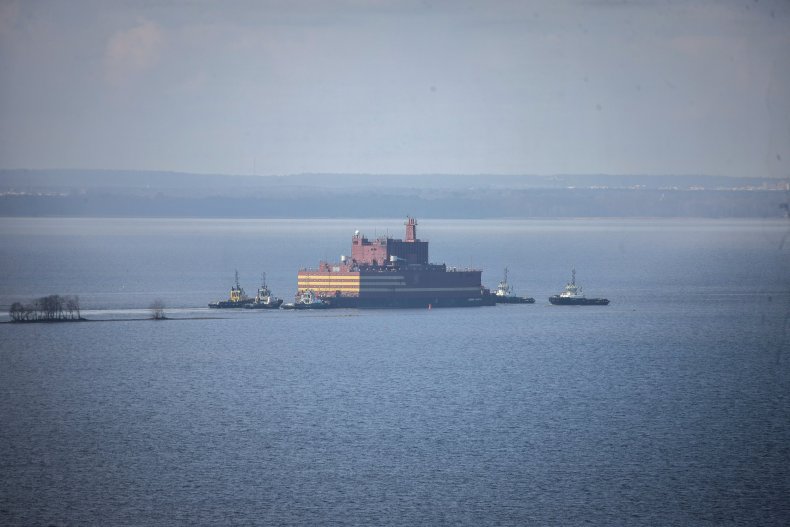 The environmental group warned that an onboard mishap in a plant such as the Lomonosov could cause a "Chernobyl on ice," an allusion to the deadly Soviet-era nuclear disaster.
Rosatom have denied Greenpeace's interpretation, noting that nuclear-powered icebreakers have safely traveresed the waters that the Akademik Lomonosov is making its way through, while the plant's ultimate destination is a site which already has a nuclear site, scheduled for decommissioning. "There is nothing new about nuclear reactors in the Arctic," a Rosatom spokesman told Newsweek. "It should be made clear that Greenpeace has not produced any peer reviewed and credible evidence to support its claims."
The Akademik Lomonosov is currently sailing to Russia's city of Murmansk, first making its way toward the narrow straits that separate Denmark and Sweden, then changing course northward and sailing along Norway's coast.
Maritime authorities in Estonia, the first country the vessel sailed around, complained that the limited maneuvering ability of the power plant meant that other ships had to make way for it and the Russian military escorts that shadowed it, public broadcaster ERR reported.
The plant will approach Sweden next week; the Radiation Safety Agency told state broadcasters it is monitoring the journey, which will continue through the Øresund straits, shared with Denmark, news site The Local reported.
Russia is one of five countries with competing claims over Arctic waters, and its current naval strategy calls for establishing a stronger foothold in the region. More plants similar to the Akademik Lomonosov will be developed if it proves to be a success as it undergoes testing this year.
This story has been updated to include information from a Rosatom spokesperson.