Russia's Plan to Replenish Troops 'Damning' Its Army to 'Failure': General
Retired U.S. Army General Mark Hertling assessed that Russia is "damning" its army to "failure" with its ill-advised effort to quickly replenish its forces amid massive losses in its ongoing invasion of Ukraine.
Russia has reportedly seen tens of thousands of its troops killed or wounded since it launched the internationally condemned war just over five months ago on February 24. Representative Elissa Slotkin, a Michigan Democrat who serves on the House Armed Services Committee, told CNN on Wednesday that more than 75,000 of Moscow's forces are estimated to have been killed or injured since the invasion began.
A spokesperson for Russia's President Vladimir Putin dismissed such reports as "fake news" on Thursday. Hertling, who previously served as commander of the U.S. Army Europe and the Seventh Army, weighed in what the losses and Moscow's rapid effort to replenish its troops mean for its future efforts in Ukraine.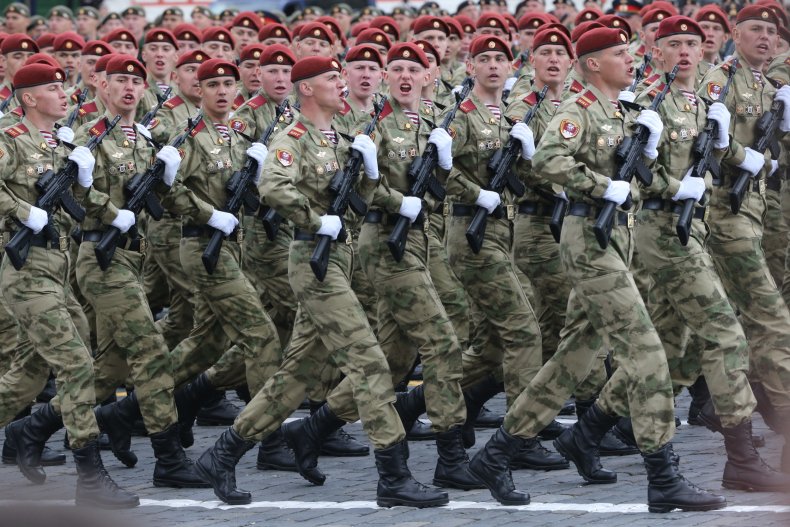 "As many know, if reconstitution/regeneration of units that have suffered losses is rushed or done incorrectly, it exponentially damages morale & fighting capability. This ranks ABOVE dysfunctional logistics in damning an army to failure," Hertling asserted.
"So, Russia has that going on, too," he added.
The retired general made the comment as he shared a post discussing Slotkin's remarks to CNN. That post explained: "Something that isn't often talked about is Russia's reconstitution process. They're trying to rebuild units with troops who have never worked together, who are flat-out exhausted, and who don't want to be there in the first place."
In her comments to CNN, Slotkin said: "We were briefed that over 75,000 Russians have either been killed or wounded [in Ukraine], which is huge. ... Over 80 percent of their land forces are bogged down, and they're tired."
To put 75,000 in perspective, under 2,500 U.S. service members were killed in nearly two decades of war in Afghanistan and less than 21,000 were wounded.
Speaking to MSNBC on Thursday morning, retired U.S. Navy Admiral James Stavridis knocked Russia's battle plans and strategic failures. Stavridis previously served as NATO's Supreme Allied Commander Europe.
"As it's gone on, the Russians have simply shown very little appetite or inclination to improve," Stavridis said. "That is true not only in the failing logistics efforts, but also they continue these manifest war crimes; their battle plans are ridiculously bad as a general proposition."
Putin and other Kremlin officials reportedly believed that they would swiftly take control of most of Ukraine and topple the government in Kyiv when they launched the invasion. Following the start of the full-scale assault, Moscow's forces struggled to make significant gains and failed in the initial phase of the war. The Russians then walked-back their efforts, focusing on the southeast of the country.
Kremlin leaders continue to attempt to justify the attack on Ukraine by bizarrely claiming that the country is run by Nazis. In reality, Ukraine's President Volodymyr Zelensky is Jewish and had family members who died during the Holocaust perpetuated by the German Nazis in World War II. When Zelensky was elected with nearly three-quarters of the vote in 2019, Ukraine's prime minister was also Jewish.
Newsweek has reached out to the Russian foreign ministry for comment.
The U.S. and NATO allies have provided billions of dollars in military and humanitarian assistance to Ukraine. Weapons, intelligence and strategic reinforcements from the West have been credited by many analysts with substantially improving Ukraine's capabilities against Russia. At the same time, Ukrainians have outperformed the expectations of Western allies—as the nation's military and ordinary citizens have fought back hard against Moscow's unprovoked aggression.