Vladimir Putin Makes Pancakes With China's Xi as They Make Subtle Criticism of Donald Trump's Protectionist Trade Policy
As Russia and China launch one of the largest joint military exercises to date, Russian President Vladimir Putin and Chinese President Xi Jinping met in the city of Vladivostok, Russia, and made pancakes together.
Photos of the two leaders emerged from the Eastern Economic Forum, taking place Tuesday, that showed both men pouring pancake batter into a skillet and preparing to load their fresh pancakes with condiments while wearing matching aprons. During the event, the two leaders also pledged to forge deeper economic and military ties and made subtle criticisms of President Donald Trump's policy on trade protectionism, which has specifically targeted Beijing in recent months.
"Amid the quickly changing international situation and the factors of instability and unpredictability, the cooperation of Russia and China takes on greater and greater importance," Xi told reporters during the event, which experts noted took place as Washington's relationship with both countries deteriorated. "Together with our Russian colleagues, we will increase fruitful co-operation in international affairs and intensify co-ordination...to oppose the policy of unilateral actions and trade protectionism."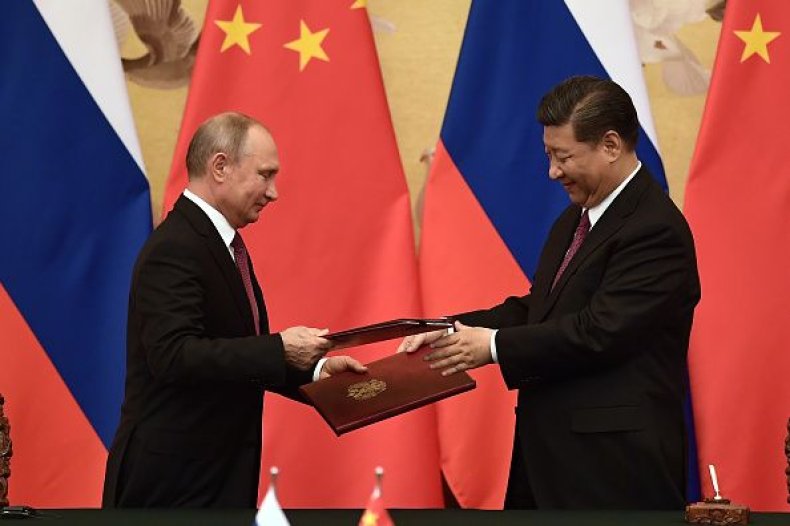 Despite Trump's professed desire to build a stronger relationship with Russia, Moscow and Washington are increasingly at odds on how to address the ongoing conflict in Syria. Russia is backing President Bashar al-Assad and is helping the Syrian army prepare a major offensive against a rebel-held province there. Trump has taken to Twitter to warn Moscow, pointing out that an attack will cause a massive humanitarian crisis. On Tuesday, a Russian foreign ministry official slammed Washington for threatening to lead military strikes against Syria if chemical weapons are used to attack the Idlib province.
Meanwhile, Trump has waged a trade war with China as both countries impose steep tariffs on each other's imports. China has also asked the World Trade Organization (WTO) for permission to slap the U.S. with $7 billion worth of sanctions because Washington has not complied with the organization's ruling on dumping duties. Trump has threatened to pull out of the WTO because he doesn't like its rulings on U.S. trade policy.
While all of this was going on, China and Russia were moving closer together as they seek to overcome U.S. dominance of the global stage. During Tuesday's event, Russia's Mail.ru group signed a $2 billion deal with Chinese e-commerce company Alibaba. The two countries also pledged to use national currencies for trade in order to insulate each other from global market risks.