Russia's Rich Gets Richer—in Dollars—as Ruble Plunges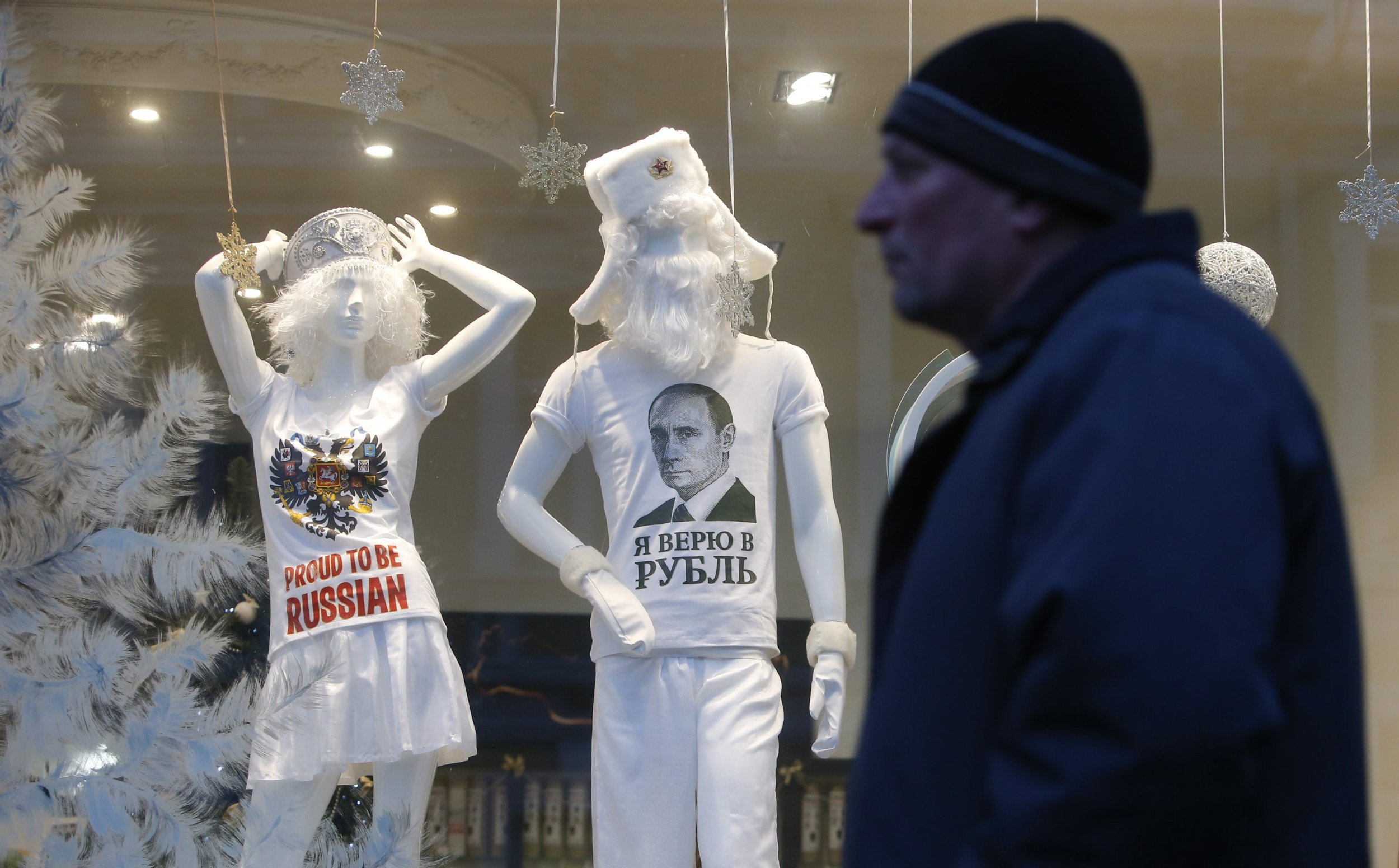 It would seem to be a stressful holiday season for Russia's ultra-wealthy elite, the gilded class of post-Communist billionaires with a taste for costly things and close ties to Russian President Vladimir Putin.
The secretive group, known popularly as the oligarchs, for their control over Russia's oil, metals, banking, gas, fertilizer, electricity, railways, aviation, defense and telecommunications industries, now has two ugly holiday presents: broad sanctions as punishment for Putin's Crimean land grab last March, and a burgeoning currency crisis as plummeting prices for oil, the main force behind the Russian economy, send the ruble into a tailspin.
In another major industrialized nation, the double whammy of sanctions and a nosediving currency could potentially wipe out fortunes and power bases overnight. But despite facing the biggest economic challenge in two decades, Moscow's fabulously wealthy appear to be doing fine.
"So many oligarchs and others with cash have had plenty of time and warning to transfer their wealth out of the country well before this crisis," Chris Weafer, a senior partner at Macro-Advisory Ltd, an economic and financial consulting firm in Moscow, tells Newsweek. "Most of the oligarch's net cash is safely in foreign currencies in foreign banks, and has been for a while."
At the same time, he said, Russia's wealthy elite still have plenty of pocket cash, both rubles and dollars, at home. Boris Zarkov, a celebrity restaurateur and owner of The White Rabbit, a glossy Moscow hot spot frequented by billionaires and the merely rich, said the award-winning restaurant still serves 400 clients a day despite a hike in prices for delectables ranging from crispy suckling pig and Chateaubriand steak to Russian delicacies like rabbit tongue in mustard sauce, young boar cutlets and pine cone jams. "Only the poorest people in Russia keep all their assets in rubles—if you have dollars, now you're even richer," Zarkov tells Newsweek.
Even the clutch of oligarchs hit personally with U.S. sanctions, including Yuri Kovalchuk, the billionaire chairman and largest shareholder of the St. Petersburg-based Bank Rossiya, whom the U.S. Treasury last March dubbed "the personal banker for senior officials of the Russian Federation, including Putin," are unlikely to suffer mortal damage. (Ditto for Bank Rossiya, on which the Treasury also slapped sanctions, making it impossible for the bank to work with dollars or foreign institutions.) A key reason: While the ruble crash has depressed the value of those domestic assets, personally sanctioned oligarchs and the companies they control are firmly tethered to the Kremlin, and thus likely to receive any bailout needed from the Russian Central Bank's vast reserves of $416 billion in gold and foreign currency.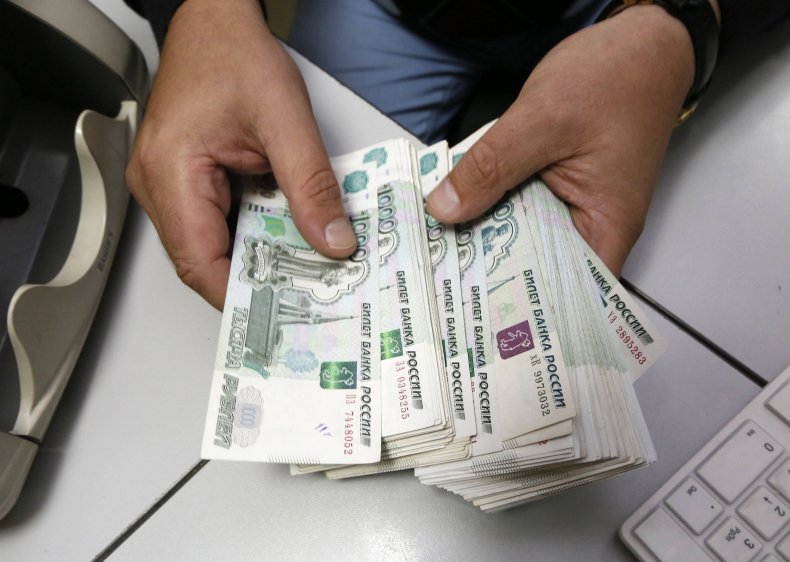 That amount is nearly equal to what Russia's oligarchs controlled as of late 2013, making them something of a central bank unto themselves, though they collectively lost $10 billion in just two days in the third week of December alone, according to the Bloomberg Billionaires Index. Some 110 Russian billionaires control 35 percent of the vast country's total wealth, a staggering $420 billion that puts Russia at the top of the global heap for wealth inequality, Credit Suisse said in Oct. 2013.
Still, bailing is what the Kremlin has been doing in recent weeks. The Central Bank, under Putin's control, jacked up interest rates on Dec. 15, to 17 percent from 10.5 percent; so far the bank has spent at least $10 billion in a bid to prop up the ruble. On Dec. 22 it bailed out Trust Bank, a private lender known for using Hollywood tough man Bruce Willis in its advertising campaigns, with a 30 billion ruble lifeline. In mid-December it assisted giant state oil company Rosneft through an opaque, complex scheme that allows Russian banks to use Rosneft ruble-denominated bonds as collateral for cheap Central Bank ruble loans, a move that funnels money into Rosneft.
As for Putin's own wealth, variously reported by Russian and Western media at $40 billion to $70 billion—figures never proven—the leader has assets abroad but an even more valuable currency: control over Russia and its purse strings. "His access to money is not going to be restricted as long as he's president," Karen Dawisha, a Russia scholar who has written about Putin's wealth, tells Newsweek. "He might not have access to bearer shares" in offshore tax haven, "but will his children have access? Probably."
If Putin's signals about his plans for the Russian economy, headed for recession even before the ruble crisis and sanctions, appear vague to Western audiences, they are clear to the oligarchs, at least as of a Dec. 19 holiday banquet at the Kremlin.
Described as "festive," informal" and "friendly" by Moscow's leading business newspaper Vedomosti, the short-notice event saw nearly four dozen oligarchs and senior powerbrokers from business and government, including Central Banker Elvira Nabiullina, file in for a read-out of how Putin intended to handle the ruble crisis. Other attendees, Vedomosti said, included Putin ally Gennady Timchenko, the billionaire oil-trader businessman under U.S. sanctions and said by the Treasury Department to play a key role in Putin's fortune; metals magnate Alisher Usmanov, at $13. 8 billion Russia's second-richest man, according to the Bloomberg Billionaire Index; Oleg Deripaska, the founder of metals giant Rusal; Mikhail Prokhorov, owner of the Brooklyn Nets basketball team; Vladimir Potanin, head of nickel-mining giant Norilsk Nickel; and Arkady Rotenberg, a judo partner and close friend of Putin who is also under sanctions.
While Vedomosti quoted one unnamed attendee as saying some oligarchs were in a state of "confusion" and "tension" over the ruble crisis, Putin made things clear, Vedomosti said, telling them that the Kremlin and business had and would continue to have "close relations," and that oligarchs should demonstrate "civic responsibility." The means, Vedomosti quoted an unnamed senior banker as saying: by voluntarily converting at least 50 percent of their export dollars into rubles. "The government will help business, but let business help the government," Putin was quoted as saying. In other words, the oligarchs will bail Russia out, and if they don't, they'll be tossed from their lucrative perches.
So that nobody was confused, Putin even invited billionaire business man Vladimir Yevtushenkov, released from three months' of house arrest just days ago on Dec. 17, after being accused of money laundering involving a major telecoms company he co-owns, AFK Sistema, and its stake in oil company Bashneft, now in government hands.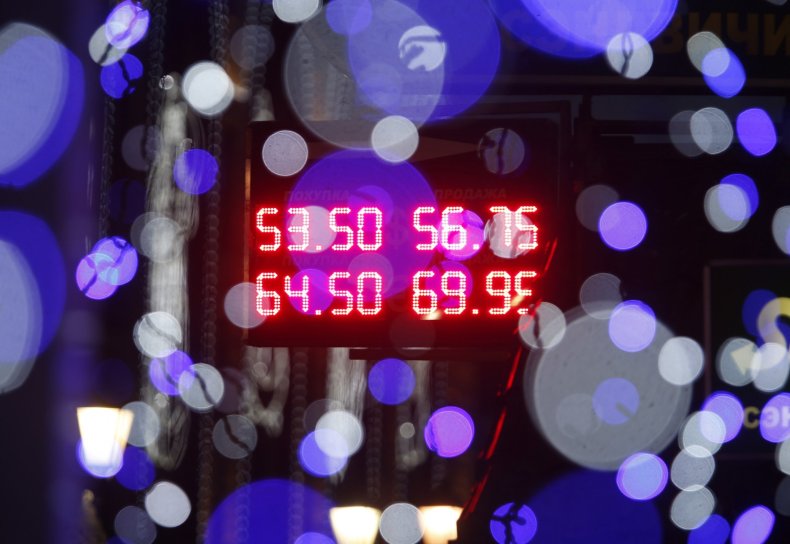 Putin, Dawisha tells Newsweek, was "asking a rhetorical question: "do you want it easy or do you want it hard? We can have formal currency controls, or you can play ball and can still make money but you need to support the ruble."
The message had a menacing counterpoint to anyone inclined to propose other options: a recommendation on Dec. 19 by Moscow prosecutors that Russia's most prominent Putin critic and opposition leader, Alexei Navalny, serve 10 years in prison on criminal charges that critics say are government fabrications.
The collapse of the ruble makes it tough to determine whether U.S. sanctions, imposed in waves since last March against powerful Russian and Ukrainian individuals and companies, are actually working. With two goals—deterrence and punishment—the sanctions are designed to increase the diplomatic and financial costs to Putin over his Crimean caper, and to weaken the Russian economy enough so that the Kremlin doesn't make further moves into Ukraine.
As far as getting Putin to give back Crimea, a historically Russian area, to Ukraine, the sanctions are a bust.
"These sanctions have not altered Putin's policies towards Ukraine, so for now they'd have to be judged as a failure for this case," Daniel Drezner, a sanctions scholar at Tufts University who is closely followed in Washington, D.C. policy-making circles, tells Newsweek. Dmitri Trenin, director of the Carnegie Moscow Center, a policy think tank, argues that the sanctions have boomeranged. "Sanctions alone are not enough to change government policy, they are even helping the Kremlin by creating the rallying around the flag syndrome and bolstering patriotism," he says.
The ruble collapse is far more of a challenge to Putin's increasingly authoritarian rule. "Members of Putin's inner circle care not just about their current wealth but about whether they'll be able to keep it," says Daniel Treisman, a Russia scholar and political scientist at the University of California in Los Angeles. "A serious financial panic erodes Putin's image as the bringer of stability."
Now in power for 15 years, Putin continues to enjoy strong support from Russian voters, with an 80 percent approval rating as of Dec. 7, before a then-declining ruble saw its sharpest losses, according to an Associated Press-NORC Center for Public Affairs Research poll. Russian czars liked to call Moscow the "Third Rome," after ancient Rome and the Byzantine empire, and Putin increasingly wins points at home for appealing to Russia's sense of greatness on the world stage. Says Dawisha: "We've got a return to the 19th-century idea of Tsarist infallibility."
Russia's oligarchs have faced trying financial times before: in 2008, amid the global credit crisis prompted by the American mortgage meltdown, an event that prompted Putin to push aside some oligarchs; and in 1998, when the ruble collapsed, Russia defaulted on its debt, the International Monetary Fund stepped in and the then-nascent group was struggling to turn newly privatized industries they had been awarded into actual companies.
This time, things are very different, and Russia's new class of oligarchs are far more sophisticated. Whereas their predecessors focused more on wealth extraction than wealth generation, the new breed has built conglomerates and tapped Western financial markets and are more enmeshed in the global economy. "Russia has far more resources to deal with a financial crisis today," says UCLA's Treisman. Adds Weafer, a former chief strategist for the commercial and investment banking arm of Sberbank, Russia's largest bank that is under U.S. and E.U. sanctions: "The current ruble crisis does not have any material impact on Russia's ability to service foreign debt obligations. The Russian economy is nowhere near default."
If shortages in the old Soviet Union involved sausages and toilet paper, now they concern state-of-the-art electronics and luxury sports cars. "You can't buy a flat screen TV or a Porsche in this town right now," Weafer says, pointing to the rush by well-heeled Muscovites in December to convert rubles to dollars and snap up anything they could. The ruble has lost around 50 percent of its value against the dollar so far this year, with the steepest declines coming since the last week of November.
Zarkov, The White Rabbit owner, said that "people are happy now, because it's New Year"—traditionally a champagne- and vodka-filled time of revelry. But he adds: "They'll start worrying in spring."