Russia's Surgical Airstrikes Keeping Military Assets Intact for Future Use
Satellite imagery received Thursday by Newsweek has begun to reveal the aftermath of Russia's ongoing military campaign against Ukraine, showing visible damage to Ukrainian military facilities as Russian troops advance their offensive.
But the images also reveal that Moscow appears intent on keeping major military assets such as airfields intact for future use, at least in the earliest stages of the Russian operation.
Early Thursday morning, Russia launched an unprecedented attack on its southern neighbor following Russian President Vladimir Putin's announcement that Russia would be carrying out a "special military operation" in Ukraine.
Putin claimed the operation was necessary to eliminate what he identified as a serious threat to Russia's national security in the form of Ukraine's bid to joint the U.S.-led NATO alliance, and said his hopes were to neutralize Ukraine's offensive capabilities and far-right elements.
"It's goal is to protect people who have been subjected to bullying and genocide ... for the last eight years," Putin said. "And for this we will strive for the demilitarization and denazification of Ukraine."
Attacks from Russia against Ukraine have come from land, air and sea, battering its neighbor's military infrastructure, which is far less equipped and powerful.
Images from space technology company Maxar Technologies show burning fuel storage areas and damage to infrastructure in the eastern Ukrainian city of Chuhuiv, the impact of airstrikes following Russia's invasion of the country.
Chuhuiv airfield, located outside of Kharkiv in Eastern Ukraine, is the site of one such airstrike.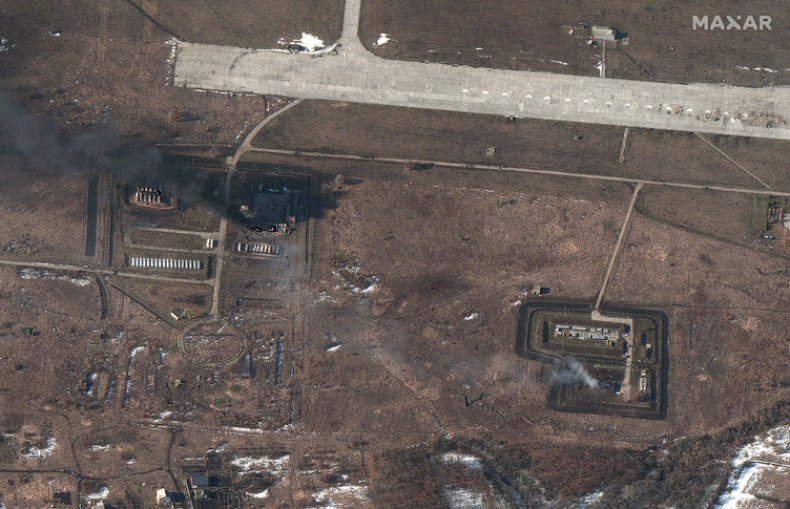 The images appear to show that the strikes targeted operational support facilities, including fuel storage tanks, but avoided the runway.
A second image appears to show a damaged hangar building and a crater in the airfield tarmac.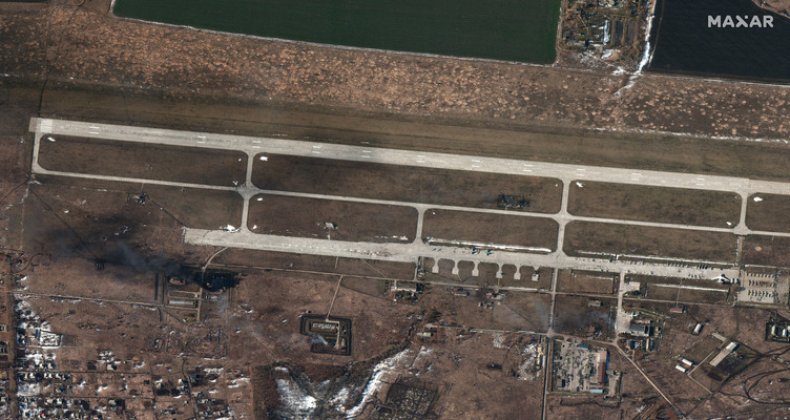 A third image appears to show a damaged airfield navigation infrastructure at the airfield.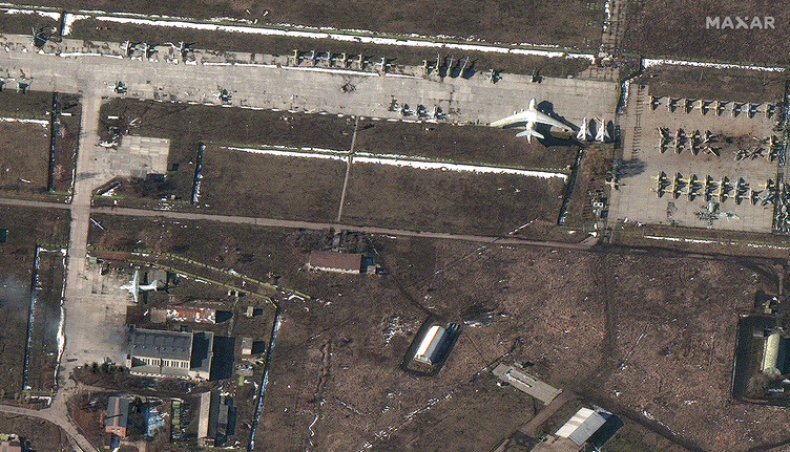 Yet none of the three images reveal damage to the actual runway, indicating that it may still be rendered operational in the future by either the Russian military or other armed forces of which Russia approves.
But damage to some sites has been reported, potentially affecting Moscow's battle plans.
After reported clashes at the Antonov Airport between Ukrainian troops and Russian forces that the former claimed to have won, a Ukrainian Defense Ministry assessment shared with Newsweek by Kyiv's embassy in Washington said that "Because of [the] damaged runway in Gostomel airport, Russian occupiers are heading from the territory of Belarus in the direction of Gomel-Chernihiv-Kyiv."
Russian Defense Ministry spokesperson Igor Konashenkov said Friday that, "in total, the Russian Armed Forces disabled 211 military infrastructure facilities of the Armed Forces of Ukraine."
Among them, he added are "17 command posts and communication centers of the Armed Forces of Ukraine, 19 S-300 and Osa anti-aircraft missile systems, 39 radar stations."
He also said Russian forces had shot down "six combat aircraft, one helicopter, five unmanned aerial vehicles," and destroyed "67 tanks and other armored vehicles, 16 multiple rocket launchers, 87 units of special military vehicles."
Konashenkov said Thursday that Russia had taken out "11 airfields, three command points and a naval base" among an array of other sites and equipment.
Claims from both sides have been subject to scrutiny as conflicting accounts of the events on the ground have emerged. Even photos and videos coming from the battlefield have been misconstrued by accident or design to favor the narrative of either party to the conflict.