Russia's 'Thin' Lines Give Ukraine an Opening to Attack Crimea
Crimea might once again be in Ukrainian forces' crosshairs because of a dispersed Russian military.
A drone attack on Russians in Crimea was launched Thursday morning on the Crimean port city of Sevastopol, according to a Telegram post by the city's governor, Mikhail Razvozhayev, although he did not explicitly blame Ukraine for the attack.
He wrote that two Unmanned Aerial Vehicles (UAVs) were "shot down over the sea" and that "our defense forces continue to repel the attack." He added that "several" other UAVs were shot down in the same airspace. Aside from road closures and a temporary pause in ferry services, he said that "everything is calm in the city."
Telegram channel Crimean Wind reported that "at about 5 a.m., several explosions were heard over the areas where Russian military units are located." The strongest explosion occurred at about 6:15 a.m.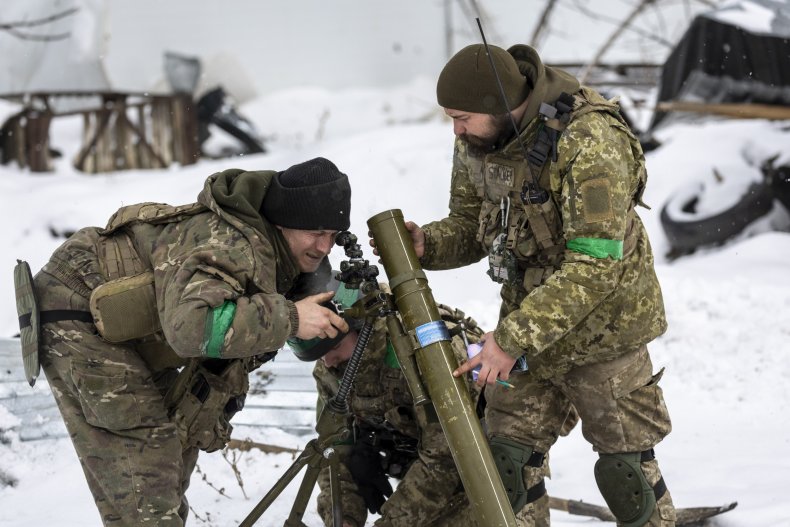 Krym.Realii reported that at the time of the explosions "a rocket launch was heard and the subsequent loud explosion, from which the glass in the windows trembled."
Russian military authorities and the Russian Federation have not commented on the attacks allegedly perpetrated by Ukraine, the outlet added.
Newsweek has been unable to independently verify the reports.
Ukrainian President Volodymyr Zelensky has repeatedly expressed the desire to retake Crimea, saying last August that the war will "end" there.
Russian President Vladimir Putin has vowed not only to maintain Crimea as its own, as it has since the 2014 annexation, but also to keep the additional four Ukrainian territories—Donetsk, Kherson, Luhansk and Zaporizhzhia—it annexed in September 2022.
A referendum followed and was viewed as a sham by the majority of the United Nations General Assembly, as well as Western allies of Ukraine.
U.S. Secretary of State Antony Blinken has expressed hesitance with Ukraine's attempt to reclaim the territory annexed by Russia in 2014, saying it would not "be wise at this time," Politico reported Wednesday.
That perspective has been echoed by Joint Chiefs Chairman General Mark Milley, who called it "very, very difficult" to militarily eject Russian forces from all Moscow-occupied territory in Ukraine, including Crimea.
Senior Pentagon officials shared similar views with the House Armed Services Committee this month.
Political public relations strategy
Hilary Appel, government professor at Claremont McKenna College in Claremont, California, told Newsweek that any Ukrainian attack on Crimea risks a disproportionate response from Russia. Such was the case following Ukrainian forces' explosion of the Kerch bridge in October.
"President Putin's annexation of Crimea in 2014 paid huge political dividends for President Putin and he will defend Russia's control of the peninsula to the end," Appel said. "Kyiv knows how valuable Crimea is to Putin, but it also knows the Russian military is stretched very thin at the moment.
"Since maintaining control of Crimea is a greater priority than recapturing territory in eastern and southern Ukraine, any activity in Crimea is a useful reminder to keep troops stationed there rather than relocating them to the front."
Last month, former Russian President Dmitry Medvedev, who currently serves as the deputy chairman of the Security Council of Russia, said in an interview with a Russian journalist that any Ukrainian attacks on Crimea would be met with "retaliation strikes" that could potentially include nuclear deterrence.
Arkady Moshes, program director for the EU Eastern Neighborhood and Russia research program at the Finnish Institute of International Affairs, told Newsweek that Ukraine retaking Crimea "is difficult to imagine" at this point, taking into account the small size of the isthmus, which facilitates its fortification and defense, as well as Russian air and naval superiority.
"However, they need to demonstrate that Russian forces and other objects in Crimea are not safe and can be attacked," Moshes added. "Even relatively minor successes in this context would produce a noticeable political and PR effect, as it was with the explosion on the Kerch bridge in October."
Newsweek reached out to the Ukrainian and Russian defense ministries for comment.