Russia's Threats, Energy Crisis Put Ukraine on The Brink | Opinion
Russia is escalating pressure on Ukraine, threatening to drag the U.S. and NATO into their worst confrontation with Moscow since the Cold War. A devastating combination of external and internal threats now imperil Ukraine's security, with energy playing a key part.
Moscow's military and economic aggression toward Ukraine is at a new high. In addition to the not-so-frozen conflict in the Donbass region and the illegal seizure of Crimea, the Kremlin is amassing troops for a potential winter campaign. More than 100,000 Russian troops have amassed on Ukraine's border. Just weeks ago, the Russian and Belarusian militaries conducted joint exercises near the Polish border. The threat of invasion looms.
Russian economic pressure is also mounting. Nord Stream 2—the contentious natural gas pipeline to Germany which circumvents Ukraine to deny Kyiv badly needed gas transit revenues—was completed in September. With natural gas prices peaking and domestic supplies depleted, many countries in Europe are now desperate enough to welcome the relief Nord Stream 2 would bring. This is bad news for Ukraine, of course, which takes in some $3 billion—more than 3 percent of its GDP—from Russian gas transit revenues.
Internally, corruption and incompetence are crippling Ukraine's efforts to break free of its dependence on Russia. Kyiv has to overcome a pattern of self-sabotage that was most visible in the Russia war of 2014, when the Ukrainian army gave up the Crimea and its own Black Sea fleet.
In a surreal incident dubbed "Wagnergate"—named for a secretive Russian private security company engaged in black ops from the Donbas to Africa—Ukraine's intelligence service tried to conduct a sting operation to capture mercenaries who had fought on behalf of Russia in Ukraine's east. Because of hesitation or incompetence at the highest level in Kyiv, the operation was fatally delayed, ultimately ending in a debacle. Instead, the mercenaries were arrested in Minsk and sent to Moscow, worsening tensions between Ukraine, Belarus and Russia.
Now, as energy prices soar—the result of a faster-than-anticipated COVID recovery and a poorly prepared European Union—Russia is leveraging the pressure on Ukraine and migrants from Belarus to strong-arm the rest of Europe. For months, sources have claimed that the Kremlin withheld natural gas shipments to Europe that could have alleviated the crisis. The EU relies on Russia for 40 percent of its natural gas needs. With Nord Stream 2, this dependence will only grow.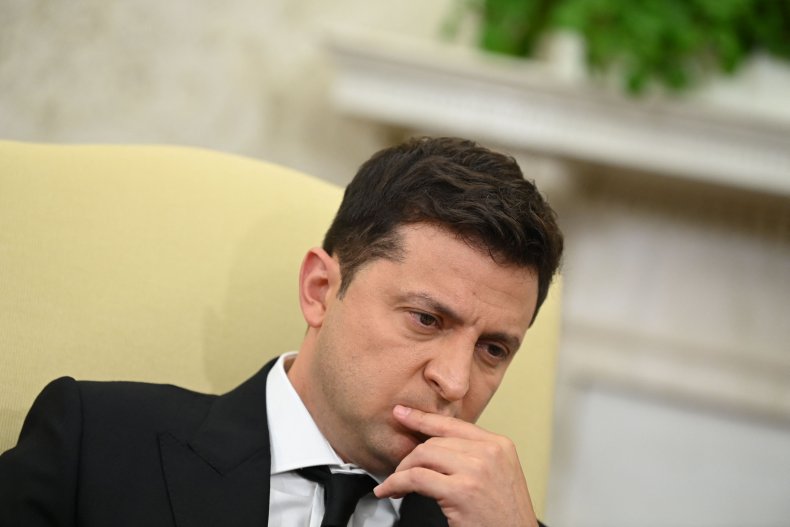 High gas prices have forced many in Europe, including Ukraine, to seek cheaper (and often dirtier) alternatives, including coal. But on October 28, Ukrainian officials announced that Russia would stop thermal coal exports to their country. Ukraine relies heavily on coal for electricity generation. So far this year, it has imported 30 percent of its coal from Russia.
If Ukraine's energy crisis worsens, it could bring widespread blackouts. This would leave many Ukrainians without access to electricity and heating in winter, leading to political unrest, crisis and chaos—exactly what Russia wants.
The obvious solution would be for Ukraine to diversify its energy supply away from Russia. However, the government has again sabotaged itself. Recent scandals surrounding President Volodymyr Zelensky, including the abrupt halting of payments to Ukraine's largest renewable energy investor, paint a dire picture. Last year, as the country fell into recession during the pandemic, the government struggled to pay its debts for power produced by wind and solar companies. To rectify the situation, the state-run electricity grid operator, Ukrenergo, floated $825 million in bonds to resolve the payment crisis. Ukrenergo made payments to all renewable energy producers, except for DTEK Renewables, its largest renewable investor. The government now faces a potential legal battle with DTEK. Compounded by a global energy crunch, it seems the climate goals Kyiv made weeks ago at Glasgow are all but out of reach.
The government is already in a row with DTEK over allegations that the latter failed to produce adequate energy outputs—and worse. On November 26, President Zelensky, alleged that the owner of DTEK, Rinat Akhmetov, could be involved in a "coup." Akhmetov called this statement "an absolute lie" and stressed that he was "outraged." He insisted that "my position has been and will be explicit and definite: an independent, democratic, and united Ukraine with the Crimea and my home region, Donbas." This feud is weakening Ukraine, and the sorry condition of the Ukrainian energy sector does not inspire confidence in Zelensky's government.
Today, Ukraine is fighting for its life. For the country to overcome its energy crisis, it needs deep and comprehensive energy reform. Kyiv must work with its Western allies to prioritize diversification of its energy sources, including oil and gas, coal, nuclear and renewables. This will reduce Russian economic pressure while also moving the country towards a greener future.
Internally, sunlight is the best disinfectant. Blatant corruption must be investigated and prosecuted, all the way to the top. Otherwise, the hands of U.S. and European allies to help Ukraine will be tied, giving Moscow a victory it does not deserve.
Ariel Cohen, Ph.D., is Non-Resident Senior Fellow at the Atlantic Council and Director, Energy, Growth and Security Program at International Tax and Investment Center.
The views expressed in this article are the writer's own.