U.S. Expels 12 Russian U.N. Diplomats, Alleges They Are Engaged in Espionage
The U.S. has ordered 12 Russian diplomats at the United Nations to leave by early March amid the war in Ukraine, Russia's U.N. Ambassador Vassily Nebenzia told reporters Monday.
The U.S. cited national security concerns in its decision, calling the Russian diplomats "intelligence operatives" who were "engaging in espionage activities that are adverse to our national security," Reuters reported.
Nebenzia promised a Russian response to the upcoming expulsion "because it's diplomatic practice."
The diplomat expulsion is part of an ongoing back-and-forth between the U.S. and Russia that began even before the Ukrainian invasion.
Earlier this month, Russia expelled Bart Gorman, who had been the second-in-command at the U.S. Embassy in Moscow. Russian officials also said in December last year that U.S. diplomats who had been in Russia for more than three years were ordered to leave by the end of that month.
And in August 2021, officials in Washington ordered two dozen Russian diplomats to leave by early September, Newsweek previously reported. It was not immediately clear what retaliatory measures, as hinted by Nebenzia, Russia may take in response to this most recent ousting.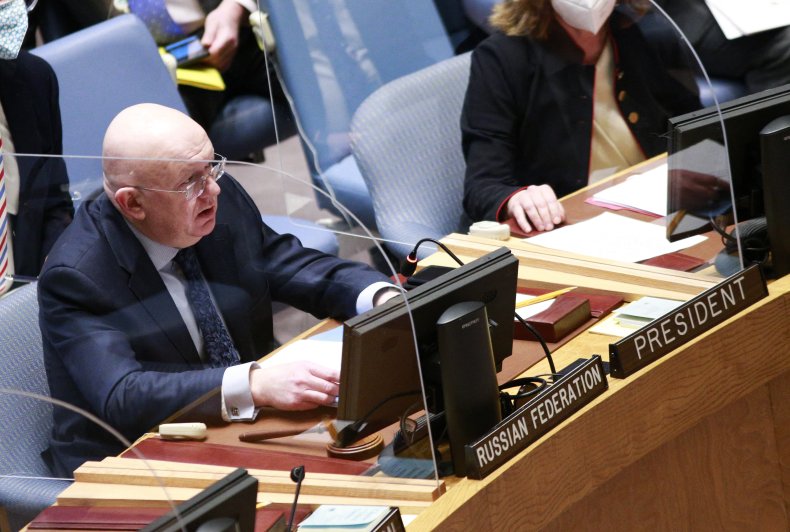 Olivia Dalton, a spokesperson for the U.S. Mission to the U.N., confirmed the expulsion in a Twitter thread Monday afternoon.
"Today's action has been in the works for several months," she tweeted.
Dalton did not elaborate further on the alleged "espionage activities."
During a U.N. Security Council meeting centering on Ukraine, Nebenzia described the expulsion as "hostile" and said that it breached U.S. obligations as the host country for the New York U.N. headquarters, Reuters reported.
When asked about Nebenzia's comments during a briefing Monday, White House press secretary Jen Psaki responded: "​​I think the hostile act is committing espionage activities on our own soil."
U.S. Deputy U.N. Ambassador Richard Mills also responded to Nebenzia's comments.
"Those diplomats that have been asked to leave the United States were engaged in activities that were not in accordance with their responsibilities and obligations as diplomats," Reuters quoted him as saying.
He added that the diplomats were asked to leave "so they do not harm the national security of the host country," Reuters reported.
Mills and Dalton both said separately that the decision did not violate the headquarters agreement cited by Nebenzia.
Newsweek has reached out to Dalton for additional comment.
Update 2/28/22, 5:15 p.m. ET: This story has been updated with additional information.