Russia's Vladimir Putin: Voters Chose Donald Trump and Brexit and They Are Being Disrespected
The U.S. elected Donald Trump for president and U.K. voters chose to leave the European Union, but their choices are being disrespected by the political elites in their respective countries, Russian President Vladimir Putin, whose government has been accused of trying to influence both votes, argued Thursday.
"They don't want to recognize [Trump's] victory. That's disrespect of voters," Putin said during his annual press conference on Thursday. "It's the same in Britain. Brexit happened, but nobody wants to implement it."
Law enforcement officials from both the U.S. and the U.K. have accused Putin and his government of attempting to influence the outcome of the Brexit referendum and the 2016 presidential election. U.S. intelligence agencies unanimously concluded that Russia was attempting to influence the 2016 elections in favor of Trump.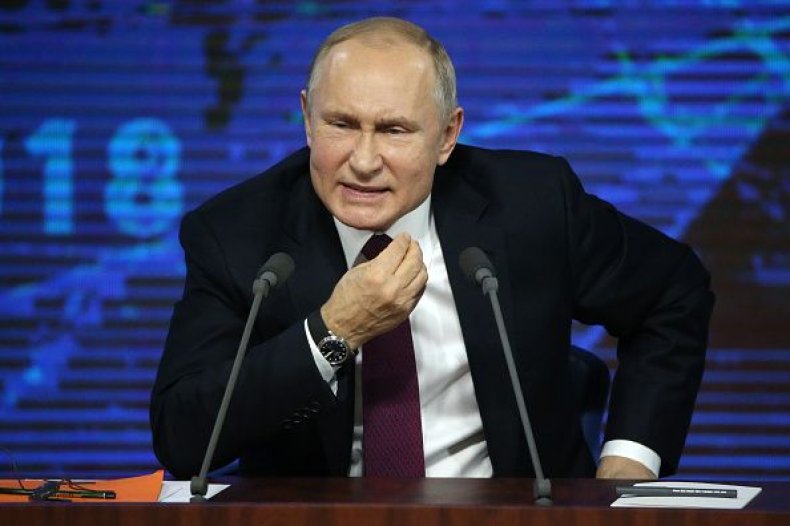 Just this week, two reports commissioned for the Senate Intelligence Committee determined that Russia had used every social media platform, including Instagram and Pinterest, to persuade voters to support Trump and not to vote for his opponent Hillary Clinton. Still, it is unclear whether these efforts succeeded in changing votes.
Special counsel Robert Mueller is currently investigating whether members of the Trump campaign collaborated with the Russian government to influence the outcome of the elections.
The June 2016 Brexit vote, in which a slim majority of voters said they wanted the U.K. to leave the European Union, was seen as a precursor to Trump's victory.
Today, British Prime Minister Theresa May is faced with the daunting task of negotiating a Brexit agreement that will satisfy her government, the British people and officials in the European Union. With fewer than 100 days until the deadline for when the U.K. will be forced to leave the EU, the possibility that no deal will be reached is becoming increasingly likely. In this context, more people have started calling for a second referendum.
Some observers have also asked why people aren't taking the accusations of Russian interference in the Brexit vote more seriously, and some lawmakers have called for an investigation similar to the one in the U.S.
Aaron Banks, a British billionaire who donated generously to the campaign for Britain's exit from the EU, met frequently with Russian embassy officials prior to the vote, according to British media reports. The origins of the donations Banks made are currently under investigation in the U.K.
In January, a report from the U.S. Senate Foreign Affairs Committee noted that Russia's "English-language media outlets RT and Sputnik covered the referendum campaign extensively and offered 'systematically one-sided coverage' supporting a British departure from the European Union."