Rust Belt States Have Turned Against Trump, Could Hand Victories to Democrats
Republican candidates across the Rust Belt states are facing increased pressure as Trump's falling approval ratings threaten their own 2018 midterm campaigns.
Republican Party organizations are saving up last-minute campaign cash and bracing for several potential losses across Michigan, Wisconsin, Pennsyvlvania -- states Trump flipped to win by a total of less than 80,000 votes in 2016.
Several key Democratic victories would be needed as the party needs a net gain of 23 seats to re-take the U.S. House and two to re-take the U.S. Senate. And polls show the GOP may be poised to lose over Trump's trade war and the fact that Hillary Clinton -- a hated figure among Republicans -- will not appear on the ballot.
According to the nonpartisan Cook Political Report, five Senate races and five House contests in the Rust Belt are considered tossups. Despite major spending on negative ad campaigns from the GOP in these hotly contested Midwest battles, Democrats such as Wisconsin Sen. Tammy Baldwin continue to lead Republicans, like her challenger, state Sen. Leah Vukmir, by more than 11 percent.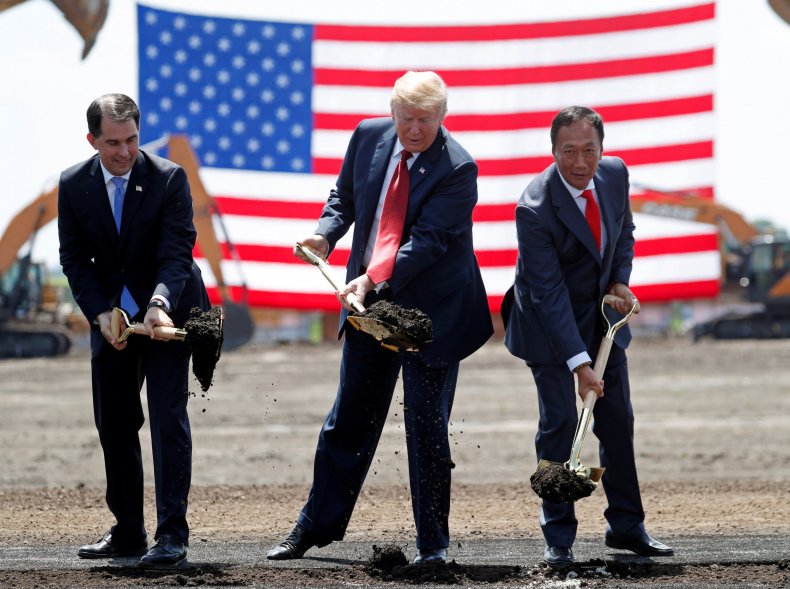 In Pennsylvania, eight of the state's 18 House races are listed as "competitive" according to Cook's analysis.
Trump's job approval rating has dropped to 42 percent in Wisconsin, according to Marquette's August poll. But while that small drop on the national level may have little effect on the race there, independent voters have increasingly disapproved of the president's performance.
"I certainly think the national forces are affecting voters here," Charles Franklin, Marquette's poll director, told Bloomberg News. "The state is also still pretty opposed to Trump on trade."
Trump's approval ratings are low throughout the Rust Belt states he won in the 2016 presidential election. In Michigan, only 42 percent approve, 45 percent approval in Pennsylvania, 44 percent approval in Iowa and only 40 percent in Minnesota.
Even elections dubbed "leaning Republican" by the Cook analysis are being viewed by the Congressional Leadership Fund as priorities. The GOP super PAC has reserved $1.5 million in advertising on retiring House Speaker Paul Ryan's Wisconsin seat.
Michigan and Pennsylvania incumbent Democratic Sens. Debbie Stabenow and Robert Casey have maintained double-digit polling leads over their GOP challengers. Many Republican strategists say that Democrats are highly motivated to win this November, but voter turnout will still be the deciding factor.
"The other side is very motivated," Saul Anuzis, a former RNC member and past party chairman in Michigan, told Bloomberg News. "Much of it will depend on turnout."
The pollsters also noted that Trump ran against a highly unpopular candidate in the 2016 election who is not on the ballot of this year's midterm contests.
"Unfortunately for Republicans this year, she's not on the ballot," GOP strategetist John Brabender told Bloomberg News. "Being pro-Trump may not equate to being pro-Republican."