'Rust' Crew Member Facing Amputation After Spider Bite, $10K Raised on GoFundMe
A crew member on Rust has been hospitalized and is facing the possibility of having his arm amputated, after he was bitten by a venomous spider while wrapping up the troubled movie.
Production on Rust was brought to an immediate halt on October 21, after star and producer Alec Baldwin discharged a gun that he was unaware contained live ammunition, leading to the death of cinematographer Halyna Hutchins and the injury of director Joel Souza.
Jason Miller, who had been hired as a pipe rigger and lamp operator on the wrap team for the film's New Mexico set, fell ill after was bitten by a brown recluse spider, according to a GoFundMe page set up on his behalf.
A statement on the fundraising page says that Miller went on to experience "severe symptoms" that included "necrosis of his arm and sepsis." He has also had "multiple surgeries each day" as doctors fight to stop the infection.
"Jason Miller, IATSE [International Alliance of Theatrical Stage Employees] Local 480 pipe rigger and lamp operator, is in need of our support," reads a statement on GoFundMe. "Jason was working as part of the wrap team on the production 'Rust' at Bonanza Creek when he was bitten by a brown recluse spider.
"In a matter of days he experienced severe symptoms including necrosis of his arm and sepsis. He has been hospitalized and endured multiple surgeries each day as doctors do their best to stop the infection and try to save his arm from amputation.
"It will be a very long road to recovery for Jason if the medical team at Abq Lovelace is able to save his arm. If under worse circumstances he loses his arm, this is a life-changing and devastating event for Jason and his family.
"For any who are able to support and offer contributions to help Jason get through this painful and challenging time, it would be incredibly helpful and greatly appreciated.
"Jason sends his gratitude for the kind words, thoughts and prayers that his fellow union brothers and sisters are sending to him. On behalf of Jason and his mother, Judy, 'Thank you, IATSE and Local 480 are truly a wonderful family.'"
A spokesperson for the Rust producers, including Baldwin, told Britain's Sky News: "We do not comment on individual members of the cast and crew's private matters."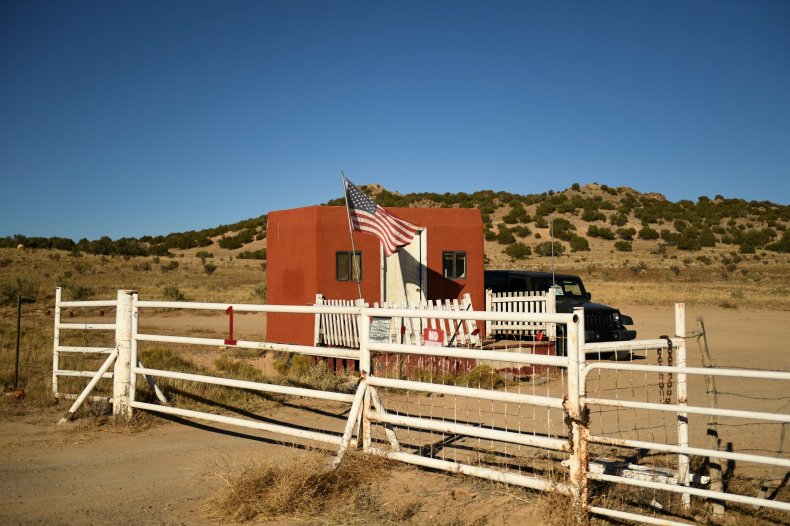 As of Tuesday morning, the campaign had surpassed its $5,000 goal, amassing $10,485 in donations.
The news comes weeks after members of the Rust cast and crew were left devastated by the accidental death of cinematographer Hutchins.
According to a search warrant affidavit, Baldwin was handed a gun by assistant director David Halls, who yelled "cold gun" on the set, to indicate that the firearm contained no live rounds.
Rust armorer Hannah Gutierrez-Reed, who was responsible for the guns on the set, has since said through her attorneys that she had "no idea" how live ammunition got onto the set.
In a tweet reposted on his Instagram page on Monday, Baldwin stated that all productions featuring guns should have a police officer present on set.
He wrote: "Every film/TV set that uses guns, fake or otherwise, should have a police officer on set, hired by the production, to specifically monitor weapons safely."
Ongoing Police Investigation
The day after the fatal shooting, Baldwin expressed his "shock and sadness" at the death of Hutchins, who he described as a "deeply admired colleague of ours."
"I'm fully cooperating with the police investigation to address how this tragedy occurred and I am in touch with her husband, offering my support to him and his family," he went on. "My heart is broken for her husband, their son, and all who knew and loved Halyna."
Several days later, Baldwin talked about the shooting on camera for the first time, reiterating to members of the media who had been following him in Manchester, Vermont, that Hutchins was his "friend."
The 30 Rock star said that he "couldn't answer" a question about whether he would ever work again on film set that employed the use of firearms.
"I do know that an ongoing effort to limit the use of firearms on set is something I am extremely interested in," he said. "How many bullets have gone off on film sets and TV shows in the last 75 years? This is America. Billions? And nearly all of it without incident.
"We have to realize when it does go wrong... some new measures have to take place. It's urgent that you understand I'm not an expert in this field.
"So, whatever other people decide is the best way to go in terms of protecting people's safety on film sets, I'm all in favor of and I will cooperate with that in any way that I can."