Alec Baldwin Movie Weapons Expert Says 'Reloaded Rounds' May Have Mixed With Blanks
The weapons expert employed on the set of the Alec Baldwin film Rust told investigators he may know how live rounds got into a prop gun.
The expert, Seth Kenney, told detectives his theory on October 29, eight days after Baldwin, the film's lead, accidentally shot and killed cinematographer Halyna Hutchins and wounded director Joel Souza with a prop gun he believed was "cold" during a rehearsal.
According to an affidavit released by the Santa Fe County Sheriff's Office on Tuesday, Kenney, 51, believed that a friend might have given him "reloaded ammunition" with the same company branding as the blank rounds that he provided to the production.
"Seth described how a couple years back, he received 'reloaded ammunition' from a friend,'" the affidavit read. "Seth described the ammunition stuck out to him due to the suspected live round to have (sic) a cartridge with the Starline Brass logo on it...He described how the company only sells components of ammunition, and not live ammunition, and therefore it had to be a reloaded round."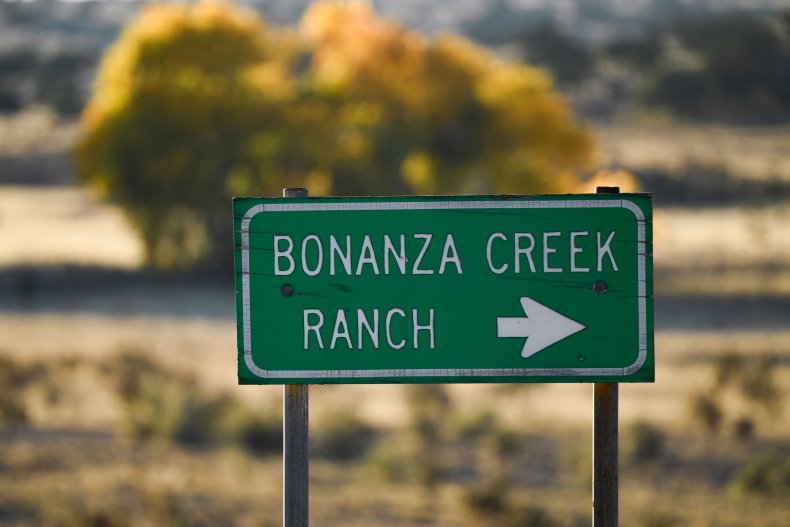 Kenney's only previous film credit, per his IMDB page, is the 2015 Shia LaBeouf film, Man Down, on which he is credited as a weapons consultant. A Los Angeles Times report found that Kenney owns and operates a firearm and prop rental business in Lake Havasu City, Arizona.
According to an internal crew list obtained by the outlet, Kenney reportedly joined the production of Rust in September as a "mentor" for armorer Hannah Gutierrez-Reed. According to unnamed sources close to the production that spoke with the Times, Kenney himself allegedly recommended Gutierrez-Reed for the project and provided her with the firearms used on set, including the Colt .45 involved in the fatal shooting. Newsweek could not independently verify these claims.
Jason Bowles, an attorney representing Gutierrez-Reed, confirmed to Albuquerque news station KOAT-TV that Kenney was the one who supplied his client with ammunition.
Attempts by Newsweek to reach Kenney for comment on Tuesday were not successful.
Accusations of poor set management on Rust have emerged in the weeks since Hutchins' death. On November 9, the film's head electrician, Serge Svetnoy, filed a lawsuit against the production alleging negligence that led to unsafe working conditions. Baldwin, Gutierrez-Reed and assistant director Dave Halls are named in the suit.
"This incident was caused by the negligent acts and omission of Defendants, and each of them, as well as their agents, principals, and employers," Svetnoy's suit read. "Simply put, there was no reason for a live bullet to be placed in that .45 Colt revolver to be present anywhere on the Rust set, and the presence of a bullet in a revolver posed a lethal threat to everyone in its vicinity."