'Rustle of Spring': too Powerful for Cancelation | Opinion
Despite the idiotic excesses of contemporary "cancel culture," the emotional impulse behind it is nothing new. For well over a century, leaders in the arts, education and politics have suffered dire consequences for bad private behavior or outrageous public opinions.
Consider the case of a three-minute musical masterpiece that's especially appropriate in this hopeful, fragrant season of the year, but has long been obscured by efforts to "cancel" its once-celebrated composer in the 80 years since his death.
Rustle of Spring by Christian August Sinding is an intoxicating jolt of energy for solo piano that became a worldwide hit shortly after its composition in 1896. The composer, a struggling Norwegian who had reached the age of 40 without conspicuous success, suddenly heard his little gem performed everywhere—and watched its bestselling sheet music ruthlessly pirated. In years that followed, any self-consciously "cultured" home with an upright piano in the parlor would savor Rustle of Spring, which had the winning virtue of sounding far more difficult to perform than it actually was. The title became so well-known that in 1929, German film director William Dieterle (later a refugee in Hollywood) borrowed it for a romantic melodrama that attempted to evoke the music's yearning and exaltation.
As for Sinding, he proved himself to be more than a one-hit wonder, creating four turbulent symphonies, three lyrical violin concertos and an especially heroic concerto for piano. The Norwegian government granted generous stipends to keep him composing, and awarded "lifetime residence" in an elegant, historic home in the Oslo park adjoining the royal palace.
Why, then, is his name all but forgotten today, while his most famous piece remains unknown to even ardent music lovers?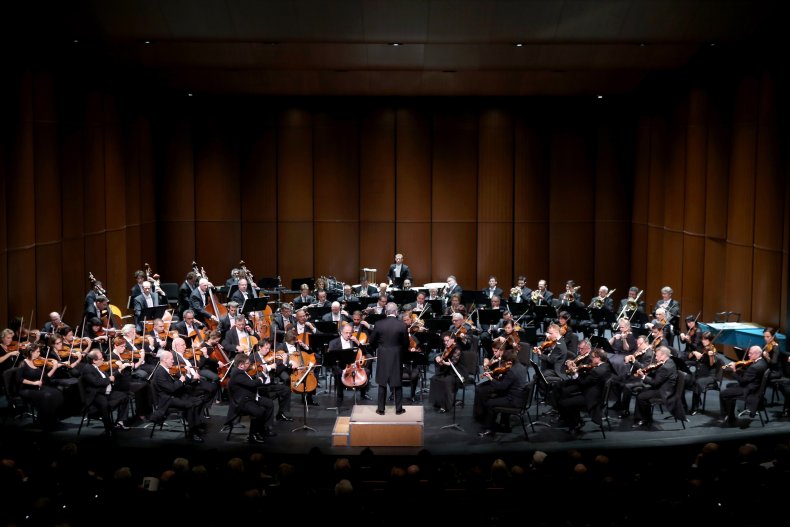 The answer has nothing to do with the quality of his work, but rather stems from the last major decision of his long life. Just eight weeks before his 1941 death, and five months after the Germans invaded his country, the 85-year-old national hero officially joined the Norwegian Nazi Party. Sinding's defenders point to the "senile dementia" the composer developed in his final years and his previous defense of Jewish musicians. But his support for Hitler forever tarnished his artistic reputation. After the war, the Norwegians, who had suffered horribly for their courageous resistance, naturally did everything possible to erase Sinding's fame, including a boycott of his music on the national broadcasting system.
The reputation of Richard Wagner—another, far more prominent composer—also suffered from Nazi associations even though he died in 1883, six years before Hitler was even born. Nevertheless, Wagner's strident anti-Semitism (he wrote a vile book blaming Jews for wrecking European culture) inspired the Third Reich, giving him posthumous pride of place among Hitler's artistic heroes. Though the immediate postwar years saw diminished global enthusiasm for Wagner's epic music dramas, the mad genius behind Tristan and Isolde proved far too important to cancel permanently.
Even in Israel, where death camp survivors represented 6 percent of the population in 1991, the Jewish state's most prestigious cultural institution terminated its unofficial ban on Wagner performances. Some 46 years after the end of the Holocaust, members of the Israel Philharmonic voted overwhelmingly to hold a special concert in Tel Aviv devoted entirely to Wagner's music. The conductor on that occasion, Israeli citizen Daniel Barenboim, acknowledged the composer's status as a Nazi icon but insisted that the music counted as "a critical element in the repertory of any major orchestra."
Dr. Seuss had no connection at all with Naziism—in fact, as a political cartoonist early in his career, he expressed virulent opposition to Hitler. And like Wagner, he's far too much of a giant in his field for any attempt to obliterate his reputation to succeed. Racist imagery in six of his more than 60 beloved children's books led the late author's foundation to cease publication of the suspect titles, but the reconsideration only intensified the author's worldwide popularity. Similarly, Disney recently acknowledged insensitive elements in animated classics like Dumbo and Peter Pan, but rather than censor or re-edit those titles, the company wisely appended a warning label that encourages evaluation and discussion of the troublesome elements.
The message in each case seems to be the near impossibility of stifling significant artistic expression once it's already made its way through the world. Even the once-forgotten Christian Sinding is currently enjoying a quiet comeback—with new recordings of his most significant compositions and renewed popularity for Rustle of Spring among a new generation of virtuoso pianists.
The message in all these developments echoes that of Sinding's masterpiece: the primal energy of spring's rebirth can, like life-affirming art, surge with enough force and heat to push back any chill.
Michael Medved hosts a daily radio talk show and is author, most recently, of God's Hand On America: Divine Providence in the Modern Era. Follow him on Twitter: @MedvedSHOW.
The views expressed in this article are the writer's own.