Rutgers Stands Behind Professor Who Said Hindutva Was 'Inspired by Nazism' Amid Backlash
A Rutgers-Newark professor may be under attack by the public for comments she made about Hindutva, but she has the support of her employer.
On Friday, assistant professor Audrey Truschke attended a rally outside the United Nations where Indian Prime Minister Narendra Modi was scheduled to speak. During the rally, she criticized the Bharatiya Janata Party (BJP), which Modi is a member of, for adhering to Hindutva, a form of Hindu nationalism.
Hindutva, she claimed, was inspired by Nazism. At a time when people often hear the term Nazi, which she credited with being used loosely, Truschke clarified that when she said Nazism, she was talking about "real, actual, historical Nazis."
"Early Hindutva founders openly admired [Nazi Party leader Adolf] Hitler," she said. "They praised Hitler's treatment of the Jewish people in Germany as a good model for dealing with India's Muslim minority."
People criticized Truschke for her comments, saying they were anti-Hindu and Pakistani propaganda. Several people called for her to not be permitted to visit India and more than 8,000 people signed an online petition to have Rutgers investigate her. Newsweek reached out to the petition creators but did not receive a response in time for publication.
However, Rutgers stood by the professor. The public New Jersey university told Newsweek that Truschke had a long track record of welcoming "reasoned debate" about the cultural, imperial and intellectual history of early-modern and modern India. So, the university supported her remarks.
"The Rutgers-Newark administration is standing strong behind me," Truschke told Newsweek. "I am privileged to be part of a scholarly community that values both accurate history and public-facing scholarship."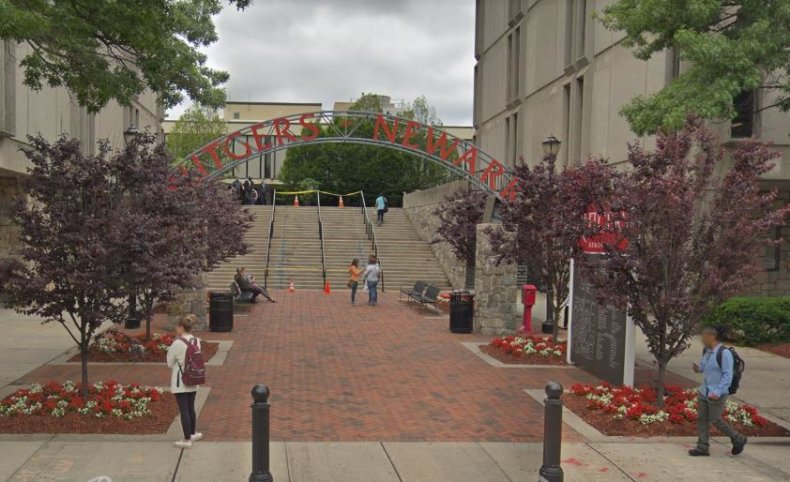 She called her comments outside the United Nations "well-established historical fact" and said the pushback was designed to "intimidate and silence scholars." Instead, she claimed, it showed a need for professors to work harder to educate non-academic audiences about Indian history.
The assistant professor identified two types of people who were attacking her: those who appeared to be ill-informed about Indian history and those who made ad hominem attacks in bad faith. For those who were ill-informed, she advised them not to "shoot the messenger."
"It is understandably upsetting to learn about the troublesome roots of a political ideology to which you may adhere, but I am not the appropriate target for your anger," Truschke said.
Truschke described Hindutva as being a political ideology and Hinduism as being a "diverse set of religious traditions." While speaking at India Today Conclave, a global thought platform in India, Indian Parliament Member Shashi Tharoor said the Vinayak Damodar Savarkar, the founder of Hindutva, saw it as being about cultural and racial identity.
Vinay Sahasrabuddhe, a member of India's parliament and National Vice President of BJP, Modi's political party, argued that the BJP took Savarkar's comments "much more ahead" and described Hindutva as "spiritual democracy" and the "call of everything that is Hindu."
"Unfortunately Hindutva has become a favorite ripping point for people like Shashi Tharoor," Sahasrabuddhe said.
In an effort to deflect criticism from Hindutva, Truschke accused people of conflating it with Hinduism, which she characterized as being "inaccurate and highly offensive." However, others claimed it was Truschke who was inaccurate in labeling Hindutva fascist.