Rutgers Women's Basketball Coach Sends Condolences to Don Imus' Family
C. Vivian Stringer, who coaches Rutgers University's women's basketball team, sent condolences to radio host Don Imus' family on Tuesday in the wake of his December 27 death of complications from lung disease.
Imus had referred to members of the women's team by using a racial slur during a 2007 episode of his radio program. His comments had come in the wake of Rutgers' Scarlet Knights having lost an NCAA championship game to Nashville's Lady Volunteers.
Stringer acknowledged the controversy in her prepared comments to the press. "The Rutgers family has found peace through the years, and we are proud of our response to the hateful words that he had years ago. As African-American women, we don't feel that we should be treated ― or anyone else should be treated ― like that. We are proud of the positive change it has brought about and the lesson that came with it — women and African Americans should be treated with respect, not only in the media, but in all walks of life. It is our prayer that Don finds eternal peace in his passing and we wish his family strength.
"He genuinely felt, I think, remorse for the words he said. Everybody makes mistakes and says things that they shouldn't say. I think that our players learned a lot from that, and I'm proud of them and our basketball team," Stringer continued.
She also said that she had not thought of Imus' comments in years, but that "to say that it didn't hurt is not true."
Stringer admitted the controversy was permanently a part of her legacy as a Rutgers coach.
"I'm tied to that now. No getting around that. It is what it is. Proud of the way the team responded. Proud of the support we got from so many fans and people. Proud of the fact we stood up for what's right. All our players learned a really good lesson," she said.
She expressed forgiveness for his statements and turned an eye toward the future. "We accept it, and we move forward."
At the time, Imus had reacted to the controversy by saying "what I did was make a stupid, idiotic mistake in a comedy context," according to The New York Times.
He was suspended from his own show for two weeks in the wake of those remarks. MSNBC, which simulcasted Imus' show on their network, also suspended broadcasts of his program, with executives calling the comments "racist and abhorrent" according to The New York Times. Imus agreed with the suspension, but insisted that he was "not a racist."
Stringer had called Imus' comments "racist and sexist remarks that are deplorable, despicable and unconscionable" at the time.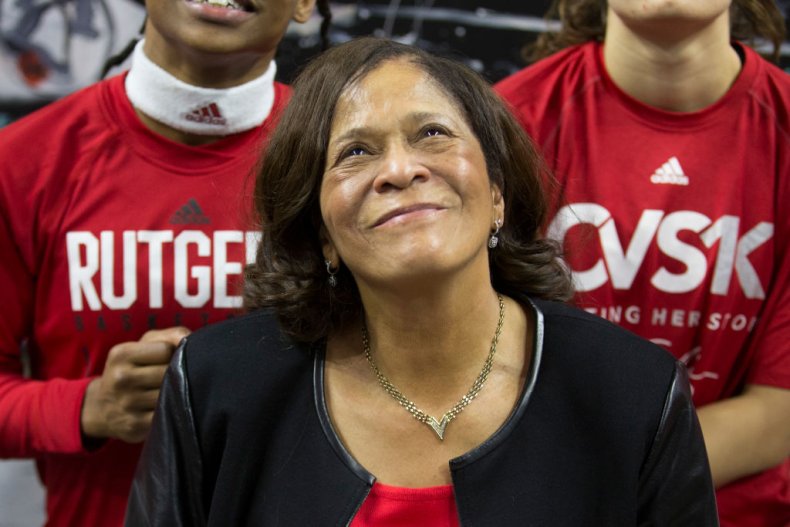 Later, Imus met with Stringer, and according to Stringer said that he "didn't come to save his job but to save his soul."