A video clip of the late Supreme Court judge Ruth Bader Ginsburg calmly stating the legal case in defense of her unflinching support of abortion rights has gone viral.
The clip, which shows a 60-year-old Ginsburg, was filmed during her Supreme Court confirmation hearings in 1993, when she was asked about abortion rights.
The footage began circulating on Friday, June 24, the same day the U.S. Supreme Court overturned Roe v. Wade, the 1973 decision that allowed women the right to a medical abortion.
Choosing her words slowly and carefully, Ginsburg says into the microphone: "You asked me about my thinking about equal protection versus individual autonomy and my answer to you is: It's both.
"This is something central to a woman's life, to her dignity. It's a decision that she must make for herself. And when government controls that decision for her, she's being treated as less than a fully adult human responsible for her own choices.
"I said—on the equality side of it—that it is essential to women's equality with men ... that she be the decision-maker, that her choice be controlling. And that if you impose restraints that disadvantage her, you are disadvantaging her because of her sex."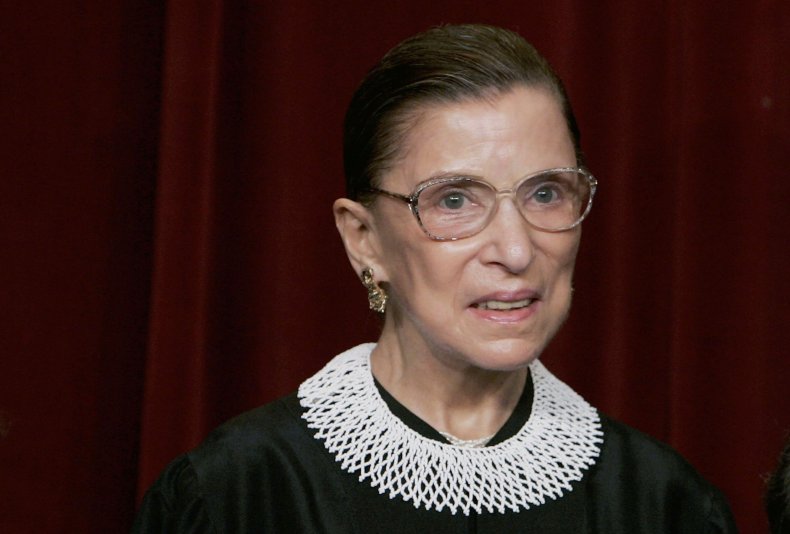 According to a New York Times article published at that time, she then went on to add (although this was not featured in the video clip circulating online) that: "The state controlling a woman would mean denying her full autonomy and full equality."
Ginsburg was about to become the second woman ever to serve on the Supreme Court. The article described her comments as "a strong and unambiguous defense of a woman's right to abortion," which Ginsburg said was based on the Constitution's explicit guarantee of equal protection and a less explicit right of privacy.
The contemporaneous piece said she was "the first Supreme Court nominee to offer such an unflinching statement about the constitutional right to abortion."
The first and only woman sitting on the court at the time was Justice Sandra Day O'Connor, whose own confirmation hearings were in 1981.
As an Arizona state court judge she had also been noted as a public supporter of abortion rights, but she (like other nominees) declined to state what her current beliefs were when questioned during her hearings, according to the New York Times.
Her reluctance to speak out then made Ginsburg's comments more than a decade later all the more significant and seemed to reflect how the debate had moved forward.
The Ginsburg clip has been viewed more than 220,000 times and shared thousands of times after originally being posted by video journalism website The Recount on Friday.
Reaction online was torn between supporters of women's right to abortions and those who are against it.
Most of those commenting on her arguments were those who supported Ginsburg's position, with some moved by her words.
One Twitter user, apparently referring to the three justices selected by former president Donald Trump, wrote: "She had the bravery to say what she thought, no matter what, these 'three justices' are cowards."
Another added: "Equal protection before government, and individual autonomy, a woman's choice, above a man's decision." One tweeter posted a cartoon depicting the backs of a row of judges, stating "Roe is settled law" while keeping their fingers crossed behind their backs.
But others disagreed with Ginsburg. One Twitter user wrote in response to the clip: "Adoption not abortion is the option."
And several Twitter commentators suggested it was Ginsburg's death, aged 87 in 2020, that created the vacancy on the court that allowed Roe v. Wade to be overturned because it was filled by another one of Trump's picks.
Some even seemed to hold her personally responsible for the ruling. One Twitter user called her a "central catalyst to the issue today" while another added "she refused to retire helping lead to Roe being overturned." One wrote: "Overturning Roe is her fault. She put her ego over the country."
The decision to overturn Roe v. Wade has been both derided and welcomed across the country.
Republican Sarah Huckabee, who is running for governor in Arkansas, said Friday was "a day so many of us have prayed for and worked towards" for decades.
But others are horrified, with some calling on President Joe Biden to install more justices to the court to restore the political balance among its members.
A host of stars have spoken out in defense of abortion rights, including a number of singers at the Glastonbury Festival in the U.K. over the weekend. Rapper Kendrick Lamar closed the show with the message: "Godspeed for women's rights!"