Supreme Court Justice Ruth Bader Ginsburg fell in her office on Wednesday night and fractured three ribs, the Court's Public Information Office said in a statement on Thursday.
"Justice Ruth Bader Ginsburg fell in her office at the Court last evening. She went home, but after experiencing discomfort overnight, went to George Washington University Hospital early this morning. Tests showed she fractured three ribs on her left side, and she was admitted for observation and treatment. Updates will be provided as they become available," the statement read.
The 85-year-old justice, who has served on the Court for 25 years, is set to miss a Court ceremony on Thursday for the newest justice, Brett Kavanaugh. President Donald Trump was scheduled to attend.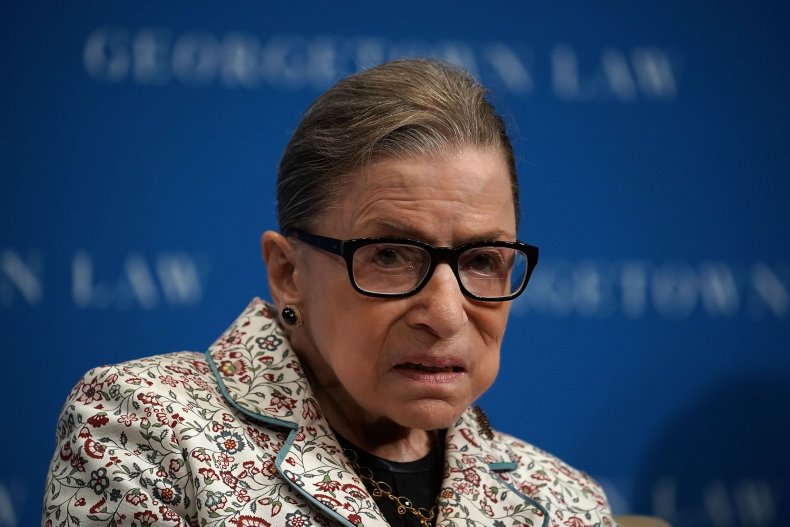 Part of the liberal wing of the Supreme Court, Ginsburg's health has long been a subject of discussion—and scrutiny—particularly since President Donald Trump was elected president. Kavanaugh was Trump's second nomination to the Court following the selection of Justice Neil Gorsuch shortly after Trump entered the White House.
Gorsuch replaced conservative Justice Antonin Scalia, who died in early 2016, leading to a bitter battle in which Republicans refused to hold hearings for President Barack Obama's nomination in his final year as president. Kavanaugh, meanwhile, replaced Justice Anthony Kennedy, who often acted as a swing vote on the Court, after he retired last summer.
Ginsburg, though, insisted in August that she had no plans to retire anytime soon.
"I'm now 85," she said, per CNN. "My senior colleague, Justice John Paul Stevens, he stepped down when he was 90, so think I have about at least five more years."
At the time, Ginsburg also rejected the notion of term limits for Supreme Court justices,
"You can't set term limits, because to do that you'd have to amend the Constitution," she said. "Article 3 says...we hold our offices during good behavior.
"And most judges are very well behaved," she continued, to laughter.