Ruth Bader Ginsburg Says She Wont Leave Supreme Court 'As Long As I Can Do the Job'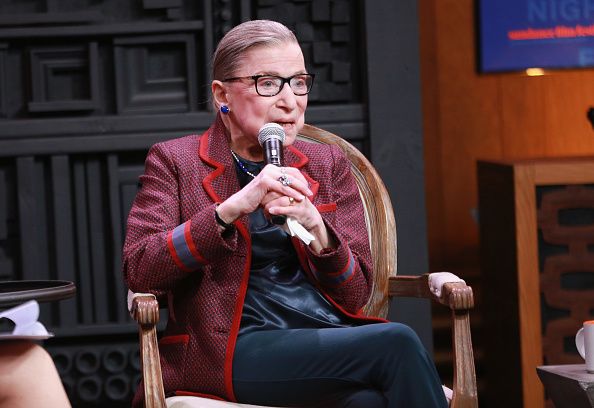 It looks like we're all going to be "Ginsburned" — as Saturday Night Live comedian Kate McKinnon would say —for a while.
Supreme Court Justice Ruth Bader Ginsburg, 84, told Sundance "Cinema Talks" host Nina Totenberg on Sunday she has no intentions of leaving her post, adding she is in "very good" health and will continue for "as long as I can do the job full steam."
As proof, she's already reportedly hired four clerks for the Supreme Court's October 2018 term and four clerks for the October 2019 term, which wraps up in June 2020.
Ginsburg, who has labeled herself a "flaming feminist litigator" and earned the nickname "the Notorious RBG," was appointed to the Supreme Court by former President Bill Clinton in 1993. She leads the court's liberal wing and is one of three female justices, alongside Sonia Sotomayor and Elena Kagan, both of whom were nominated during former President Barack Obama's administration.
Ginsburg has been a vocal proponent for women's rights and equal pay, co-founding the Women's Rights Law Reporter, a law journal out of Rutgers School of Law, as well as the American Civil Liberties Union's Women's Rights Project. As a Supreme Court justice, she's tackled a myriad of cases—some of the most notable involving abortion rights and gender discrimination.
She is also a supporter of the growing #MeToo movement, which gained traction following sexual assault allegations against movie producer Harvey Weinstein in October.
Ginsburg told Totenberg during the roughly 90-minute discussion in Park City, Utah, that the #MeToo push is "about time." She even divulged a story of her own about how an undergraduate professor at Cornell University once provided her a practice exam with all of the test answers, and expected something in return.
"For so long women were silent, thinking there was nothing you could do about it," said Ginsburg, who went on to receive her law degree from Columbia Law School. "But now the law is on the side of women or men who encounter harassment, and that's a good thing."
Her public persona has inspired McKinnon's energetic and dance-crazed impersonation of Ginsburg—an impersonation that Ginsburg admitted on Sunday she liked.
"I would like to say "Gins-burn" sometimes to my colleagues," she said.
Despite justices' presumed objectivity, Ginsburg has voiced her dislike of President Donald Trump, controversially calling him "a faker" who has "no consistency" in July 2016.
It is likely that if Ginsburg stepped down, Trump would appoint a more conservative justice to replace her.