"I Am Alive": Justice Ruth Bader Ginsburg Reaffirms Health After Treatment for Pancreatic Cancer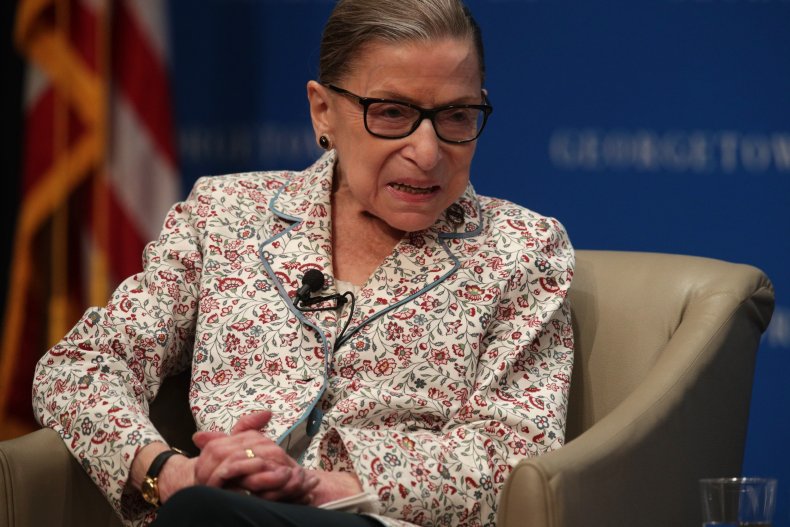 Supreme Court Justice Ruth Bader Ginsburg was interviewed on stage in Washington, D.C., in one of her first public appearances since the announcement of her treatment for pancreatic cancer last week.
Ginsburg recently completed a three-week round of radiation for a malignant tumor on her pancreas, though a press release from the Supreme Court noted that "there is no evidence of disease elsewhere in the body."
Amid concerns about the 86-year-old justice's health, Ginsburg told the National Book Festival on Saturday that, as "this audience can see, I am alive."
Get your unlimited Newsweek trial >
Applause quickly swept through the crowd, which had begun to gather at around 4 a.m. in order to secure entry to the event.
"I am on my way to being very well," Ginsburg continued.
Moderator Nina Totenberg questioned Ginsburg about why she decided to attend the event and promote her memoir, My Own Words, instead of resting ahead of the court's upcoming term.
"[For] the term, we have more than a month yet to go," she replied. "I will be prepared when the time comes."
Get your unlimited Newsweek trial >
The upcoming session of the Supreme Court has a docket loaded with politically charged issues, such as LGBTQ rights and, potentially, gun control.
After Justice Anthony Kennedy, long considered the court's swing vote, retired last year, his replacement, Justice Brett Kavanaugh, tipped the ideological balance of the court such that Republicans believe their political agenda is likelier to succeed.
Democrats fear that President Donald Trump may have a near-historic chance to nominate a third Supreme Court justice to the bench during his first term should Ginsburg's health falter. No president since Richard Nixon has appointed more than three justices to the Supreme Court.
"I love my job. It's the best and the hardest job that I have ever had, and it has kept me going through four cancer battles," the justice told Totenberg. "Instead of concentrating on my aches and pains, I just know that I have to read this set of briefs [or] go over the draft opinion. And so I have to somehow surmount whatever is going on in my body and concentrate on the court's work."
Over the last 20 years, Ginsburg has overcome several bouts of cancer, the same disease which claimed the life of her husband in 2010. In 1999, she underwent surgery for colon cancer, receiving chemotherapy and radiation as well. She was treated for pancreatic cancer in 2009, and had cancerous nodules removed from her lung last year after they were discovered on tests she underwent after breaking three ribs.
"I Am Alive": Justice Ruth Bader Ginsburg Reaffirms Health After Treatment for Pancreatic Cancer | U.S.