Ruth Bader Ginsburg Quotes: Seven Powerful Lines by the Notorious RBG on Her 85th Birthday
Supreme Court Justice and Internet darling Ruth Bader Ginsburg celebrates her 85th birthday on March 15. Beloved as the "Notorious R.B.G" online, the associate justice has no plans to retire and intends to remain on the Court for as long as she can.
Ginsburg was born in New York City in 1933 and received her degree from Columbia Law School in 1959. On August 10, 1993, she became the second female justice to be confirmed to the Supreme Court after being appointed by President Bill Clinton.
The fiery leader of the high court's liberal wing, Ginsburg has been vocal about her beliefs both in and out of the court. Ginsburg, a two-time cancer survivor who was urged to retire during Barack Obama's administration, is determined to keep at it and has even hired law clerks through June 2020, USA Today reported.
Ginsburg has also reached feminist pop icon status. She is the subject of a Tumblr blog, several books, T-shirts, tote bags, a workout regime and an upcoming feature film. In May, the documentary RBG will open in select theaters, while the feature film On the Basis of Sex is set to hit the big screens later this year.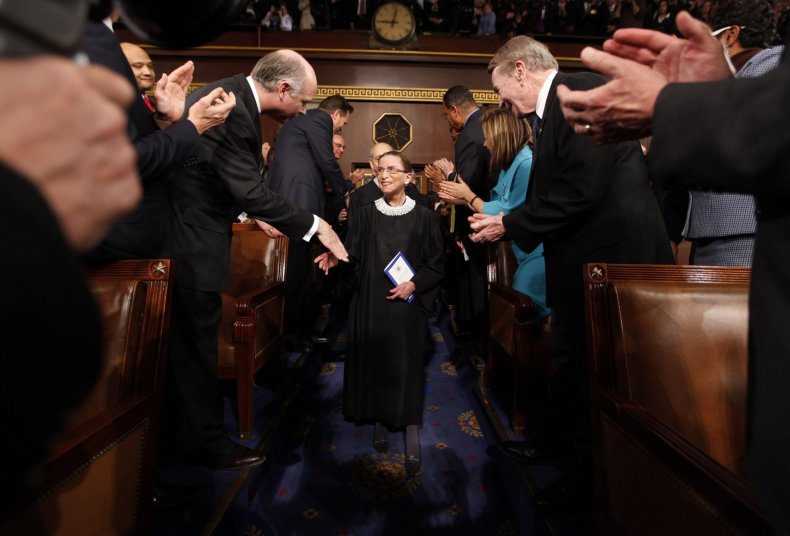 Seven quotes from Ruth Bader Ginsburg:
"My mother told me two things constantly. One was to be a lady, and the other was to be independent. The study of law was unusual for women of my generation. For most girls growing up in the '40s, the most important degree was not your B.A., but your M.R.S," she said when discussing the influence of her mother Celia Ginsburg, according to a tribute by the ACLU.
"When a thoughtless or unkind word is spoken, best tune out. Reacting in anger or annoyance will not advance one's ability to persuade," she wrote in an op-ed for The New York Times on advice for living in 2016.
"I think on the issue of choice, one of the reasons, to be frank, that there's not so much pro-choice activity is that young women, including my daughter and my granddaughter, have grown up in a world where they know if they need an abortion, they can get it. Not that either one of them has had one, but it's comforting to know if they need it, they can get it," she said in an interview with Elle in 2014.
"Throwing out preclearance when it has worked and is continuing to work to stop discriminatory changes is like throwing away your umbrella in a rainstorm because you are not getting wet," she wrote in her dissent after the Supreme Court gutted a section of the Voting Rights Act in 2013.
"There can be incentives and encouragement, but women will have achieved true equality when men share with them the responsibility of bringing up the next generation," she said in an interview with journalist Lynn Sherr in a 2001 issue of The Record.
"I think the side that wants to take the choice away from women and give it to the state, they're fighting a losing battle. Time is on the side of change," she said while discussing women's reproductive rights with The New York Times in 2009.
"You can't have it all, all at once. Who —man or woman— has it all, all at once? Over my lifespan I think I have had it all. But in different periods of time things were rough," she told journalist Katie Couric in a 2014 interview following her Hobby Lobby dissent.