Ruth Bader Ginsburg Shows Trump She Isn't Going Anywhere by Hiring Law Clerks for 2019 Term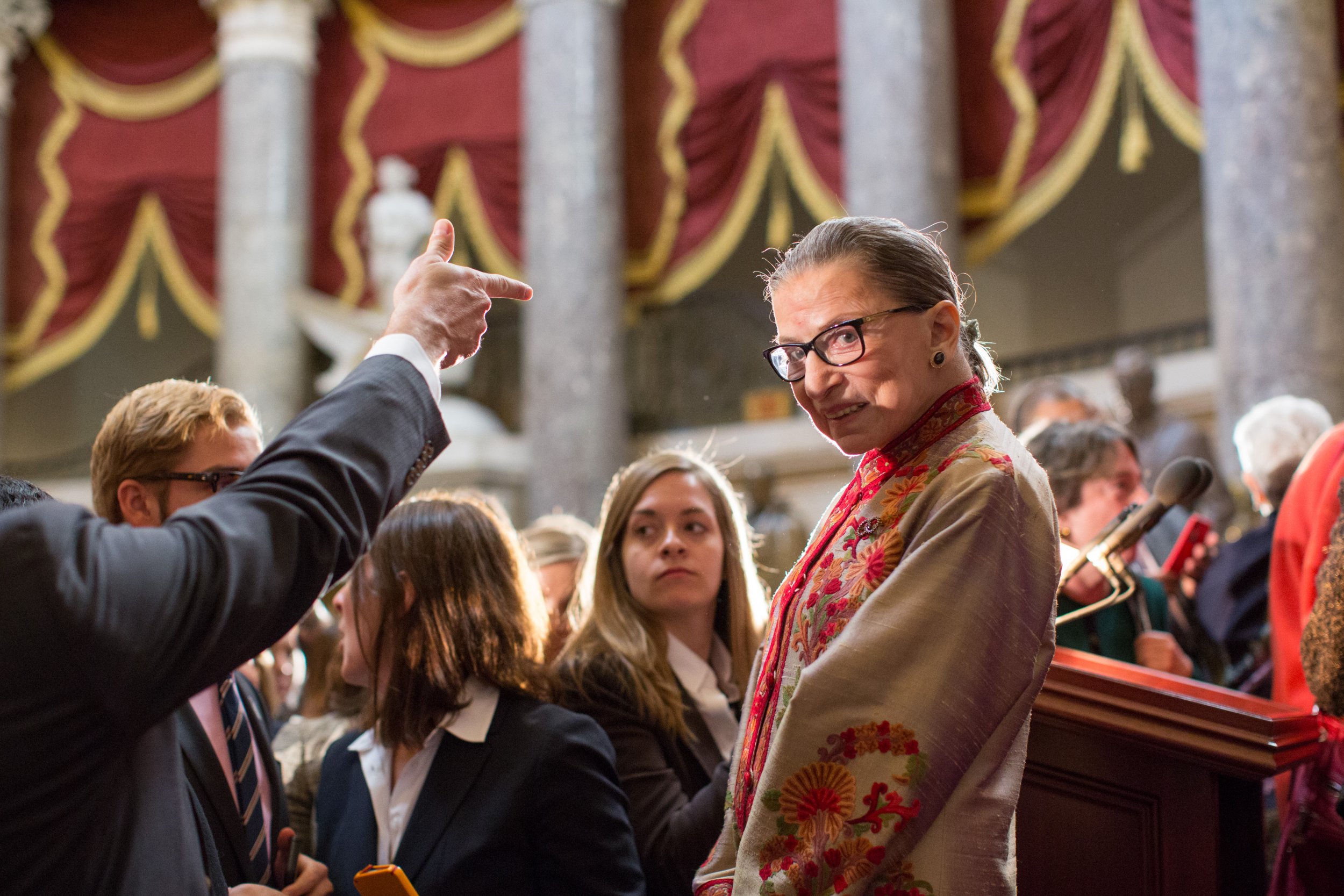 Supreme Court Justice Ruth Bader Ginsburg dashed any hope President Donald Trump might have had that she would resign before the end of his term, announcing on Thursday that she had hired a full slate of clerks through 2020.
The announcement bucks ongoing speculation that Ginsburg, 84, is nearing retirement: Typically, justices planning on stepping down don't hire all of their clerks for the upcoming term. Ginsburg's include Alyssa Barnard, a Columbia Law graduate; Harvard Law grads Marco Basile and Susan Pelletier; and Stanford Law grad Michael Qian.
Ginsburg's resignation would of course be a political gift to Trump, who's so eager to fill an empty Supreme Court seat that he's released the names of potential nominees for a vacancy that doesn't yet exist. Trump is particularly eager to see the end of Ginsburg's tenure ever since the self-proclaimed "flaming feminist litigator" spoke out against him during his 2016 presidential campaign.
"I can't imagine what this place would be—I can't imagine what the country would be—with Donald Trump as our president," she told The New York Times that July. Later, she called Trump a "faker" and said he "really has an ego."
Trump called for Ginsburg to resign following these comments, decrying her "dumb political statements" and saying they indicated that her "mind is shot." Ginsburg eventually apologized for bashing the then-candidate, and since he's taken office, she's been coy about her criticism of Trump and his presidency.
"We're not experiencing the best of times," she said simply in a February interview with the BBC's "Newsnight."
Ginsburg's first big opportunity to rule on an issue at the core of Trump's agenda is still pending, as the country awaits the Supreme Court's decision on Masterpiece Cakeshop, Ltd. v. Colorado Civil Rights Commission, a case dealing with whether Americans can deny services to same-sex couples on the basis of religious beliefs and free speech.
During her time on the court, Ginsburg has been hailed as a bastion of liberal ideals and women's rights. Her first major ruling came in 1996, three years after her appointment, when she authored the decision on United States v. Virginia, which allowed women to attend the previously men's-only Virginia Military Institute. More recently, Ginsburg was part of the 2016 majority decision on Whole Woman's Health v. Hellerstedt, a case brought to the court after a Texas law shuttered half the abortion clinics in the state.
Ginsburg's fans see the "Notorious RBG" as one of the final defenses against Trump's agenda, and often worry about Ginsburg's well-being.
"If you have any need for blood, you can have the eight or so units of A-positive that are right here in my body," a Washington Post columnist told Ginsburg in February. "There's also a gently used liver in here, lobes of it just lying around if you need them."
Ginsburg has made it clear before that she intends to remain on the bench "as long as I can do it full steam," the Times reported.
Justice Anthony Kennedy, 81, has also been the subject of speculation about his leaving the court—and he has not yet announced his picks for clerks. Kennedy is reportedly unlikely to remain on the Supreme Court for Trump's entire term, but also said he wouldn't retire for "at least" another year.
In any case, Kennedy isn't the only judge with outstanding clerk hires: The only other justices to have named any of their 2019 clerks are Chief Justice John G. Roberts, Stephen G. Breyer and Trump's pick, Neil M. Gorsuch.