Ruth Bader Ginsburg, Tiny But Fierce, Blazed Trails For Women's Rights
Ruth Bader Ginsburg's advocacy for gender equality and women's rights combined with her fiery dissents brought her a loyal, almost cult-like following that few Supreme Court justices have ever managed to gain.
Building-sized murals. T-shirts. Documentaries. Children who dress as her for Halloween.
Ginsburg mused about the attention during a 2018 appearance at New York Law School: "I am soon to be 85 and everyone wants to take their picture with me."
Ask someone to name a Supreme Court justice from the past three decades and her name is likely the first off their lips.
"I always randomly assign my students a justice from past and present for a presentation," Renee Cramer, law chair at Drake University in Iowa, told Newsweek. "They all want to be RBG—even the conservative ones."
The Notorious R.B.G.—a nickname Ginsburg earned after her dissent in a case rolling back federal oversight of voting rights—made her mark on the law long before she was nominated to the High Court by President Bill Clinton in 1993.
"She is one of the rare figures in the history of the Supreme Court who was a pioneer in advancing the law before she was on the court, as well as when she was on the court," Michael Waldemon, president of the Brennan Center for Justice at NYU School of Law, told Newsweek.
Ginsburg, a New York native, cut her legal teeth challenging sexism, paving the way for what experts said was a "groundbreaking legal career."
"Her legacy on the court far, far predates her presence on the bench," Cramer said. "She's had an incredibly important role in the creation of jurisprudence in sex discrimination and women's rights."
After graduating tied first in her class Columbia Law, she was rejected from a Supreme Court clerkship job for being a woman. A professor pleaded for her to get a different one, paving her legal future to become the leading Supreme Court litigator fighting gender discrimination through the 1970s while working as a professor at Columbia Law School.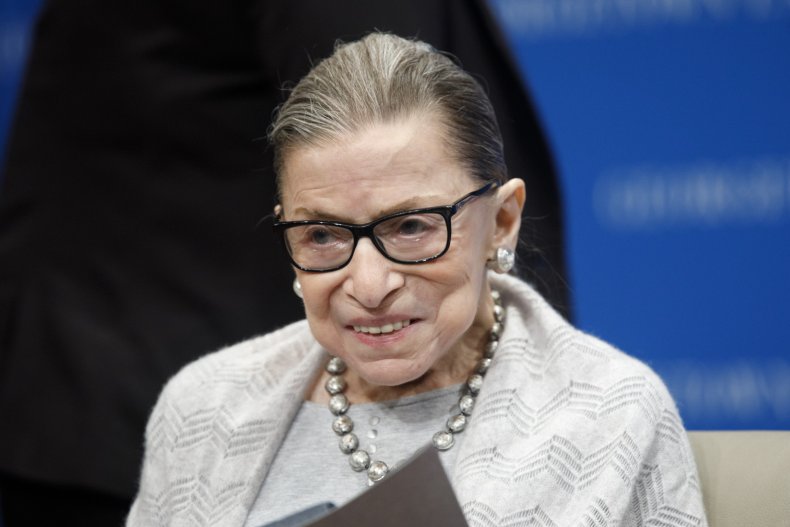 Ginsburg was a co-founder and general counsel for the American Civil Liberties Union's Women's Rights Project in the early 1970s. She argued six gender discrimination cases in front of the Supreme Court in three years, won all but one, and wrote the brief behind the landmark Reed v. Reed case that ended with the court's ruling that the Equal Protection Clause of the Fourteenth Amendment should protect women from sex discrimination.
Her close friend, the late Justice Antonin Scalia, who died in 2016, wrote in a Time magazine piece the year before his death that Ginsburg was "the leading (and very successful) litigator on behalf of women's rights—the Thurgood Marshall of that cause, so to speak."
"Her cases in the 1970s on gender discrimination and sexual discrimination were as significant as anything she's done on the bench," Waldman said. "She wrote Constitutional law long before she ever stepped foot at the Supreme Court."
The 2018 Academy Award-nominated documentary RBG, released amid the #MeToo movement and a liberal upheaval over the 2016 election of Donald Trump, provided a glimpse into her life inside and outside the court, portraying her as a tiny, fierce woman who stayed up late working and had regular work out sessions with a personal trainer.
Ginsburg met her late husband, Marty, who died in 2010 after 56 years of marriage, while an undergrad at Cornell, where she was one of few female students.
"He cared that I had a brain. No guy up until then was the least bit interested in how I thought, so Marty was a revelation to me," Ginsburg told a crowd at the 2018 Sundance Film Festival at the documentary's premiere. "He made me feel that I was better than I thought I was."
She said he was supportive of her as she worked her way up the ranks and fought for gender equality, modeling after the Civil Rights movement.
"I did see myself as kind of a kindergarten teacher in those days, because the judges didn't think sex-discrimination existed," she said in the film. "One of the things I tried to plant in their minds was, 'Think about how you would like the world to be for your daughters and granddaughters.'"
Ginsberg became a reliable vote for the Court's liberal wing and continued her interest in gender equality including a ruling that struck down a men's only admissions policy at the Virginia Military Academy in 1996.
"The notion that admission of women would downgrade VMI's stature, destroy the adversative system and, with it, even the school, is a judgment hardly proved, a prediction hardly different from other "self-fulfilling prophec[ies], once routinely used to deny rights or opportunities," she wrote for the majority in that case.
Years later, her passion for equality came out in her dissent in the Lilly Ledbetter equal pay case that the court ruled against. In that case, Ledbetter, an Alabama woman, sued her employer Goodyear for paying her significantly less than her male colleagues. The court ruled against her on a technicality related to the timing of the suit, rather than the proven claim that her salary was lower than the men who performed the same or similar jobs.
"Pay disparities, of the kind Ledbetter experienced, have a closer kinship to hostile work environment claims than to charges of a single episode of discrimination," she wrote in the 2007 dissent that she also read aloud from the bench—a rare practice used to draw importance to a ruling.
"There were numerous times that she spoke from the bench where you could tell the other justices didn't understand what it was like to be a woman in the United States," Waldman said.
Congress later approved the Lilly Ledbetter Fair Pay Act to loosen restrictions on time for filing discrimination suits—largely inspired by Ginsburg's dissent.
She played a key role in landmark rulings throughout her career on the court.
For the Burwell v. Hobby Lobby case that ultimately determined for-profit entities could claim religious exemptions—the specific case dealing with insurance coverage for birth control, Ginsburg penned a passionate, 35-page dissent arguing that the decision established a slippery slope that could be misused.
"Until today, religious exemptions had never been extended to any entity operating in 'the commercial, profit-making world,'" she wrote. "The distinction between a community made up of believers in the same religion and one embracing persons of diverse beliefs, clear as it is, constantly escapes the Court's attention. One can only wonder why the Court shuts this key difference from sight."
Aside from her written opinions, Ginsburg was known for her tough, lawyerly questioning from the bench—often tipping her hand to which way she would be voting but also using the exchanges as an opportunity to expose what she saw as flaws in the other side's argument.
In the 2015 Obergefell v. Hodges case that eventually legalized same sex marriage, Ginsburg tore into arguments that allowing gay couples to marry would weaken the institution of marriage or that the key purpose of marriage is for supporting children.
"Suppose a couple, 70-year-old couple, comes in and they want to get married?" she quizzed. "You don't have to ask them any questions. You know they are not going to have any children."
During arguments in the King v. Burwell case that sought to upend the federal Affordable Care Act, Ginsburg interrupted an attorney's opening statement to challenge whether his clients even had a case.
"She's a tiny tiny woman who is absolutely fierce, and that's a joy for a lot of people to witness," Cramer said. "There is something unassuming yet absolutely charismatic and magnetic about RBG."
Ginsburg's health began to draw intense attention over the past decade. Justices have the option of whether to disclose an illness or injury, but Ginsburg has been relatively open about her multiple battles with cancer and occasional hospital trips.
She announced in the summer of June 2020 that she was seeking treatment for a recurrence of cancer in her liver. The news came amid several other reports about her health that season, including a hospitalization for a possible infection and a later "minimally invasive non-surgical procedure" to replace a bile duct stent.
While the court heard cases remotely in May that year because of the coronavirus, Ginsburg spent one day dialed in from the hospital as she sought treatment for a benign gallbladder condition.
Ginsburg first fought colon cancer in September 1999, but quickly recovered. A decade later, she had surgery and chemotherapy for pancreatic cancer. That was followed by a stent placed in her right coronary artery in 2014 and a headline-grabbing fall in her Supreme Court office in 2018 that left her with three fractured ribs. That same year, the Supreme Court announced Ginsburg had two cancerous nodules removed from her left lung.
Her departure presents the possibility that Donald Trump could try to name a conservative successor—a prospect that Cramer described setting off a "panic" among progressives.
"The stakes of her leaving the bench right now are so enormous," she said.
Waldman said it would be the latest in any election cycle that a president has tried to appoint a justice, but the GOP-controlled Senate has been quickly signing off on Trump's judicial nominees.
"There's nothing in modern supreme court history that would be close to this," he said.
At the Sundance Film Festival event, Ginsburg acknowledged her precarious position and speculation about her health then told a cheering crowd that she didn't have any intentions of leaving the courts soon.
"As long as I can do the job full-steam, I will be here," a smiling Ginsburg told the crowd.