Ruth Bader Ginsburg's Death Changed the 2020 Election Dynamic, Possibly in Trump's Favor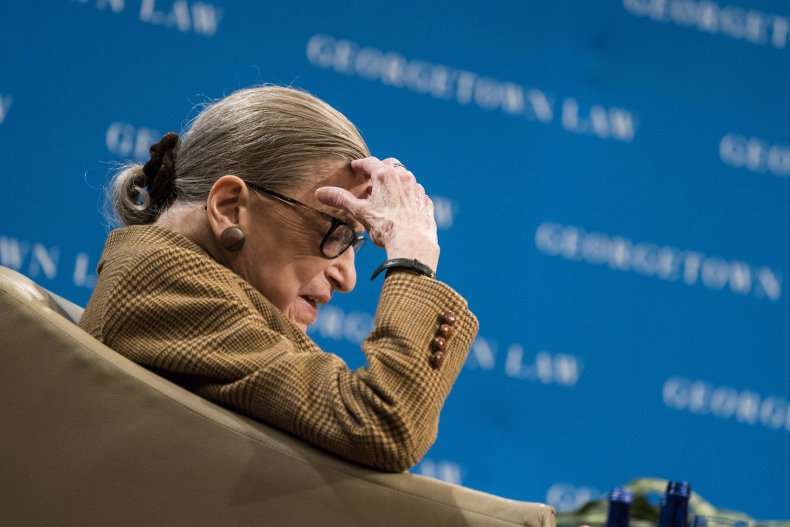 When President Donald Trump took the stage at a campaign rally in Bemidji, Minnesota, on Friday night, aides say, he was unaware that Supreme Court Justice Ruth Bader Ginsburg had died. But that doesn't mean the White House and its Republican allies in the Senate were unprepared. Ginsburg and Justice Stephen Breyer were both over 80 years old. Clarence Thomas is 72. According to a White House source not authorized to speak on the record, there had been "general discussions" on what would happen should a Justice pass away or resign before the election. "It's the normal course of business: You have to be prepared for anything."
Not long after the Supreme Court announced Justice Ginsburg's death, Senate Majority leader Mitch McConnell issued a statement saying the Senate would vote on whoever President Trump nominates to replace her. On Saturday morning, Trump confirmed that he would nominate a new Justice "without delay." And with that, the already fraught 2020 election cycle was reshaped.
The fight to replace the iconic Justice Ginsburg, a heroine to many, will be exceptionally bitter. It will galvanize both Democrats and Republicans, and have a huge impact not only on the race for the White House, but on the fight for control of the Senate as well.
For the president, the political calculus is straightforward. He believes his election in 2016 was aided immensely by his pledge to appoint conservative justices, and he backed that up by issuing a list of potential appointees, all approved by the right-leaning Federalist Society. Both Brett Kavanaugh and Neil Gorsuch, Trump's two appointees so far, were on that list. Trump now believes he can energize his support among Christian conservatives and right-to-life voters with whomever he selects to replace Ginsburg.
But there's more to the political calculus than that. Trump has struggled unsuccessfully to change the national conversation to anything other than the government's botched response to the COVID-19 outbreak. Both Joe Biden and much of the mainstream media hammer him every day on the issue—to significant effect: even while rarely venturing out to campaign, Biden has maintained a steady lead in national polls, and, more importantly, in key battleground states. Nothing the president has done—from emphasizing "law and order" in the wake of urban unrest this summer to proclaiming an economic comeback from the devastation wrought by the virus, has altered that.
The conversation will now change. The chance to nominate a third Supreme Court justice, the campaign believes, will remind wavering Trump supporters of just how high the stakes are in the coming election. Trump will point out to GOP supporters that he has fulfilled his pledge to appoint conservative justices not only on the Supreme Court, but throughout the judiciary. With Justice Ginsburg's death, he has the chance to reshape the highest court in the land for a generation. By Saturday afternoon, the campaign had sent out millions of direct messages to supporters saying, "President Trump will fill the Supreme Court vacancy with a conservative Justice!"
The power of the issue is intensified by the prospect that the November 3 election will not be settled on election day, in part because of the time it will take to count millions of absentee ballots cast this year due to the pandemic. Both sides are voicing suspicions about possible attempts to "steal" the election. Hillary Clinton has said Biden under no circumstances should concede the election, should the vote tally show him trailing the night of the election. Texas Senator Ted Cruz, whom Trump placed on a newly issued list of potential Supreme Court Justices, told Fox News on Friday night: "We cannot have election day come and go with an equally divided four four court that is equally divided. We risk a Constitutional crisis if we do not have a nine justice Supreme Court, particularly when there is such a risk of a contested election." That line of thinking, Trump campaign officials believe, will resonate among the president's supporters.
Democrats furiously oppose Trump trying to ram through another Justice before the election, accusing Senate Majority leader Mitch McConnell of hypocrisy. McConnell in 2016 refused to bring up Obama nominee Merrick Garland for a vote in the Senate, saying it would be inappropriate to do so in an election year. Now, McConnell says, the circumstances are different: in 2016 the Republicans controlled the Senate but not the White House. Today the GOP has both, and Republicans delight in citing Obama's 2009 taunt to Congressional Democrats: "elections have consequences."
For the Majority leader, filling the Ginsburg seat is trickier. Republicans have 53 seats in the Senate, just a three-seat majority, and are defending 23 seats in November, compared to just 12 for the Democrats. According to an official working on Senate races in the Republican National Committee, the GOP's three-seat majority is in trouble. Republican incumbents in Arizona, Colorado and Maine all trail in their races, and a seat in North Carolina is worrisome, the source says.
The Maine seat, held by moderate Republican Susan Collins, will be the focus of much of McConnell's attention. One of the reasons Collins trails in her race is her vote in support of Brett Kavanaugh in 2018. Even if, as likely, Trump nominates a woman—federal circuit judge Amy Coney Barrett , whom he seriously considered for the Kavanaugh seat, is a possibility—the choice will be bitterly controversial: the nominee will be seen as a key vote in toppling Roe V. Wade, the 1973 court case that secured abortion rights.
Even if McConnell does manage to get to a vote before November 3, would Collins vote in favor of another Trump nominee? One clue might have come Friday evening, when another moderate Republican senator, Alaska's Lisa Murkowski, up for re election in 2022, said she believed no vote should be taken until after the election. "It's unlikely Collins wants to cast a vote before the election, either," says the RNC source.
Some hopeful Republicans believe that the Supreme Court nomination will help "nationalize" the Senate elections, and in a way that will help flagging incumbents like Martha McSally in Arizona and Thom Tillis in North Carolina. (On Saturday, Tillis said he supported a vote on Trump's nominee before the election.) Senator McConnell had to say the Senate would vote on a Trump nominee: his own election chances, and certainly Trump's, could be hurt by a move that Evangelical Christians would see as a betrayal. The White House adviser says the president is eager to bulldoze ahead with a nomination and a Senate hearing. But if McConnell starts to fear that the votes aren't there, the strategy would change.
This weekend, Trump and his advisers will sit down with McConnell and Judiciary Committee Chairman Lindsey Graham—also immersed an unexpectedly tough re-election fight—to hash out the politics and tactics of a nomination.
Justice Ginsburg wouldn't be shocked by the war-gaming and strategizing. She always relished a fight.