Ruth Bader Ginsburg's Health Issues Leaves Senate GOP Split on Filling Supreme Court Vacancy in 2020
Republican leaders in the Senate said they will consider nominations to fill a U.S. Supreme Court seat if one becomes vacant before the presidential inauguration in January, but it's a topic on which the party is not unified.
Legislators have debated the issue several times since Senate Republicans blocked one of former President Barack Obama's Supreme Court nominations from moving forward in 2016. Justice Ruth Bader Ginsburg's announcement last month that she was once again battling cancer revived the discussions in Washington, D.C., as senators on both sides of the aisle began planning their response in the event Ginsburg steps down or is otherwise unable to fulfill her duties on the high court.
South Carolina Senator Lindsey Graham, who chairs the Senate Judiciary Committee, said the hearings that preceded Justice Brett Kavanaugh's confirmation in 2018 changed the way candidates move through the nomination process. Kavanaugh was accused of sexual assault following his nomination—accusations he repeatedly denied during hearings before the Senate Judiciary Committee.
"We'll cross that bridge," Graham told NBC News when asked if the committee would try to fill any new Supreme Court seat openings before the end of the year. "We'll see what the market will bear if that ever happens."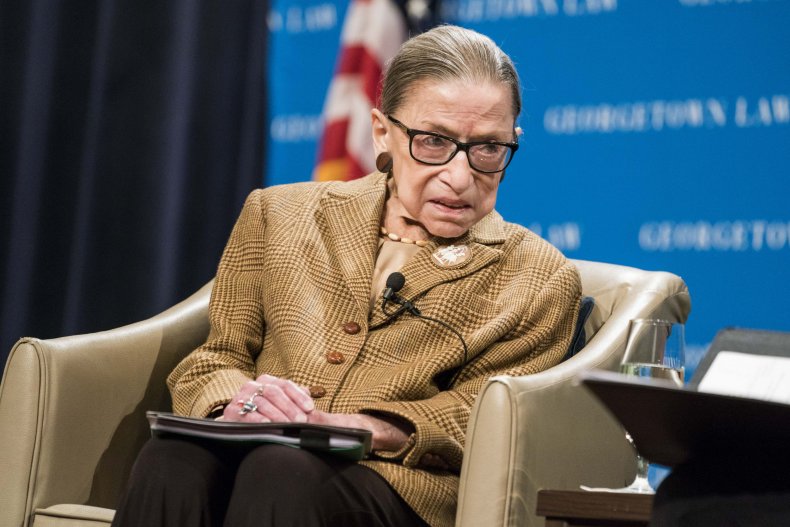 Ginsburg announced in mid-July that her battle with cancer resumed earlier this year and had required her to begin chemotherapy in May. According to a statement Ginsburg released on July 17, her doctors are seeing positive results from her current cancer treatment and she is "fully able" to continue in her role on the court.
"I have often said I would remain a member of the Court as long as I can do the job full steam," Ginsburg said. "I remain fully able to do that."
Ginsburg, now 87, has been a liberal justice with the Supreme Court since former President Bill Clinton nominated her in 1993. She battled cancer several times over the past two decades; most recently she had a tumor on her pancreas removed last summer. She has remained on the court through it all and continued to write opinions for its most recent decisions earlier this summer.
But Ginsburg's health issues have Democratic lawmakers worried that Republican senators will move quickly to fill her seat if she becomes unable to work. Their concerns are tied to Merrick Garland, whom Obama nominated to fill the seat of Justice Antonin Scalia's following Scalia's death in early 2016. Senator Chuck Grassley of Iowa, who served as the Senate Judiciary Committee chairman at the time, oversaw the committee's decision to block Garland from moving forward through the nomination process. In a statement he released at the time, Grassley said the committee made its decision because 2016 was an election year, and a significant change to the high court should be reserved for whomever took over as president.
In light of Ginsburg's most recent cancer announcement, Grassley told CNN he would not move forward with filling a vacant seat this year if he were still chairman of the committee. But Missouri Senator Josh Hawley, who also serves on the Senate Judiciary Committee, told CNN he thought it would be more appropriate for the committee to approve a new justice this year than it would have been in 2016, since President Donald Trump is seeking reelection and Obama's second term was about to be over at the time of Garland's nomination.
Senate Majority Leader Mitch McConnell of Kentucky has repeatedly said over the last few years that the Senate will fill any seat vacancy regardless of the timing. Though Graham's latest comments on the debate support McConnell's stance, they do mark a shift in his position since 2018, when he told The Hill that the committee would wait to fill any open seats until the president elected in 2020 took office.
Newsweek reached out to Graham's office for comment but did not receive a response in time for publication.
Ruth Bader Ginsburg's Health Issues Leaves Senate GOP Split on Filling Supreme Court Vacancy in 2020 | U.S.