Ruth Bader Ginsburg's Husband and Children Are Part of Her Historic Legacy
On Friday, Supreme Court Justice Ruth Bader Ginsburg died at age 87, leaving behind two children: her 65-year-old daughter Jane C. Ginsburg and her 55-year-old son James Steven Ginsburg.
Their father, Ruth's husband Martin D. Ginsburg, died on June 27, 2010 at age 78 due to complications from metastatic pancreatic cancer.
Like Ruth, Martin was born in Brooklyn, New York to Jewish parents. He and Ruth both met on a blind date as undergraduates at Cornell University—she was a 17-year-old government student and he was an 18-year-old chemistry student.
Martin used to joke that she was a "top student" and he was a "top golfer" as a star member on the university's golf team, according to NPR. They married in 1954, a year after Ruth graduated from Cornell. She was 21.
While both had been accepted into Harvard University law school for their postgraduate studies, Martin (or "Marty" as she called him) was called into active duty as part of the Reserve Officers' Training Corps in the Army Reserve. The couple relocated to Fort Sill, Oklahoma where they lived for the next two years.
"We had nearly two whole years far from school, far from career pressures and far from relatives, to learn about each other and begin to build a life," Martin said about their time in Oklahoma. In 1955, Ruth gave birth to her first child, Jane.
In 1956, Martin and Ruth both entered Harvard to study law, but during his third year at the school, he underwent two operations and radiation therapy for testicular cancer. He eventually graduated magna cum laude from Harvard in 1958 with his Doctor of Jurisprudence.
After graduating, he began working for the international law firm Weil, Gotshal & Manges in New York City, but he spent the majority of his professional career teaching.
He began teaching as adjunct faculty at New York University (NYU) Law School from 1967 to 1979. From 1977 until 1993, he served as a visiting professor for a year each at Stanford Law School, Harvard Law School and the University of Chicago Law School. During this time, Ruth gave birth to their second child, James.
However, Martin's longest position came after he moved to Washington D.C. in 1980 so that Ruth could become a Federal judge on the U.S. Court of Appeals for the District of Columbia Circuit. She was appointed by Democratic then-President Jimmy Carter.
That same year, Martin began teaching at Georgetown Law Center where he served as a tenured professor until his death. The New York Times notes that when she began serving on the federal bench, Martin sold all his stock so that his wife could hear cases involving any companies or industries without being accused of conflict of interest.
When Ruth was under consideration for the U.S. Supreme Court during the first term of Democratic President Bill Clinton, Martin solicited congresspeople and legal scholars to send Clinton letters of support on her behalf. Clinton said that letters didn't ultimately influence his decision, but merely showed him that "a lot of people felt a lot for her."
In a letter that he wrote to her before his 2010 death, Martin said that aside from his parents and children, "You are the only person I have loved in my life," adding, "I have admired and loved you almost since the day we first met at Cornell some 56 years ago."
According to NPR, he also once told a friend, "I think that the most important thing I have done is to enable Ruth to do what she has done."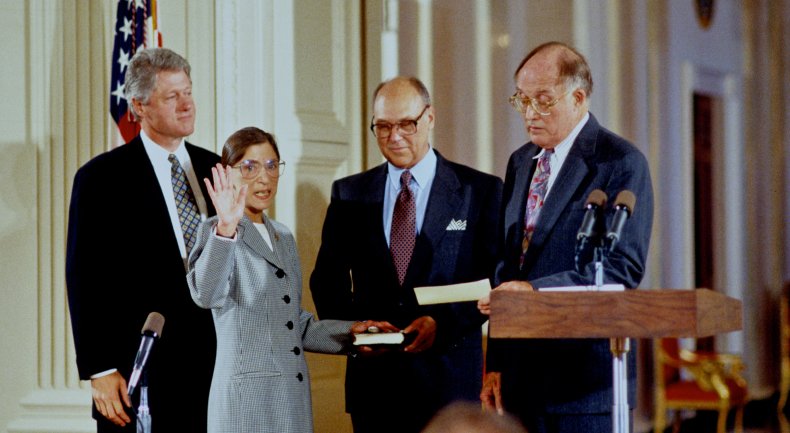 Ruth and Martin's eldest daughter Jane followed somewhat in her parents' footsteps by becoming an attorney. She got her B.A. and M.A. from the University of Chicago and, like her mother, attended Harvard Law School and also served on the publication staff of the Harvard Law Review.
Like Ruth, she eventually served on the Columbia Law School faculty. As such, Ruth and her were the only mother-daughter pair ever to serve on the school's faculty.
In 1981, Jane married lawyer George T. Spera Jr., and they have two children: Paul Spera, an actor, and Clara Spera, who graduated from Harvard Law School in 2017. Jane currently teaches law at Columbia University.
James, on the other hand, didn't pursue a legal career like his parents and sibling. After receiving his B.A. from the University of Chicago in 1987, he attended the university's law school for one and a half years before dropping out and founding Cedille Records, a recording label for classical music artists and composers in Chicago. The label has since become a not-for-profit organization that continues to release new music.
James's involvement in music has won him numerous awards including the 2010 Helen Coburn Meier and Tim Meier Charitable Foundation for the Arts Achievement Award and the Lawyers for the Creative Arts' 2020 award for Distinguished Service to the Arts. In 2019, he was nominated for Grammy Award for Classical Producer of the Year.
His mother officiated his 1995 wedding to art historian Lisa Brauston. James and Brauston had two children and divorced. James then married composer and voice professor Patrice Michaels.